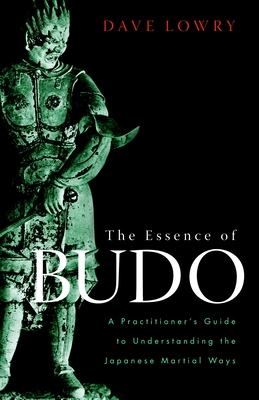 The Essence of Budo: A Practitioner's Guide to Understanding the Japanese Martial Ways (Paperback)
A Practitioner's Guide to Understanding the Japanese Martial Ways
Shambhala, 9781590308462, 182pp.
Publication Date: October 12, 2010
* Individual store prices may vary.
or
Not Currently Available for Direct Purchase
Description
The study of budo, or Japanese martial arts for self-cultivation, is a lifelong path toward achieving perfect balance in body, mind, and spirit. Here, Dave Lowry, who has pursued that path for over forty years, addresses the myriad issues, vagaries, and inconsistencies that arise for students of karate-do, judo, kendo, aikido, iaido and other Japanese martial arts--classical and modern--as their training develops, including: - What students and teachers should expect from each other
- The meaning of rank
- The importance of cardiovascular fitness in the martial arts
- How to correctly and sensitively practice with someone less experienced than yourself
- How to practice as you age
- The responsibilities that come with seniority and increasing skill
- The importance of etiquette and decorum in budo
- How to train with children Lowry also gives practical advice on improving structural integrity in posture and movement; focusing under stress; stances and preparatory actions before engaging with an opponent; and telling a good teacher from a bad one. Both beginning and advanced students of Japanese martial arts will appreciate Lowry's take on the real issues and experiences that they encounter in practice.
About the Author
Dave Lowry is an accomplished martial artist, calligrapher, and writer. He is the restaurant critic for St. Louis Magazine and writes regularly for a number of magazines on a wide variety of subjects, many of them related to Japan and the Japanese martial arts. He is the author of numerous books including Autumn Lightning: The Education of an American Samurai, Sword & Brush: The Spirit of the Martial Arts, Clouds in the West: Lessons from the Martial Arts of Japan, and The Connoisseur's Guide to Sushi.
Praise For The Essence of Budo: A Practitioner's Guide to Understanding the Japanese Martial Ways…
<p class="MsoNormal"> "One of the most attractive aspects of this book is the humor. Mr. Lowry points out the sheer necessity of self-deprecation and humor, mellowing the inevitable mistakes and failings of both students and sensei. Mr. Lowry's debunking of myth, placement of budo where it belongs in a healthy life, and recommendations for picking a sensei are invaluable. If you or your child are contemplating Japanese martial arts training, buy this book."—San Francisco/Sacramento Book Review
Advertisement