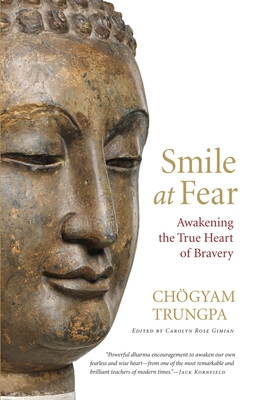 Smile at Fear: Awakening the True Heart of Bravery (Paperback)
Awakening the True Heart of Bravery
Shambhala, 9781590308851, 144pp.
Publication Date: October 5, 2010
Description
Many of us, without even realizing it, are dominated by fear. We might be aware of some of our fears--perhaps we are afraid of public speaking, of financial hardship, or of losing a loved one. Chogyam Trungpa shows us that most of us suffer from a far more pervasive fearfulness: fear of ourselves. We feel ashamed and embarrassed to look at our feelings or acknowledge our styles of thinking and acting; we don't want to face the reality of our moment-to-moment experience. It is this fear that keeps us trapped in cycles of suffering, despair, and distress.
Chogyam Trungpa offers us a vision of moving beyond fear to discover the innate bravery, trust, and delight in life that lies at the core of our being. Drawing on the Shambhala Buddhist teachings, he explains how we can each become a spiritual warrior: a person who faces each moment of life with openness and fearlessness. -The ultimate definition of bravery is not being afraid of who you are, - writes Chogyam Trungpa. In this book he offers the insights and strategies to claim victory over fear.
About the Author
Chogyam Trungpa (1940-1987)--meditation master, teacher, and artist--founded Naropa University in Boulder, Colorado, the first Buddhist-inspired university in North America; the Shambhala Training program; and an international association of meditation centers known as Shambhala International. He is the author of numerous books including Shambhala: The Sacred Path of the Warrior, Cutting Through Spiritual Materialism, and The Myth of Freedom.
Praise For Smile at Fear: Awakening the True Heart of Bravery…
"Powerful dharma encouragement to awaken our own fearless and wise heart—from one of the most remarkable and brilliant teachers of modern times."—Jack Kornfield

"The teachings presented in this book are transformational—and especially relevant today, when so many of us are facing uncertainty and anxiety. Chögyam Trungpa shows us how to uncover our innate strength, confidence, and joy under any circumstances. I strongly recommend this book to all those seeking awakening and freedom."—Pema Chödrön

"There is no one better than Chögyam Trungpa to show us how to be fearless. He overcame great difficulties while remaining true to his principles—bravery, compassion, and gentleness. These are the qualities of a Shambhala warrior, which shine through brilliantly in this book."—Sakyong Mipham Rinpoche

"Throughout [this publication] it is stated many times that the road to compassionate enlightenment and change is sitting meditation.  These gentle reminders are always welcome because it is so easy to go to sleep and forget what is useful."—The Bloomsbury Review 

"Particularly relevant, as modern day life presents the aspirant with many challenges that provoke anxiety and worry.  His suggestions are practical, accessible, and simple."—The Beacon

"An excellent place to start for anyone interested in exploring Trungpa Rinpoche's remarkable Shambhala teachings."—The Middle Way
Advertisement