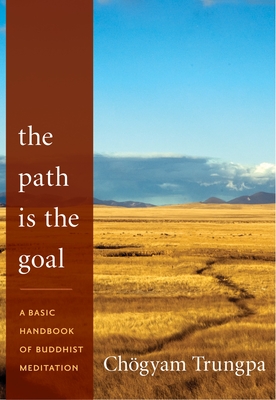 The Path Is the Goal: A Basic Handbook of Buddhist Meditation (Paperback)
A Basic Handbook of Buddhist Meditation
Shambhala Publications, 9781590309100, 179pp.
Publication Date: June 7, 2011
Description
The Buddha taught meditation as the essential spiritual practice. Nothing else is more important. These classic teachings on the outlook and technique of meditation provide the foundation that every practitioner needs to awaken as the Buddha did. ChOgyam Trungpa here reveals how the deliberate practice of mindfulness develops into awareness, insight, and openness. He also guides us away from the ego's trap: the urge to make meditation serve our ambition.
About the Author
ChOgyam Trungpa (1940-1987)--meditation master, teacher, and artist--founded Naropa University in Boulder, Colorado, the first Buddhist-inspired university in North America; the Shambhala Training program; and an international association of meditation centers known as Shambhala International. He is the author of numerous books including "Shambhala: The Sacred Path of the Warrior," "Cutting Through Spiritual Materialism," and "The Myth of Freedom."
Advertisement