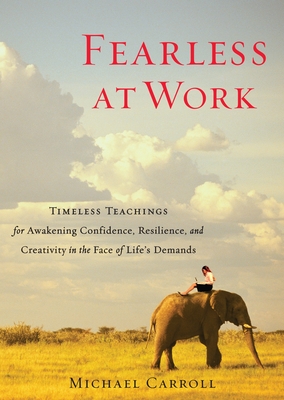 Fearless at Work (Paperback)
Timeless Teachings for Awakening Confidence, Resilience, and Creativity in the Face of Life's Demands
Shambhala, 9781590309148, 240pp.
Publication Date: November 13, 2012
* Individual store prices may vary.
Description
Work is such a crucial part of our life, and yet we often struggle with—and feel overwhelmed by—the numerous challenges it presents us. Whether it's job insecurity, making peace with or leaving an unfulfilling job, or dealing with office conflicts, we often experience fear and a sense of groundlessness just at a time when we want to be our most creative and resilient. Drawing on Buddhist philosophy, Michael Carroll, a longtime human-resources executive, meditation teacher, and executive coach, explains how the practice of mindfulness—full awareness of our moment-to-moment experience—can help us become more confident and open to possibility in our work life. He offers a system of potent, inspiring principles that we can use as a practice for helping us work with our insecurities and awakening our natural bravery, resourcefulness, and resilience.
About the Author
For over two decades Michael Carroll worked on Wall Street and in the publishing industry, holding executive positions at Shearson Lehman Brothers, Paine Webber, Simon & Schuster, and the Walt Disney Company. Founding director of AAW Associates, Carroll consults with major corporations on bringing mindfulness into the workplace. He is a longtime student of Buddhist meditation and an authorized teacher in the lineage of Chögyam Trungpa. Carroll has taught mindfulness meditation at the Wharton School of Business, Columbia University, Kripalu, and the Cape Cod Institute. For more information, visit www.awakeatwork.net.
Praise For Fearless at Work: Timeless Teachings for Awakening Confidence, Resilience, and Creativity in the Face of Life's Demands…
"Valuable lessons in real connection for the 'Facebook generation,' Fearless at Work offers practical guidance for taming our minds and approaching work—and life—with confidence and humor. An essential resource for reshaping our modern day approach to livelihood."—Deborah Dugan, CEO, (RED)


"Michael Carroll is among the wisest, sharpest, and most skillful individuals I have ever known. Utterly trustworthy, profound, and pragmatic, this new book expresses in beautiful language how to use Buddhist principles to transform our work life into a source of confidence, goodness, and happiness."—Susan Piver, author of The Wisdom of a Broken Heart

"Michael Carroll's Fearless at Work is a valuable book for our time. It is an infusion of intelligence and deep sanity into a subject that, for many, has become a daily experience of relative madness. Michael seems to effortlessly harmonize his mature understanding of Buddhist teachings and practice with the everyday—and very real—challenges of life and livelihood. His message is provocative and serious, yet lighthearted, in the lively teaching style of his teacher Chögyam Trungpa Rinpoche. Michael's many years of study and deep experience in both Buddhist practice and the workplace come shining forth in these pages."—Geoffrey Shugen Arnold, Sensei, Abbot, Fire Lotus Temple, Zen Center of New York City 

"Michael Carroll helps me to be aware not only of what I'm doing at work but also how I am doing it—and most importantly, how I am in the midst of it all. Approaching livelihood with this kind of awareness is exactly what we need in the modern day workplace because, as Fearless at Work makes clear, being delightfully courageous in what we do makes all the difference."—Barry Boyce, Editor-in-Chief, Mindful.org

"Neuroscience continues to show how mindfulness awareness practice promotes health and well-being—and, as a longtime Buddhist practitioner and former executive, Michael shows us a path for rediscovering our natural fearlessness and for learning to trust our true being. Fearless at Work can make a big difference in your work and life."—Yi-Yuan Tang, PhD, Director of Texas Tech University Neuroimaging Institute and Presidential Endowed Chair in Neuroscience 

"Fearless at Work tackles the challenge of spiritual development in an extraordinary setting—the workplace—while focusing on the greatest disabler in that domain: fear. The book offers valuable guidance for developing a personal meditative practice in order to be fully present for the people we serve as leaders and colleagues, so vital in these times of dramatic change in our shared global workplace. Fearless at Work is a hugely valuable guide for spiritual practitioners at work!"—Richard Bowles, PhD, Former Chief Ethics and Compliance Officer, Merck & Co.