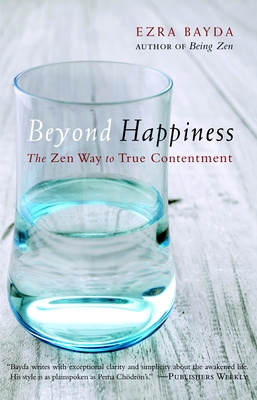 Beyond Happiness: The Zen Way to True Contentment (Paperback)
The Zen Way to True Contentment
Shambhala Publications, 9781590309216, 164pp.
Publication Date: September 13, 2011
Description
Many books have been published in recent years on happiness. Ezra Bayda, a remarkably down-to-earth Zen teacher, believes that the happiness "boom" has been largely a bust for readers. Why? Because it's precisely the pursuit of happiness that keeps us trapped in cycles of dissatisfaction and suffering. In Beyond Happiness, Bayda draws on Zen teachings to question our conventional notions about what happiness is and where we can find it. Most of us seek happiness in things that are external to us. We imagine that getting more money, a better relationship, or going on a nice vacation will finally make us happy. But Bayda shows us that the deepest and most lasting form of happiness does not rely on external circumstance at all. Bayda offers Zen insights and practices that point readers toward the true sources of lasting happiness: mindfulness, compassion, gratitude, and generosity.
About the Author
Ezra Bayda teaches at Zen Center San Diego. He is also the author of Being Zen, At Home in the Muddy Water, Saying Yes to Life (Even the Hard Parts), and Zen Heart. For more information, visit www.zencentersandiego.org.
Praise For Beyond Happiness: The Zen Way to True Contentment…
"With compassion and humor, Ezra Bayda has graced us with ways to accept what is and to reside in it fearlessly, giving us a roadmap to enduring happiness and equanimity."—David Richo, PhD, author of The Five Things We Cannot Change

"A wise and deep-hearted book, a must-read for today's world."—Roshi Joan Halifax, Upaya Zen Center

"This book offers an extremely sane, practical, and grounded approach to the larger happiness that lies beyond conventional notions of happiness. Ezra Bayda details simple yet powerful methods both to work with mental and emotional obstacles and to cultivate well-being, and it's clear that his hard-won insights grow out of his own dedicated inquiry and practice. Highly recommended."—John Welwood, author of Toward a Psychology of Awakening

"Bayda's writing is straightforward and his wisdom hard-earned. When he tells us that he himself was 'born with a fairly low set point for happiness,' you get the feeling that Bayda understands what it is that gets people stuck and, having learned a few things himself over years of practice, that his only agenda for Beyond Happiness is to help people find their own way. Fortunately for readers, he's a trustworthy guide."—Tricycle Magazine

"Bayda's deep understanding of his topic allows him to keep a conversational tone and tie his wisdom into everyday practices. This book is a genuine attempt to help people to see beyond their daily preoccupations and move towards a path of fulfillment."—PsychCentral.com

"Good advice from a compassionate teacher"—NewAgeJournal.com


"In a calm, measured prose on slowing down the aggressive, hyperactive mind, Bayda guides the reader through the helpful steps of simple meditation. Those with an open mind about an open mind will be rewarded in reading Beyond Happiness with the most gentle of mentors on the path towards contentment."—Portland Book Review
Advertisement