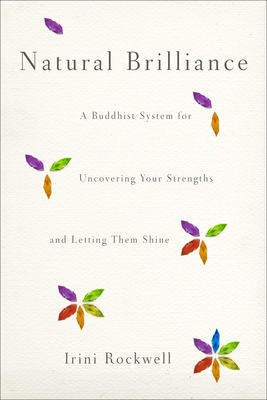 Natural Brilliance: A Buddhist System for Uncovering Your Strengths and Letting Them Shine (Paperback)
A Buddhist System for Uncovering Your Strengths and Letting Them Shine
Shambhala Publications, 9781590309322, 189pp.
Publication Date: March 13, 2012
Description
Understanding yourself is the key to dealing with--and even "enjoying"--the inevitable complexity of life. Irini Rockwell presents us with a powerful system for the kind of self-understanding that leads to just that kind of satisfying relationship with life. It's a Buddhist model for identifying your unique mix of personality traits that make up your innate intelligence. All five qualities--presence, clarity, richness, passion, and action--are your rich resource. By cultivating them you begin to see how you can use this remarkable system to enhance your relationships, your work, and your creativity. Ultimately, this system introduces us to a larger world: the totality and interconnectedness of everyone and everything.
About the Author
Irini Rockwell is a senior teacher in the Buddhist lineage of Tibetan meditation master ChOgyam Trungpa. She holds a masters in contemplative psychotherapy and is the director of the Five Wisdoms Institute, an organization offering training programs to enhance self-awareness, communication, and effectiveness. She is also the author of "The Five Wisdom Energies: A Buddhist Way of Understanding Personalities, Emotions, and Relationships." For more information, visit www.fivewisdomsinstitute.com.
Praise For Natural Brilliance: A Buddhist System for Uncovering Your Strengths and Letting Them Shine…
"An indispensable guide to discovering how the Five Wisdoms vividly inspire our lives, and Irini Rockwell has done a fantastic job translating these profound Buddhist teachings into practical applications for everyday life. With useful exercises, keen insight, and down to earth stories, Natural Brilliance points us to our innate authenticity where we can learn to wake up to life's colorful display, dance with our ever-changing circumstances, and open to the richness of being human. If you want to express your natural brilliance and bring the profound teachings of the Five Wisdoms alive in your life, read this book."—Michael Carroll, author of Awake at Work and The Mindful Leader


"This book is equal parts wisdom and pragmatism. Relying on her decades of experience as a Buddhist practitioner and teacher of the Five Wisdom Energies, Rockwell explains how to find your unique brilliance and then apply it at work, in your relationships, and to your spiritual path."—Susan Piver, author of The Wisdom of a Broken Heart and How Not to Be Afraid of Your Own Life

"Rockwell underscores her lessons with remarkably concrete suggestions and lists. This work nicely bridges the gap between understanding and practice for contemporary Buddhist believers; excellent for the busy practitioner."—Library Journal

"Offers a simple yet profound Buddhist typology system than can enhance self-awareness, improve relationship dynamics, and boost effectiveness."—Publishers Weekly
Advertisement