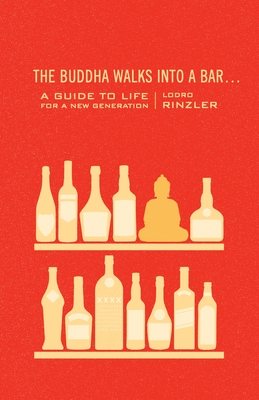 The Buddha Walks into a Bar... (Paperback)
A Guide to Life for a New Generation
Shambhala, 9781590309377, 208pp.
Publication Date: January 10, 2012
Other Editions of This Title:
MP3 CD (1/1/2015)
* Individual store prices may vary.
Description
This isn't your grandmother's book on meditation. It's about integrating that "spiritual practice" thing into a life that includes beer, sex, and a boss who doesn't understand you. It's about making a difference in yourself and making a difference in your world—whether you've got everything figured out yet or not. Lodro Rinzler is a bright and funny young teacher with a knack for showing how the Buddhist teachings can have a positive impact on every little nook and cranny of your life—whether you're interested in being a Buddhist or not.
About the Author
Lodro Rinzler is a teacher in the Shambhala tradition of Vajrayana Buddhism. He has taught numerous workshops and retreats. His column What Would Sid Do (Sid = Siddhartha, the Buddha) has appeared regularly on Beliefnet.com since 2009, and his posts there have also appeared in the Huffington Post.
Praise For The Buddha Walks into a Bar...: A Guide to Life for a New Generation…
"A young, New York-based Buddhist teacher, Rinzler is able to take a relaxed, colloquial approach to meditation and its many benefits because he's so well-versed in Shambhala and Tibetan Buddhism. With examples ranging from superheroes to YouTube videos, Rinzler brings timeless teachings to the buzz of now in an engaging, richly instructive, genuinely illuminating spiritual guide."—Booklist

"Don't let Rinzler's youthful exuberance fool you. The kid knows his stuff."—Tricycle

"This volume is far beyond a compilation of Rinzler's columns or prior work; it is a genuine introduction to living a Buddhist life without immersion in Buddhism's more esoteric practices."—Library Journal


"Light-hearted, contemporary, and at times hilarious, Rinzler's book is addictively easy to read."—Nexus


"Enjoyable, engaging, and inspiring. I loved the book and think it's a great introductory read for a younger person who would like to know more about Buddhism, or just life in general."—Wildmind.org

"Rinzler's voice is approachable and funny and absolutely credible to all of the young professionals who seem to have it all but who are beginning to wonder if they are missing something really, really big."— www.beliefnet.com 

"The cool kid's Buddhist."—The Boston Phoenix