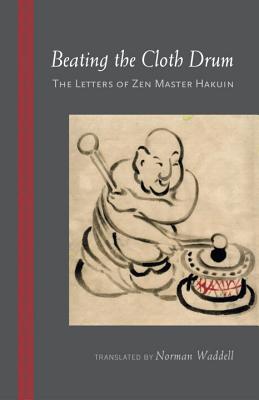 Beating the Cloth Drum: The Letters of Zen Master Hakuin (Paperback)
The Letters of Zen Master Hakuin
Shambhala Publications, 9781590309483, 228pp.
Publication Date: March 20, 2012
* Individual store prices may vary.
or
Not Currently Available for Direct Purchase
Description
Hakuin Ekaku (1685-1769) is one of the most influential figures in Zen Buddhism. He revitalized the Rinzai Zen tradition (which emphasizes the use of koans, or unanswerable questions, in meditation practice), and all masters of that school today trace their lineage back through him. He is responsible for the most famous of all koans: -What is the sound of one hand clapping?- He is also famous for his striking and humorous art, which he also regarded as teaching. This book provides a rare, intimate look at Hakuin the man, through his personal correspondence. Beating the Cloth Drum contains twenty-eight of Hakuin's letters to students, political figures, fellow teachers, laypeople, and friends. Each letter is accompanied by extensive commentary and notes. They showcase Hakuin's formidable, thoughtful, and sometimes playful personality--and they show that the great master used every activity, including letter-writing, as an opportunity to impart the teachings that were so close to his heart.
About the Author
Norman Waddell is a professor of international studies at Otani University in Kyoto, Japan. He is also the translator of The Essential Teachings of Zen Master Hakuin and Zen Words for the Heart: Hakuin's Commentary on the Heart Sutra.
Praise For Beating the Cloth Drum: The Letters of Zen Master Hakuin…
"From Norman Waddell, the tireless translator of Hakuin, a new book: Beating the Cloth Drum. Containing letters, some of them only recently discovered, written by Hakuin to his disciples, both monks and lay believers, it covers topics ranging from the nature of enlightenment to the cost of getting a book printed in eighteenth-century Japan. A must-read for anyone interested in the life and teachings of this Master of Zen!"—Burton Watson, translator of The Columbia Book of Chinese Poetry

"Norman Waddell is far and away the finest translator of Hakuin's writings, bringing to life many facets of the great Zen Master's work. Amazingly, this is the first book in any language to gather together his letters. Supported here by thorough and helpful commentaries, they fully demonstrate the generosity of Hakuin's spirit, the breadth of his knowledge, and the compassionate rigor of his teachings."—Stephen Addiss, author of 77 Dances and The Art of Zen

"Exuberant collection. . . . Writing so vivid it takes the breath away. [Zen Master Hakuin's letters] throw open windows onto his personality: his penchant for playful hyperbole and subterfuge, his humor, his aspirations for his students, and his relentless pursuit of a Dharma heir.  With Waddell's illuminating commentary, they fan a Zen breeze, bringing the spectrum of Hakuin's life and the intensity of his dedication before us."—Mountain Record: The Zen Practitioner's Journal

"Hakuin's letters . . . give modern readers a glimpse into the compassionate activity exhibited by this formidable Zen master."—Buddhadharma: The Practitioner's Quarterly
 
Advertisement