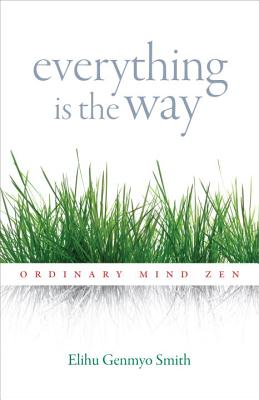 Everything Is the Way: Ordinary Mind Zen (Paperback)
Ordinary Mind Zen
Shambhala, 9781590309728, 240pp.
Publication Date: June 12, 2012
* Individual store prices may vary.
or
Not Currently Available for Direct Purchase
Description
These days, when Zen has become a kind of shorthand for anything  that's enigmatic or aesthetically spare, it's refreshing be reminded that Zen is at heart a practice for waking up from the dream we inhabit—in order to free ourselves from the suffering the dream imposes on us. Elihu Genmyo Smith's eminently practical Zen teaching never loses sight of that central concern: Whether it takes the form of zazen (meditation), koan work, or just eating your breakfast, the aim of Zen practice is always nothing other than intimacy with ourselves and everything around us.
About the Author
Elihu Genmyo Smith is the resident teacher of the Prairie Zen Center in Champaign, Illinois, and one of the co-founders, with Charlotte Joko Beck, of the Ordinary Mind Zen School, whose teachers include such well-known Zen authors as Diane Rizzetto, Ezra Bayda, and Elizabeth Hamilton, as well as Barry Magid. Genmyo has practiced Zen for around thirty-five years, beginning as a student of Soen Nakagawa and Eido Tai Shimano, then he trained with Maezumi Roshi, who ordained him, and then with Charlotte Joko Beck. He was her first dharma heir, and remains close to her. He teaches extensively around the Midwest/Chicago area, though he ventures beyond that as well. He's also associated with Bernie Glassman and the Zen Peacemakers. He blogs on "current events, books, and random themes" on his blog Clouds (clouds-genmyo.blogspot.com).
Praise For Everything Is the Way: Ordinary Mind Zen…
"As I read Genmyo Elihu Smith's book, I heard in his voice echoes of the voices of his teachers, Soen Roshi, Maezumi Roshi, and Joko Beck. And yet, Genmyo's voice is his own, a voice imbued with confidence about the unique benefits of practice and its relevance to the difficulties of ordinary life. Reading this book is like having a Zen teacher appear in your living room, warm, wise and intimate."—Jan Chozen Bays, author of Mindful Eating and How to Train a Wild Elephant

"This is a text to digest and inhale, as you would the presence of someone facing you. Inspired by his long and intimate study with some of the greatest Zen teachers of our time, Genmyo comments skillfully on a range of Zen koans and teachings, bringing each, always, to his one insistent point: Zen practice is not at all difficult. It is allowing the awareness that we truly are."—Zoketsu Norman Fischer, founder of the Everyday Zen Foundation, author of Taking Our Places: The Buddhist Path to Truly Growing Up

"This astonishing collection of essays succeeds in its mission to show us how everything is the Way. Here you will find cogent insights into practice, impermanence, non-self, being transparency, and receiving the precepts."—SpiritualityandPractice.com

"Revelatory for the Buddhist practitioner; fluent and fascinating for the general reader. Smith has written a fine and well-controlled book on his own experience and the fundamental truths of the Zen approach to Buddhist understanding and life."—Library Journal
Advertisement