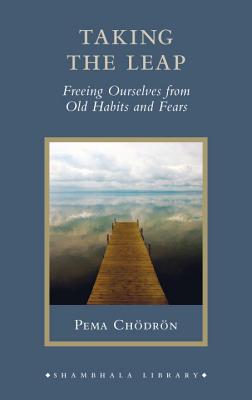 Taking the Leap: Freeing Ourselves from Old Habits and Fears (Hardcover)
Freeing Ourselves from Old Habits and Fears
Shambhala Publications, 9781590309810, 111pp.
Publication Date: September 11, 2012
* Individual store prices may vary.
or
Not Currently Available for Direct Purchase
Description
In this pithy, inspiring book, Pema Chodron presents the Buddhist concept of shenpa, which can be translated as "getting stuck" or "getting hooked." Shenpa arises in that moment when life suddenly becomes disappointing, difficult, or painful. Perhaps someone criticizes your work, your appearance, or your child. Something within you tightens, shuts down. That's shenpa. After we tighten, we instinctively start to blame ourselves or others. We might get angry and lash out at others in words or actions. Or we might reach for a cigarette, a drink, or some other addictive substance to numb our pain. Chodron shows us that our habitual reactions to life's difficulties keep us locked in cycles of suffering. In Taking the Leap she shows us a new way of responding to life's upsets: learning to stay present. Rather than habitually running from life's hurts, you can actually stop and open your heart, thereby discovering true courage and compassion. This book presents "the four R's" of working with shenpa recognizing, refraining, relaxing, and resolving. With her characteristic warmth and encouragement, Pema Chodron offers transformational teachings and practices that readers can immediately put to use in their daily lives.
About the Author
Pema Chodron is an American Buddhist nun in the lineage of Chogyam Trungpa. She is resident teacher at Gampo Abbey in Nova Scotia, the first Tibetan monastery in North America established for Westerners. She is the author of many books and audiobooks, including the best-selling When Things Fall Apart and Don't Bite the Hook.
Praise For Taking the Leap: Freeing Ourselves from Old Habits and Fears…
"This short guide provides valuable tools for change in uncertain times."—Publishers Weekly
Advertisement