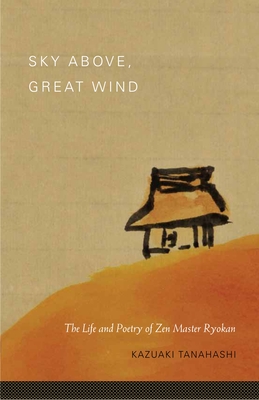 Sky Above, Great Wind
The Life and Poetry of Zen Master Ryokan
Paperback

* Individual store prices may vary.
Other Editions of This Title:
MP3 CD (2/21/2017)
Description
The delightful and often funny poetry of Zen's quintessential free spirit, Master Ryokan—in a fresh translation by a beloved American Zen figure

Ryokan Taigu (1758-1831) was a monk in the Soto lineage of Japanese Zen who spent a good part of his life as a hermit, writing poetry, playing with children, and creating simple and exquisitely beautiful calligraphies—sometimes using twigs as his instrument when he couldn't afford a brush. He was never head of a monastery or temple and as an old man, he fell in love with a young Zen nun who also became his student. His affection for her colors the mature poems of his late period.

This loving tribute to the great legendary nonconformist includes more than 140 of his poems, 13 examples of his art, and a selection of laugh-out-loud funny anecdotes about his highly idiosyncratic teaching behavior.
Praise For Sky Above, Great Wind: The Life and Poetry of Zen Master Ryokan…
"The Zen monk Ryokan has become one of the most popular poets in Japanese history. Living in a small mountain hut rather than a temple, and preferring to play with children to ceremonies, he captured his warm humanity, gentle humor, and deep spirit in his poetry.  This fine new translation by Kazuaki Tanahashi includes a generous serving of his poetry in Japanese and Chinese styles, as well as a biography, analysis of his poetry, and charming anecdotes about his life. It is easy to see why Ryokan has become so beloved, not only in Japan, but in the rest of the world as well."—Stephen Addiss, author of The Art of Zen and The Art of Haiku

"The 'Great Fool' Ryokan is one of the most revered figures in Japanese poetry, and in Kaz Tanahashi, he has found as perfect an advocate-translator as could be imagined. In this translation, we find an insightful introduction and poem after poem revealing Ryokan's great good humor, his aloneness, his eccentricities, his poverty in a small hut in the mountains, his Buddhist insightfulness, his love of children and silk-thread balls, and, eventually, his love for a much younger woman. This is a marvelous achievement and a joy to read."—Sam Hamill, author of Almost Paradise
Shambhala, 9781590309827, 224pp.
Publication Date: October 9, 2012
About the Author
Ryokan (1758–1831) is, along with Dogen and Hakuin, one of the three giants of Zen in Japan. But unlike his two renowned colleagues, Ryokan was a societal dropout, living mostly as a hermit and a beggar. He is now regarded as one of the greatest poets of the Edo Period, along with Basho, Buson, and Issa. He was also a master artist-calligrapher with a very distinctive style, due mostly to his unique and irrepressible spirit.

Kazuaki Tanahashi, a Japanese-trained calligrapher, is the pioneer of the genre of "one stroke painting" as well as the creator of multicolor enso (Zen circles). His brushwork has been shown in solo exhibitions in galleries, museums, and universities all over the world. Tanahashi has edited several books of Dogen's writings and is also the author of Brush Mind.
or
Not Currently Available for Direct Purchase