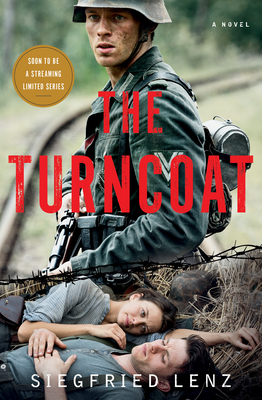 The Turncoat
A Novel
Paperback

* Individual store prices may vary.
Other Editions of This Title:
Digital Audiobook (12/28/2020)
Compact Disc (12/29/2020)
MP3 CD (12/29/2020)
Description
"Never has the aftermath for Germans been better depicted than in Siegfried Lenz's elegiac, The Turncoat. A newly discovered masterpiece." —Alex Kershaw, New York Times bestselling author of Avenue of Spies

Previously unpublished, this German postwar classic is one of the best books of this major writer, who died in 2014.
 
The last summer before the end of World War II, Walter Proska is posted to a small unit tasked with ensuring the safety of a railway line deep in the forest on the border with Ukraine and Byelorussia. In this swampy region, a handful of men—stunned by the heat, attacked by mosquitoes, and abandoned by their own troops in the face of the resistance—must also submit to the increasingly absurd and inhuman orders of their superior. Time passes, and the soldiers isolate themselves, haunted by madness and the desire for death. An encounter with a young Polish partisan, Wanda, makes Proska further doubt the validity of his oath of allegiance, and he seeks to answer the questions that obsess him: When conscience and duty clash, which is more important? Is it possible to take any action without becoming guilty in some way? And where is Wanda, this woman from the resistance he can't forget?

Written in 1951, The Turncoat is Siegfried Lenz's second novel. Rejected by his publisher, who thought that the story of a German soldier defecting to the Soviet side would be unwelcome in the context of the Cold War, the manuscript was forgotten for nearly seventy years before being rediscovered after the author's death. A posthumous triumph.
Praise For The Turncoat: A Novel…
"This antiwar satire would have been quite a shock to the system of a wounded, divided postwar Germany…darkly comic…explosive…persuasive." —New York Times Book Review

"Lenz (1926–2014) effectively mines his experiences in the German army for this memorable account…[His] meaningful exploration of loyalty owed to one's country and family is packed with thrills and chills." —Publishers Weekly

"Fully imagined and absolutely gripping…one can only marvel at that spineless publisher who managed to stifle The Turncoat for over fifty years. He really missed out on something." —Arts Fuse

"It was so very hard for the victors in World War II to come home and heal. For the defeated, there was untold shame, loss, and humiliation. Never has the aftermath for Germans been better depicted than in Siegfried Lenz's elegiac, The Turncoat. A newly discovered masterpiece." —Alex Kershaw, New York Times bestselling author of Avenue of Spies

"The Turncoat is eerily relevant and addresses the challenges we face in America with the rise of authoritarianism and white supremacy. Our hero Walter's tale of love and adventure upends the tropes of war literature to brilliant effect. Siegfried Lenz's prose combines grinding realism with bravura cinematic flourish. This novel of men at arms draws power from the intricacies of the human heart and conflicted truths therein." —Gabe Hudson, author of Dear Mr. President

"Compelling in its message, evocative in its prose, The Turncoat is the sad story of mindless cruelty and chaos in war—and of one soldier who flees evil. This is a book you'll find disturbing, but won't be able to put down." —Douglas Waller, author of Wild Bill Donovan

"While the novel was way ahead of the curve in 1951, today it is immensely relevant. Nationalist tendencies are on the rise all over the globe, the desire for strong leaders and simple answers to complex questions is more and more prevalent. The Turncoat deals with issues that are highly urgent today; therefore, it is a novel ripe for adaptation. Lenz has succeeded in facing these complex questions of guilt and responsibility on a deeply human level. He tells this through the viewpoint of his characters so we can not only relate to and understand their emotions but live through them as well." —Florian Gallenberger, Academy Award–winning director
 
"First, this is quite a surprise, and second, after reading the book, a sensation. The Turncoat is a brilliant novel, adding an impressive work to Lenz's output, and thus to German postwar literature." —Der Spiegel
Other Press, 9781590510537, 384pp.
Publication Date: October 6, 2020
About the Author
Siegfried Lenz, born in Lyck in East Prussia in 1926, is one of the most important and widely read writers in postwar and present-day European literature. During World War II he deserted the German army and was briefly held as a prisoner of war. He published twelve novels, including The German Lesson, and produced several collections of short stories, essays, and plays. His works have won numerous prizes, including the Goethe Prize and the German Booksellers' Peace Prize.
 
John Cullen (1942–2021) is the translator of many books from Spanish, French, German, and Italian, including Siegfried Lenz's The Turncoat, Juli Zeh's Empty Hearts, Patrick Modiano's Villa Triste, Kamel Daoud's The Meursault Investigation, and Philippe Claudel's Brodeck.