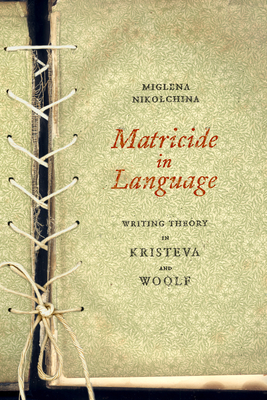 Matricide in Language: Writing Theory in Kristeva and Woolf (Paperback)
Writing Theory in Kristeva and Woolf
Other Press (NY), 9781590510803, 150pp.
Publication Date: March 17, 2004
* Individual store prices may vary.
or
Not Currently Available for Direct Purchase
Description
The nexus of psychoanalytic, literary, and philosophical approaches in this book focuses on an intertextual reading of Woolf and Kristeva in order to address the enigma of the persistent suppression of women's contributions to culture. In spite of the efforts of feminist theory and history to turn the tide, this process is with us still. "I am the first of a new genus" (Mary Wollstonecraft). "When I looked around, I saw and heard of none like me" (Mary Shelley). "I look everywhere for grandmothers and find none" (Elizabeth Barrett Browning). "Why isn't there a tradition of the mothers?" (Virginia Woolf). "Women have 'no past, no history'" (Simone de Beauvoir). "I look for myself throughout the centuries and I don't see myself anywhere" (Helene Cixous). As Woolf noted, "strange spaces of silence" separate the solitary female utterances throughout history. The brutal vicissitudes of the contemporary reception of feminist thinkers, crushed between traditional academia and an anti-intellectualism that describes itself as activism, are symptoms of the fact that the conditions, which produced the "strange spaces of silence" and made the repetitive generic loneliness from Wollstonecraft to Cixous possible, are still operative. They have found their way into the present age as "reactionary conformity that manages to discredit any notion of feminine specificity or freedom that is not based on seduction–which means not based on reproduction and consumption" (Kristeva).

The intertextual approach to Kristeva and Woolf brings to light "matricide" as the silent engine behind the stammering of female temporality. "Matricide" is offered as an entrance to the conceptualization of the cultural ramifications of a language that wavers between hypnotic passion and murder. As Joan Scott has demonstrated, the oscillations between phantasies of uniqueness and phantasies of fusion are characteristic of women's movements. Matricide in Language claims that these fantasies are subtended by imaginary matricide and that they can explain the extreme discursive practices that are characteristic of the debate in and around feminism.
About the Author
Miglena Nikolchina

Miglena Nikolchina is a professor in the Department of Theory and History of Literature, Sofia University, Bulgaria. Her theoretical books include "The Utopian Human Being" (1992) and "Born from the Head: Plots and Narratives in Women's Literary History" (2002). In English, her essays have appeared in "Differences, Semiotica, Diacritics, Paragraph, " and "Tessera."
Advertisement