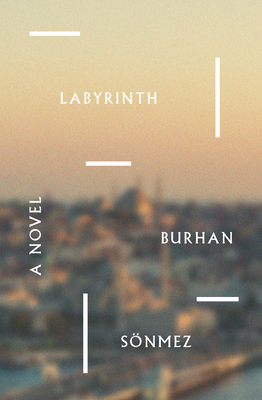 Labyrinth (Paperback)
A Novel
Other Press, 9781590510988, 192pp.
Publication Date: November 19, 2019
* Individual store prices may vary.
Description
Notable International Crime Novel of the Year – Crime Reads / Lit Hub

From a prize-winning Turkish novelist, a heady, political tale of one man's search for identity and meaning in Istanbul after the loss of his memory.

A blues singer, Boratin, attempts suicide by jumping off the Bosphorus Bridge, but opens his eyes in the hospital. He has lost his memory, and can't recall why he wished to end his life. He remembers only things that are unrelated to himself, but confuses their timing. He knows that the Ottoman Empire fell, and that the last sultan died, but has no idea when. His mind falters when remembering civilizations, while life, like a labyrinth, leads him down different paths.

From the confusion of his social and individual memory, he is faced with two questions. Does physical recognition provide a sense of identity? Which is more liberating for a man, or a society: knowing the past, or forgetting it?

Embroidered with Borgesian micro-stories, Labyrinth flows smoothly on the surface while traversing sharp bends beneath the current.
About the Author
Burhan Sönmez is the author of four novels, which have been published in more than thirty languages. He was born in Turkey and grew up speaking Turkish and Kurdish. He worked as a lawyer in Istanbul before moving to Britain as a political exile. Sönmez's writing has appeared in various newspapers, such as The Guardian, Der Spiegel, Die Zeit, and La Repubblica. He now divides his time between Istanbul and Cambridge.

Ümit Hussein, of Turkish Cypriot origin, was born and raised in London, where she grew up speaking both Turkish and English. She holds an MA in Literary Translation from the University of East Anglia and has translated such authors as Ahmet Altan, Yavuz Ekinci, Sine Ergün and Nermin Yıldırım, among others. She lived and worked in Japan, Portugal, and France before settling in Seville, Spain, where she is now based.
Praise For Labyrinth: A Novel…
"Provocative…profound…[Labyrinth], beautifully translated by Ümit Hussein, reads like a fever dream." —New York Times

"Subtle…stirring…A thoughtful novel that asks many unanswerable questions worth pondering, Labyrinth is a mind-twister." —NPR

"A cerebral philosophical meditation on memory and what it means to live without it…accessible and profound, bringing to mind Albert Camus and Patrick Modiano…this is a book that will undoubtedly linger in a reader's mind." —Publishers Weekly

"As this book opens, a blues singer attempts to take his life by jumping five hundred feet off a bridge into the Bosphorus. He survives but his memory is shattered—he knows the last Sultan has died, but the rest is a maze. This short, elliptical novel by the author of Istanbul, Istanbul follows him into its pathways, conjuring the ineluctable entanglement of place and person." —John Freeman, Literary Hub

"A provocative examination of memory and loss, of intent and outcome…masterful." —Shelf Awareness
 
"Compact, thought-provoking, and gently exquisite, Labyrinth…establishes [Sönmez] as one of Europe's great contemporary authors…The effect of the book's simple clauses, infused with a continual stream of sensual description, is hypnotic." —World Literature Today
 
"A bold and entrancing work." —The National

"This clever, elliptical tale…will linger in your memory long after you have read it." —Book Riot
 
"[A] many-layered mystery with few answers but all the most interesting, searching questions about identity, memory, and intersecting lives…Labyrinth has been earning comparisons to Borges, and they're well deserved, as a sense of intrigue and philosophy pervades this excellent, meditative novel." —CrimeReads
 
"Sönmez brilliantly guides the reader…He uses storytelling—anecdotes, fables, and histories—to describe lessons that are valuable for comprehending life…The setting is vibrant, and though I've never been to Istanbul I feel a sense of familiarity with the city having read Sönmez's novel." —Literary Review

"A provocative and beautifully written story of the weave and tears of memory and identity worthy of Borges's own Labyrinths. Long after finishing this marvelous book, I still think every day of the questions it raises." —Eric Lax, author of Start to Finish

"A novelist with such a sense of both humanity and power is rare. With Labyrinth, Burhan Sönmez adds another important building block to his portrait of life today, with Turkey as the stage for all of our dramas. Underneath it all, he seems to be asking whether societies like ours can survive if we are allowed to remember." —John Ralston Saul, author of The Collapse of Globalism; President Emeritus of PEN International