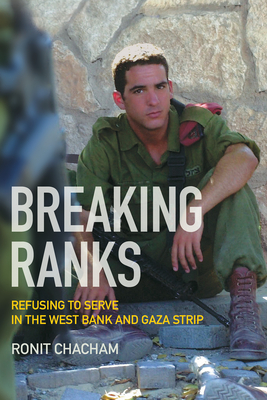 Breaking Ranks
Refusing to Serve in the West Bank and Gaza Strip
Paperback

* Individual store prices may vary.
Description
In a series of moving and provocative conversations, nine members of the Israeli Defense Force tell why they refused to serve in the West Bank and Gaza. The "Refuseniks" describe their risky moral decision against the background of what is perhaps the most volatile conflict in the world today: the Israeli-Palestinian struggle. Their individual choices and their collective activism have generated intense debate in Israel and the international community, from the leading Israeli newspaper Ha'Aretz to a segment on 60 Minutes.

In a sociocultural mosaic of the Refusenik movement and the political context in which it arose, these men describe their individual family backgrounds and beliefs. Dedicated to the welfare of their country and its cultural heritage, they outline their concerns for the future of Israel. As they tell their stories of personal struggle, they also raise the disturbing and highly controversial issue of human rights abuses in the occupied territories.

These personal accounts offer new perspectives on some entrenched ideas about the situation in the Middle East. The testimony in Breaking Ranks is essential background for a full understanding of the Israeli-Palestinian conflict. In this time of grave crisis in the Middle East, with no solution in sight to repair the utter collapse of the peace process, these voices offer a message of hope in their commitment to their society and nation.
Praise For Breaking Ranks: Refusing to Serve in the West Bank and Gaza Strip…
Middle East Journal 2004

"Ronit Chacham's Breaking Ranks rise[es] to the level of the literature of testimony, the literature that stays news forever, that will not allow injustice to be forgotten, that records what the victums themselves cannot record ... the Isareli voices, aided by a sense of detachment, takes us to the heart of the Palestinian experience; they bombard our senses with rich, sensory detail, the images of brutality and oppression stay embedded in our memory."

Publishers Weekly 2003

The Critic's Credo: Breaking Ranks
May 1, 2003

Military service is an integral part of life in Israel: both men and women serve in the Israel Defense Forces; devotion to the country's survival is a given. So disobeying an order is a remarkable action--one discussed in depth here by nine "refuseniks," Israeli soldiers (all officers) who refused to serve in the Occupied Territories. They tell Chacham, an Israeli cultural critic and fiction writer, about their upbringings, their crises of conscience, the mistreatment of Palestinians by themselves and others ("Our job was giving the Palestinians a hard time," says one), their attempt to reconcile support for Palestinian rights with devotion to their homeland, their refusals to serve and the consequences. "When you're there [in the territories], you're committing crimes whether you like it or not....I'm not political," says one. "I speak from personal experience when I say I can't stand it anymore." Anyone trying to understand why these men have taken the action they have will be moved by their thoughtfulness and articulateness.
Other Press, 9781590510995, 176pp.
Publication Date: December 17, 2003
About the Author
Ronit Chacham

Ronit Chacham, a native of Israel currently living in Jerusalem, is a widely published cultural critic who contributes regularly to news magazines in Israel. She is also the author of numerous works of fiction, including children's books, short stories, and plays.
or
Not Currently Available for Direct Purchase