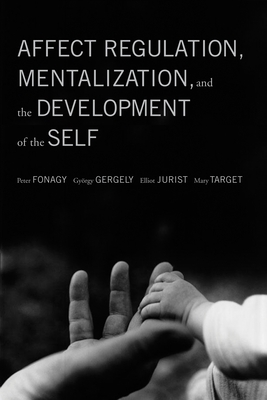 Affect Regulation, Mentalization, and the Development of the Self
Paperback

* Individual store prices may vary.
Other Editions of This Title:
Paperback (1/1/2004)
Hardcover (7/5/2019)
Description
Winner of the 2003 Gradiva Award and the 2003 Goethe Award for Psychoanalytic Scholarship

Arguing for the importance of attachment and emotionality in the developing human consciousness, four prominent analysts explore and refine the concepts of mentalization and affect regulation. Their bold, energetic, and encouraging vision for psychoanalytic treatment combines elements of developmental psychology, attachment theory, and psychoanalytic technique. Drawing extensively on case studies and recent analytic literature to illustrate their ideas, Fonagy, Gergely, Jurist, and Target offer models of psychotherapy practice that can enable the gradual development of mentalization and affect regulation even in patients with long histories of violence or neglect.
Praise For Affect Regulation, Mentalization, and the Development of the Self…
"Stunning in its scope, powerfully reasoned, clinically rich in telling cases, and historically sophisticated. What an intellectual delight to have a book that stays in your mind, continues to challenge, and offers new directions for understanding."
-Ed Tronick, Chief of the Child Development Unit, Associate Professor, Department of Pediatrics, Harvard Medical School

"This is a book worth savoring, not just reading."
-Drew Westen, Director, Adolescent and Adult Personality Programs, Center for Anxiety and Related Disorders, Boston University

"This book is already a classic."
-Paul Verhaeghe, Professor of Clinical Psychology, Department of Psychoanalysis, University of Ghent, Belgium

"An intellectual and clinical tour de force. This book will have a profound impact on both clinical practice and clinical research."
-Sidney J. Blatt, Professor of Psychiatry and Psychology, Yale University
Other Press, 9781590511619, 592pp.
Publication Date: April 17, 2005
About the Author
Peter Fonagy, Ph.D., F.B.A., is Freud Memorial Professor of Psychoanalysis and Director of the Sub-Department of Clinical Health Psychology at Univesity College London.

Gyorgy Gergely, Ph.D., is Director of the Developmental Psychology Laboratory of the Psychology Institute of the Hungarian Academy of Sciences.

Mary Target, Ph.D., is a Senior Lecturer in Psychoanalysis at University College London.

Elliot L. Jurist, Ph.D., is Director of the PhD Program in Cinical Psychology, CUNY, and Lecturer, Department of Psychiatry, College of Physicians and Surgeons, Columbia University.