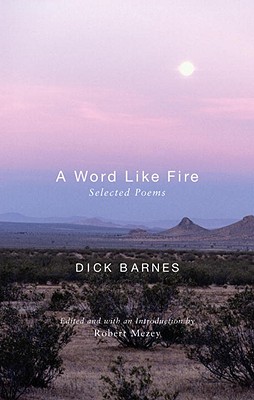 A Word Like Fire (Paperback)
Selected Poems
Handsel Books, 9781590511671, 141pp.
Publication Date: April 17, 2005
* Individual store prices may vary.
Description
"Thank you, other twolegged bare featherless creature,
for sharing the jagged horizon of my life.
Thank you rainbow over the East Mojave
low to the ground so early in the afternoon:
thank you for being here with us."
- from "Bagdad Chase Road in July"
"A Word Like Fire," the first comprehensive selection of his poems, should confirm Dick Barnes's place as one of the most accomplished and likable American poets of the last fifty years. His great subject is the Mojave Desert, the vast basin of ranges and valleys east and north of Los Angeles, with its beautiful shrubs and flowers, magnificent trees, ephemeral grasses, high lakes, rivers and dry river beds, alfalfa farms, and isolated towns with names like Essex, Cadiz Summit, Elephant Butte, Running Springs, Helendale, and often canny and solitary men and women. Of this world, Dick Barnes gives an indelible portrait in poem after poem.
But Barnes is more than a regional poet. As Robert Mezey writes in his brilliant Foreword, "He has an engaging variety of subjects, and to almost all of them he gives faithful perception and love." He is a master of the elegy, and wrote love poems, satires, devotional poems, and, Mezey notes, "poems of wry social comment and occasionally anger." In works such as "A Visit to Lonesome John: Autumn Coming," "Few and Far Between," "Clearing the Way," "Example and Admonition," and "Trophy Hunt" surely one of the masterpieces of American poetry the reader encounters a keenly observant, knowledgeable, humane, and passionate poet.
About the Author
Dick Barnes

Dick Barnes was born in San Bernadino, California, in 1932. Educated at Pomona, Harvard, and the Claremont Graduate School, he taught medieval and renaissance literature at Pomona for nearly forty years. He published several volumes of poetry and translations. He died in May, 2000. Robert Mezey

Robert Mezey is an eminent poet, translator, critic, and editor. His books include the Lamont Prize-winning "The Lovemaker" (1960) and "Collected Poems 1952-1999" (2000). He lives in Pomona, California.
or
Not Currently Available for Direct Purchase