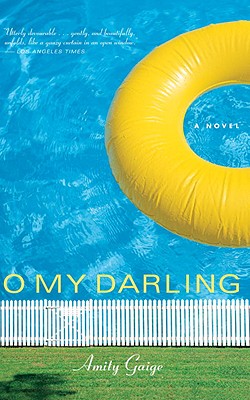 O My Darling (Hardcover)
Other Press (NY), 9781590511749, 248pp.
Publication Date: May 17, 2005
* Individual store prices may vary.
Description
"O My Darling" tells the story of a devoted young couple whose marriage begins to implode when they move into their first house. The external lives of Clark, a high school guidance counselor, and Charlotte, a bookkeeper, are utterly ordinary, but their interior lives are as bold and complex as abstract paintings colored by imagined possibilities, childhood joys and, more darkly, by deeply buried fears. When Clark rescues a young boy from drowning, a chain of events--some comic, some harrowing--is set in motion, revealing the fault lines of the couple's marriage and individual psyches.
Amity Gaige is a consummate stylist. Her every sentence contains a tiny world--marrying striking images to deep, soulful ideas in perfectly concise fashion. Her cool, slightly off-kilter sensibility expressed in spare, lucid prose will remind readers of Paula Fox ("Desperate Characters"), while her pure, hyper-real vision of suburban America places her among the most talented of the generation of writers dubbed "the children of Cheever."
"Given its level of sophistication and off-center wit, it's a bit startling to realize that "O My Darling" is Amity Gaige's first novel. The characters, beautifully drawn, are as unsentimental toward one another as their author is toward them and yet, wonderfully, this novel with its many ambushes of lyrical moments, is deeply felt."
-Stuart Dybek, author of "I Sailed with Magellan"and "The Coast of Chicago.
About the Author
Amity Gaige is a graduate of Brown University and the Iowa Writer's Workshop. She is the author of the acclaimed novel O My Darling, chosen by the National Book Foundation for its "5 Under 35" program to recognize the achievements of five first-time fiction writers each year. She teaches creative writing at Mount Holyoke College and lives in Amherst, Massachusetts. Visit her website at www.amitygaige.com.