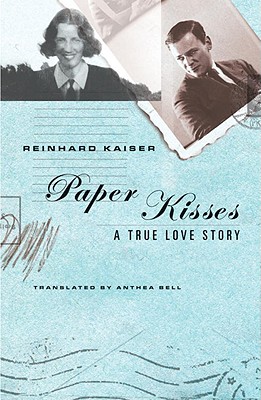 Paper Kisses (Paperback)
A True Love Story
Other Press (NY), 9781590511817, 112pp.
Publication Date: August 17, 2006
* Individual store prices may vary.
Description
A fascinating piece of literary detective work about star-crossed lovers in Nazi Germany.
Rudolf Kaufmann, a young Jewish geologist, met Ingeborg Magnusson, a young Swedish woman gifted in languages, in Italy in 1935, and the two quickly fell in love. They spent just a few days together before they had to part. He traveled once to see her in Stockholm; she went once to Germany. After that they had to make do with an exchange of letters ordinary, sad, and dramatic at the same time telling the story of a love that blossomed under traumatic circumstances. Paper Kisses covers the period from 1935 to 1941, when Rudolf, having fled Nazi Germany for the apparent safety of Lithuania, was to disappear from view.
Sixty years later, at a stamp auction, author Reinhard Kaiser bought a packet of envelopes that still held their original handwritten contents. The tale he discovered on the pages of Rudolf's letters to his beloved "Ingelein" immediately captivated Kaiser. How did such precious personal correspondence end up on the auctioneer's table? What became of Ingeborg's letters to Rudolf? Did either of the star-crossed lovers survive the war? Kaiser tracked down photographs, documentary records, and finally living members of the couple's families to fill in the gaps of their story.
In Paper Kisses, Kaiser allows the letters to speak for themselves, while providing enough historic context to reveal how remarkable the couple's loyalty, optimism, and resourcefulness were against the backdrop of the harrowing events of World War II. Kaiser's own fascinating literary detective work frames the narrative, as he makes one unexpected find after another. Paper Kisses is both a story of a poignant love affair and a chronicle of a thrilling investigation.
About the Author
Reinhard Kaiser

Reinhard Kaiser, writer, translator, and editor, was born in 1950 and now lives in Frankfurt am Main, Germany. He has won many literary prizes for his books, including "Paper Kisses." Anthea Bell

Anthea Bell's translations include the works of the Brothers Grimm, Clemens Brentano, Wilhelm Hauff, Christian Morgenstern, and E.T.A. Hoffmann. In 2002, her translation of W.G. Sebald's Austerlitz won the Kurt Wolff Translator's Prize from the Goethe- Institut Inter Nationes.
Praise For Paper Kisses: A True Love Story…
Publishers Weekly

Dismissed from his position at Greifswald University, [Rudolf Kaufmann] sought work in Italy, where, in the summer of 1935, he fell in love with Ingeborg Magnusson, a 28-year-old Swedish insurance company worker on holiday... Interweaving excerpts from their letters with information he gathered from relatives, [Reinhard Kaiser's] gem of a story provides readers with a fresh, intimate angle from which to view the devastating effects of Hitler's war on the world.


Forward, Elizabeth Frankenberger

That Kaiser took the time to introduce Rudolf and Inge to modern readers — whose primary form of written communication is likely electronic — is both rewarding and humbling. Covering the years leading up to Hitler's Final Solution, their letters serve as an obvious yet striking reminder that beneath every stamp lies a story — one that, unlike books, is neither intended to be understood by a wide audience nor cataloged by the Library of Congress.


School Library Journal, Will Marston

The story is compelling, and the experience is similar to reading Anne Frank's Diary. Black-and-white photographs and reproductions of letters and documents enhance the text.


Historical Novels Review, Lessa J. Scherrer

Paper Kisses is a story that will haunt the reader long after the short book is over.


The Jewish Exponent, Robert Leiter

"This is the saddest story I've ever heard."

I've borrowed the phrase to begin this review of a brief, sad Holocaust work called Paper Kisses. It's written by Reinhard Kaiser, and has been published by the little-known but quite enterprising Other Press. Yet I mean for this famous phrase to be taken purely on face value. I do believe that, if this is not the saddest story I've ever heard, it's definitely one of them.

Kaiser only had one-half of the story to begin with -- Kaufmann's letters only. But with this evidence in hand, he set out to seek the whole truth, fill in the entire picture. He wishes to settle certain matters, as well as tell of Kaufmann and Magnusson's love affair, the happy moments and the unbearably sad ones. But he wants as well to know how these sweet, sad, personal letters were put up for auction in the first place. And he hopes to track down Ingeborg's half of the correspondence.

But perhaps most important of all, he wants to discover if either of these unfortunate people survived the war. Photos of the relevant players at various junctures in this history are also sprinkled about the text and only add to the mystery and the depth of feeling behind the story. It seems unfair to reveal any of the answers to these questions, but they are provided by Kaiser -- some of them only partial conclusions, others more certain -- in this tale of brief happiness, misfortune, and the vicissitudes of war and racism. The text of Paper Kisses does not even run to 100 pages, but the emotional distance covered there is enormous.

I repeat: This is, at the very least, one of the saddest story I've ever heard. But it is also a fundamental and imperishable tale of what happens to two fairly ordinary people, who only longed to be together during one of the darkest moments in all of history.
or
Not Currently Available for Direct Purchase