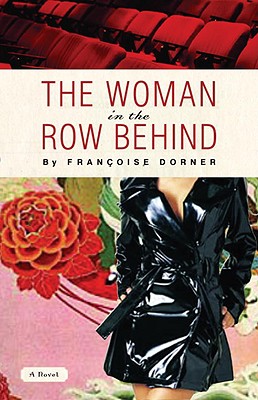 The Woman in the Row Behind (Paperback)
Other Press, 9781590511862, 128pp.
Publication Date: June 17, 2006
* Individual store prices may vary.
Description
"As an entomologist of the ways of love, [Dorner] has a rare precision . . . we devour her book, realizing that it shows the building and the destruction of a couple carried away by work and day-to-day concerns. Her story is our own, and that is why we love it."
-Paris Match

To save our marriage I tried offering him another woman. He has started fantasizing about her. He doesn't know it's me . . . and she is now destroying us.

Nina and Roger have a humdrum marriage, not helped by the pressures of their work running a newspaper kiosk on the shaded side of a busy street in Paris. Shuttling between her straight-laced husband, her selfish mother, the father she has never known, and her best friend who has—inconveniently—just split up with her brother-in-law, Nina decides one day to leaf through the girlie magazines she sells every day. She glimpses a world of pleasure and desire, and innocently believes she has found a way of rekindling something that may never have been there. As she explores her own longings and discovers how attractive she is to other men, how can she fail to win back the attention of the man she loves?

"These bitter pages—which flay both the flesh and the heart—tell the story of a love which would rather commit suicide than leave itself to die. There is no doubt [with this first novel] an author is born."
—Elle
About the Author
Francoise Dorner

Francoise Dorner is an actor, playwright, and screenwriter. In 1994 she was awarded the Prix du Jeune Theatre by the Academie Francaise for two of her plays. The Woman in the Row Behind, which won the Prix Goncourt du Premier Roman in 2004, is her first novel. She lives in Paris.
Praise For The Woman in the Row Behind…
Library Journal Leigh Anne Vrabel
This slim, swift read demonstrates talent and potential and will appeal to urban sophisticates looking for the latest in world fiction. An optional purchase for larger collections.

Publishers Weekly
The snappy, funny first novel by French playwright Dorner (awarded the Prix Goncourt du Premier Roman last year) observes the sad, sweet machinations of a bored young working-class Parisian wife. Dorner's colloquial first-person narrative, which feels like a riff on an early '60s film starring Catherine Deneuve, also charmingly navigates Nina's dutiful relationships with her needy, possessive mother; unhappy childhood friend Gisèle; and the thick, unenlightened Roger. As powerful feelings and further experimentation take hold, Dorner does a lovely job of showing the stakes in the marriage and its fault lines.

Kirkus Reviews
Although the story's plot is fantastical, Dorner's writing is hypnotic. Nina's voice—at turns joyless, curious, tentative and despairing—is utterly believable, and the spare descriptions of a deteriorating marriage are compelling. This is not a story about a woman's sexual awakening, nor is it a morality tale about the dangers of sexual fantasy. Rather, it is a sophisticated, stylish meditation about the unexpected connections between longing and sex, and about the impossibility of really knowing even those people to whom we are most attached. A grim, sharp-edged look at the emotional emptiness of marital intimacy.

Chicago Tribune
Fun, lighthearted debut novel about a Parisian wife whose desperate attempts to garner her husband's affections include following him in sexy disguise.

CityStyle Lori Walsh
A slim and classic summer read.

Los Angeles Times
Told in a deadpan voice ably rendered by veteran translator Adriana Hunter, Dorner's tale abounds with snappy visuals and dark situation comedy... (The Woman in the Row Behind) succeeds beautifully as tragic farce.

New York Times Andrew Ervin
A precise and thought-provoking novel of ideas wrapped in the garish trappings of chick lit....The Woman in the Row Behind is a small and sophisticated novel of big ideas, many of them extremely naughty.
or
Not Currently Available for Direct Purchase