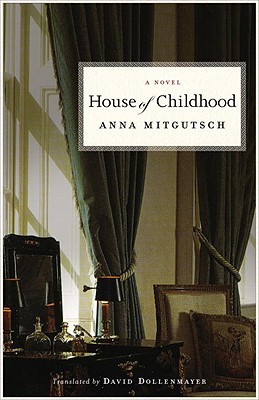 House of Childhood
A Novel: A Novel
Hardcover

* Individual store prices may vary.
Description
"One of the most important novels of contemporary Austrian literature."—Neue Zürcher Zeitung

Max Berman, a successful but rootless New York restoration architect, socialite, and ladies' man, remembers his childhood home in the small Austrian town of "H," mostly through his mother''s cherished photographs and vivid stories. When she dies, still longing for the house she fled with her husband and young children in 1928, Max temporarily abandons his playboy lifestyle and travels to H, determined to reclaim the confiscated house.

In H, Max encounters Nadja, a young woman convinced that her late mother was Jewish and that the local synagogue will provide the sense of community she lacks. Recognizing that she is too talented for her provincial neighbors, he arranges for her to attend college in the U.S., where she becomes the most significant of his many lovers. He also befriends Arthur Spitzer, a Holocaust survivor and the leader of H's dwindling Jewish community, who helps him regain legal control of his mother's house. When, years later, the last of his tenants finally moves out, Max returns to investigate his family's ties in H for a fateful year that challenges his restlessness and seems to offer the chance for real belonging.

Acclaimed Austrian writer Anna Mitgutsch's novel is a powerful examination of the meaning of home—in a place, a community, a relationship—and the difficulty of finding one in our tumultuous world.
Praise For House of Childhood: A Novel: A Novel…
Kirkus Review

STARRED REVIEW

Dense and deeply moving.

Austrian-born Mitgutsch (Lover, Traitor, 1997) writes with a passionate anger that can be discomforting, but her characters' complex humanity is riveting.


Publishers Weekly

Austrian [Anna] Mitgutsch (Lover, Traitor) delivers psychologically acute portraits of individuals struggling to define themselves as part of a larger community, and a penetrating depiction of postwar Austria's unease with its not-so-distant past.


Entertainment Weekly

Melissa Rose Bernardo
An unmarried middle-aged man seeks self-actualization returning to his family's long-deserted home. A ho-hum premise, but Mitgutsch shuttles easily between Max's New York City home and his birthplace, an Austrian town known simply as H. No detail is extraneous, yet most are admirably subtle: Max is moved by the "sepia melancholy" of a picture; his New York becomes "a labyrinth of promises." And his homeland is no Sound of Music idyll; it's littered with obstacles (his relatives' war-ravaged past, his fading Jewish faith). Getting home proves a rough, rewarding trip and not just for our nomadic hero. A-


Booklist

Whitney Scott
Mitgutsch's richly evocative prose explores the pull to home, which for Mira is the Austrian village that with husband and children she fled in 1928 for New York. It lives vibrantly for her in photos, along with the role she played there of favorite daughter of a father who eventually starved to death in a Polish ghetto. Her legacy to youngest son Max is the yearning to return, and at middle age, the successful architect and bachelor--ladies' man journeys to reclaim the family property and his mother's dream. "The lion's not here," he exclaims at sight of the place, referring to a statue seen in old photos, and Spitzer, secretary of the Jewish congregation, rejoins, "not the only thing ... different." Max's ownership is questioned "as a purely legal matter," and his local attorney negotiates with the bureaucracy for months. Meanwhile, Max studies library records and comes to regard the property less as a promised land and more as a piece of land--until, that is, 21-year-old Nadja enters the picture.

MultiCultural Review
Is it possible to develop meaningful relationships when one's connections to family and ancestral land are severed? In this affecting novel, Mitgutsch, a prize-winning novelist, would seem to argue that it is not.
Other Press, 9781590511886, 304pp.
Publication Date: August 17, 2006
About the Author
Anna Mitgutsch's

Anna Mitgutsch's fiction includes Three Daughters and Lover, Traitor, a finalist for the National Jewish Book Award. Recipient of the 2001 Solothurner Literaturpreis for German-language literary achievement, she lives in Austria and Boston.


David Dollenmayer

David Dollenmayer is Professor of German at Worcester Polytechnic Institute and the author of The Berlin Novels of Alred Doblin. He is the recipient of the 2008 Helen and Kurt Wolff Translator's Prize. He lives in Hopkinton, Massachusetts.
or
Not Currently Available for Direct Purchase