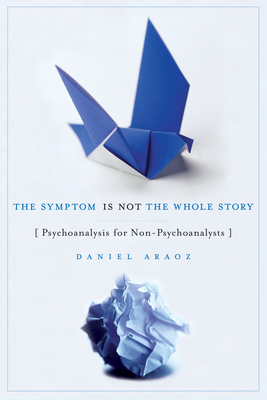 The Symptom Is Not the Whole Story
Psychoanalysis for Non-Psychoanalysts
Paperback

* Individual store prices may vary.
Description
A practical introduction to contemporary psychoanalysis that is accessible to all mental health professionals.

Trained mostly in cognitive-behavioral methods and techniques, many recent graduates from psychology, counseling, family therapy, and other mental health programs have not been exposed to psychoanalysis as a vibrant, practical, and beneficial approach to human problems. In The Symptom is Not the Whole Story, Araoz introduces the functional benefits and applications of psychoanalysis for these practitioners. Focusing sharply on the unconscious and its use in psychotherapy, this no-nonsense book illustrates how psychoanalytical thinking can transform peopleâÄôs lives, thanks to the therapist's active interventions and destabilizing interpretations.

Written in a vivid and clear style, where clinical examples pointedly illustrate the psychological issues at hand, this book reverses the commonly held idea that psychoanalysis requires years of treatment before showing results. Araoz's talent resides in his ability to teach mental health, marriage, and family counselors how to use psychoanalytic techniques without having been trained primarily in the discipline. All will find this book to be of particular benefit, discovering valuable guidance and applicable instructions for the use of psychoanalysis in their own therapeutic practice.
Praise For The Symptom Is Not the Whole Story: Psychoanalysis for Non-Psychoanalysts…
APA South Carolina Divistion Newsletter
Psychologists and other mental health professionals should not be put off by the subtitle of this interesting and informative work. It is not a condescending treatise from an anointed one. Rather, it is an enlightening blending of psychoanalytic theory and contemporary behavioral approaches to dealing with emotional disorders using group, family, hypnosis and cognitive behavioral techniques to facilitate change. It is also an attempt to counter the criticism of psychoanalysis that as an approach it is too much concerned with the "why" of emotional disorders, and less with reducing or removing the symptoms. Cognitive behavioral approaches have received the opposite complaint, symptom removal with too little understanding of the whole person.

Dr. Araoz' work is very readable, rich in case examples and broad in topics covered. It should provide many insights for present and recent graduates of psychology programs who report little or no exposure to psychoanalytic theory and thought. Especially valuable are his personal reflections regarding his responses to patients during the process of therapy, and his willingness to self disclose under certain circumstances that served to enhance the therapeutic process.

Many of his techniques are counter to the traditional psychoanalytic approaches but enliven the process of therapy. It also permits a blending of the psychoanalytic and the behavioral and cognitive behavioral approaches that should, if followed, benefit both approaches. I highly recommend this as a useful and inexpensive addition to your library.
Other Press, 9781590512173, 272pp.
Publication Date: September 17, 2006
About the Author
Daniel Araoz

Daniel Araoz is a professor at The C.W. Post campus of Long Island University, a National Association for the Advancement of Psychoanalysis certified psychoanalyst, and an American Board of Professional Psychology diplomate. He has a Ph.D. from Columbia University in Family Relations and has written many articles and several books, mainly on hypno- therapy.
or
Not Currently Available for Direct Purchase