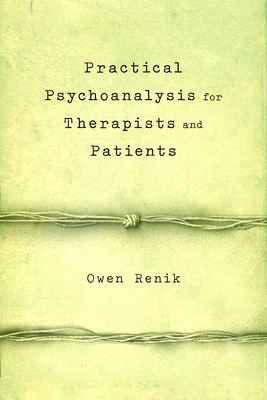 Practical Psychoanalysis for Therapists and Patients (Paperback)
Other Press, 9781590512371, 192pp.
Publication Date: September 17, 2006
* Individual store prices may vary.
Description
A clear and readable how-to manual for results-oriented psychoanalysis.

By now, the term "practical psychoanalysis" has become an oxymoron. The way psychoanalytic treatment is generally conducted is extremely impractical and doesn't serve the needs of the vast majority of potential patients, who want to achieve maximum relief from emotional distress as quickly as possible. This unfortunate state of affairs is ironic, considering that psychoanalysis became popular on the basis of its therapeutic efficacy.

In this essential new book, Owen Renik describes how clinical psychoanalysis can focus on symptom relief and deliver results efficiently. With a humane, direct, and engaging voice, he takes up how to begin treatment, how to end it, and how to deal with the in-between. He offers chapters on the therapy of panic attacks and depersonalization, on how to get out of an impasse, on the relation between sexual desire and power in the analytic relationship, on patients who seem to want to sabotage their treatments, on flying blind as an analyst, and on a number of other intriguing, important practical topics. Renik's down-to-earth presentation and discussion of clinical anecdotes, combined with useful recommendations for both analyst and patient, amounts to a clear and readable how-to manual. The book is intended for all mental health caregivers, patients and potential patients, and for anyone who is curious about what makes for effective, helpful psychotherapy.
About the Author
Owen Renik, M.D.

Owen Renik, M.D., is currently a Training and Supervising Analyst at the San Francisco Psychoanalytic Society. He was Editor in Chief of The Psychoanalytic Quarterly for ten years, Program Chair of The American Psychoanalytic Association for two terms, and served as Director of Training and Associate Chief of the Department of Psychiatry at Mount Zion Hospital, San Francisco. He maintains a private practice in San Francisco.
Praise For Practical Psychoanalysis for Therapists and Patients…
Foreword Magazine

This couchbuster could be the tipping point for a second Freudian revolution....

The author, a psychiatrist and respected teaching analyst in San Francisco and editor of The Psychoanalytic Quarterly for a decade, has the credentials to make his practical, humane approach credible to his colleagues. He distills his professional and personal experience with a comfortable balance of assurance and humility. Patients will love it, progressive analysts will embrace him, conservatives will distance themselves.

This book should shake up the Freudian establishment, as it empowers patients and their advocates. Historians of psychoanalysis will hear echoes of Otto Rank, Harry Stack Sullivan, Clara Thompson, Carl Rogers, Rollo May, and Irvin Yalom. Here they come home to roost, if not to crow. It takes an Owen Renik to do this, as it took Richard Nixon to open the door to China where others could only wait, or knock in frustration. The ghost of Sigmund Freud will probably nod his approval.


PsycCritiques

Owen Renik's slim volume, Practical Psychoanalysis for Therapists and Patients, is written in jargon-free, straightforward language that ensures its accessibility to both patients and therapists. In the jacket notes, Allen Wheelis describes Renik as "a new broom in the littered corridors of psychoanalysis."

...Sometimes a broom is just a broom. In this case, however, Renik's broom sweeps away some of the accumulated cobwebs that have obscured the brilliance of Freud's invention, psychoanalysis. Writing, as he does, from the pinnacle of a career devoted to psychoanalytic practice and scholarship, Owen Renik's call for mutual engagement, humility, and a bit of practicality is welcome.