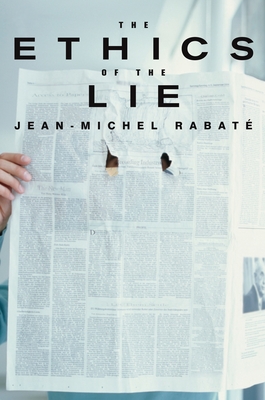 The Ethics of the Lie (Paperback)
Other Press (NY), 9781590512692, 399pp.
Publication Date: February 1, 2008
* Individual store prices may vary.
or
Not Currently Available for Direct Purchase
Description
The thesis of this book is that lies are structured like paradoxes. Lying is a common social manifestation that is fraught with contradictions - we lie quite frequently, but we hate liars. The author examines these paradoxes, starting with the modern American situation.
About the Author
Jean-Michel Rabate

Jean-Michel Rabate is Professor of Comparative Literature at the University of Pennsylvainia, and has authored or edited over twenty books on modernist authors such as Joyce and Pound, and on literary theory, contemporary art, psychoanalysis, and philosophy. Suzanne Verderber

Suzanne Verderber is Associate Professor of English and Humanities at Pratt Institute. She recently translated Jean-Michel Rabate's "The Ethics of the Lie" and Charles Enderlin's "The Lost Years."
Praise For The Ethics of the Lie…
Joan Copjec, author of Imagine There's No Woman: Ethics and Sublimation

"Jean-Michel Rabaté here proves himself to be a masterful docent of deception. In this marvelous new book, he leads us through a labyrinthine exhibition hall of lies–from the official and stately to the private and ignoble–while disclosing through deft philosophical and psychoanalytic analyses the illicit intercourse between truth telling and lying that structures both our political reality and our intimate relations."


Susan Stewart, Annan Professor of English at Princeton University

"Anyone who cares about the truth in general, and intending toward the truth in particular, will find this study of public lying and individual self-deception both harrowing and fascinating."


Elisabeth Roudinesco, author of Jacques Lacan

"Here is a remarkable book that subtly explores the unconscious paradoxes underpinning our dealings with truth and lies. At the same time, it critically revisits our various arts of dissimulation and exhibition, from ancient Greece to modern times, moving deftly between both sides of the Atlantic. This is an enthralling and entertaining study of self-deception."


Renata Saleci, Centennial Professor, London School of Economics

"With this groundbreaking book, Rabate brilliantly explains how although we live in a world so full of lies, and each of us finds daily solace in being economical about truth, we still need to preserve the fantasy of truth-telling in order to keep democracy alive."


Colin MacCabe, Distinguished Professor of English and Film, University of Pittsburgh; editor of Critical Quarterly

"The Ethics of the Lie is magnificent: both witty and learned to real purpose. It mixes yellow press journalism with the most erudite philosophical analyses in an admirable effort to understand that paradoxical truth: we are all liars."

Advertisement