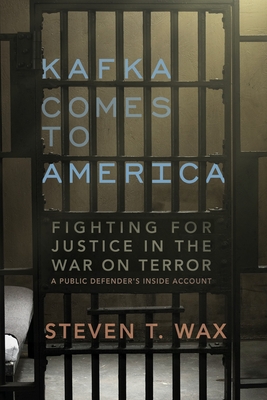 Kafka Comes to America
Fighting for Justice in the War on Terror - A Public Defender's Inside Account
Hardcover

* Individual store prices may vary.
Other Editions of This Title:
MP3 CD (11/3/2015)
Description
American Bar Association Silver Gavel Award — Winner in the Book category
Independent Publishers — Winner of the Gold Medal in the Autobiography/Memoir category       
ForeWord Book of the Year Awards — Winner of the Bronze Medal in the Social Science category
The Eric Hoffer Award - Winner in the Memoir category

A public defender' s dedicated struggle to rescue two innocent men from the recent Kafkaesque practices of our vandalized justice system

"Our government can make you disappear." Those were the words Steven Wax never imagined he would hear himself say. In his twenty-nine years as a public defender, Wax had never had to warn a client that he or she might be taken away to a military brig, or worse, a "black site," one of our country's dreaded secret prisons. How had our country come to this? The disappearance of people happens in places ruled by tyrants, military juntas, fascist strongmen—governments with such contempt for the rule of law that they strip their citizens of all rights. But in America?

Under the current Bush administration, not only are the civil rights of foreigners in jeopardy, but those of U.S. citizens. Wax interweaves the stories of two men that he and his team represented: Brandon Mayfield, an American-born small town lawyer and family man, arrested as a suspected terrorist in the Madrid train station bombings after a fingerprint was incorrectly traced back to him by the FBI; and Adel Hamad, a Sudanese hospital administrator taken from his apartment to a Pakistani prison and then flown in chains to the United States military prison in Guantanamo Bay, Cuba. Kafka Comes to America reveals where and how our civil liberties have been eroded for a false security, and how each of us can make a difference. If these events could happen to Brandon Mayfield and Adel Hamad, they can happen to anyone. It could happen to us. It could happen to you.
Praise For Kafka Comes to America: Fighting for Justice in the War on Terror - A Public Defender's Inside Account…
"In an enthralling, enraging narrative, Wax captures the damage that Guantánamo has done to America's reputation abroad, and shows how the legal fights on behalf of detainees might restore it." —The New Yorker

"This is an ingenious book...a compelling story of two men wrongly imprisoned, and a legal system that makes it no easy thing to help them." —The Seattle Times

"Federal public defender Wax masterfully delivers a harrowing story of the erosion of civil liberties after the September 11 terrorist attacks in a powerful testimony that reads like a thriller...Wax offers personal insight and professional outrage; his is a powerful voice that deserves to reach all Americans." —Publishers Weekly (Starred Review)

"Those interested in an inside account of how attorneys represent unpopular clients will learn a great deal from the behind-the-scenes strategy sessions detailed here…offers important insights into what can happen when overzealous prosecutors believe that the ends justify any means." —Kirkus Reviews

"A grand and important must read for anyone questioning the protection of our civil liberties." —The Midwest Book Review

"Steven Wax's office has done some of the best work of any lawyers when it comes to exposing the truth about prisoners in Guantanamo Bay. It is important for the international community to take notice of this eloquently told account." —Clive Stafford Smith, Founder and Legal Director of Reprieve (UK) and author of Eight O'Clock Ferry to the Windward Side

"Steven Wax vividly portrays how chillingly close we have come to forsaking our foundational beliefs of justice and liberty. Precisely because he is devoted to deeply-held American values, this book has the power to promote effective activism against a government that has lost its way. Wax writes with authority, both moral and legal." —Kris Olson, U.S. Attorney for Oregon (1994-2001) and author of Standing Tall

"Some day, the United States will leave its post-9/11 cave. But principles wither with prolonged disuse, and if we emerge with ours intact, it will be in some measure because of courageous lawyers like Steven Wax." —Joseph Margulies, author of Guantanamo and the Abuse of Presidential Power

"Wax's true story is heart-wrenching and as scary as any fictional thriller. This is a must read for anyone who cares about maintaining the freedoms that make this country great." —Phillip Margolin, author of Executive Privilege
Other Press, 9781590512951, 380pp.
Publication Date: June 3, 2008
About the Author
Steven Wax

Steven Wax is in his sixth term as the Federal Public Defender for the District of Oregon. A cum laude graduate of Colgate University and Harvard Law School, he was a key part of the Brooklyn, N.Y. District Attorney's prosecution of David Berkowitz, a.k.a."The Son of Sam." Wax and his team are currently representing seven men held as "enemy combatants"; in Guantanamo. He has taught at the Northwestern School of Law at Lewis and Clark College, serves as an ethics prosecutor for the Oregon State Bar, and lectures throughout the country.
or
Not Currently Available for Direct Purchase