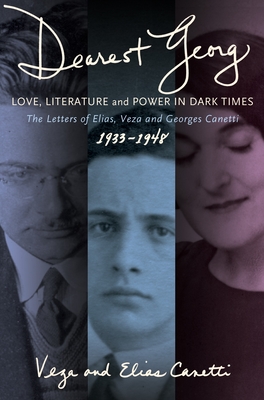 "Dearest Georg"
Love, Literature, and Power in Dark Times: The Letters of Elias, Veza, and Georges Canetti, 1933-1948
Hardcover

* Individual store prices may vary.
Description
In 1934, Veza Taubner and Elias Canetti were married in Vienna. Elias describes the arrangement to his brother Georges as a "functional" marriage. Meanwhile, an intense intellectual love affair develops between Veza and Georges, a young doctor suffering fromtuberculosis. Four years later, Veza and Elias flee Nazi-ruled Vienna to London, where they lead an impoverished and extremely complicated marital life in exile.
Spanning the major part of Elias's struggle for literary recognition, from 1933, before the publication of his novel, Auto-da-Fé, to 1959, when he finished his monumental Crowds and Power, the Canetti letters provide an intimate look at these formative years through the prism of a veritable love triangle: the newly married Elias has a string of lovers; his wife, Veza, is hopelessly in love with an idealized image of his youngest brother, Georges; and Georges is drawn to good looking men as well as to his motherly sister-in-law. Independently and often secretly, the couple communicates with Georges, who lives in Paris: Veza tells of Elias's amorous escapades and bouts of madness, Elias complains about Veza's poor nerves and depression. Each of them worries about Georges's health–if she could, Veza would kiss away the germs. Georges is an infrequent correspondent, but he diligently stores away the letters from his brother and sister-in-law. In 2003, long after his death, they were accidentally discovered in a Paris basement and comprise not only a moving and insightful document, but real literature.
Praise For "Dearest Georg": Love, Literature, and Power in Dark Times: The Letters of Elias, Veza, and Georges Canetti, 1933-1948…
"In 2003, a large packet of letters was discovered accidentally in a steamer trunk in a Paris basement: they were written to Georges Canetti from his brother, Elias (1981 winner of the Nobel Prize for Literature), and Elias's wife, Veza, along with some of Georges's letters to them. Appearing now for the first time in English in Dollenmayer's splendid translation, the correspondence reveals a quite passionate relationship among the three…Although Elias has controlled his image through his memoirs, these letters offer a glaringly honest glimpse into this triangular relationship."—Publishers Weekly
Other Press, 9781590512975, 448pp.
Publication Date: February 2, 2010
About the Author
Elias Canetti (1905—1994), Bulgarian-born author of the novel Auto-da-Fé, the sociological study Crowds and Power, and three volumes of memoirs (The Tongue Set Free, The Torch in My Ear, and The Play of the Eyes), won the Nobel Prize for Literature in 1981. Canetti most recently made headlines with the posthumously published autobiographical notes on his years in England, Party in the Blitz: The English Years (New Directions, 2005).

Veza Canetti (1897—1963), playwright, novelist, and short-story writer, was born in Vienna. After the annexation of Austria by Nazi Germany in 1938, she and her husband, Elias Canetti, fled Vienna for London. She gained literary recognition only posthumously. She is the author of the novels Yellow Street and The Tortoises (New Directions, 2005).

David Dollenmayer is Professor of German at Worcester Polytechnic Institute and the author of The Berlin Novels of Alfred Döblin. He has translated works by Peter Stephan Jungk, Michael Kleeberg, Anna Mitgutsch, Perikles Monioudis, Mietek Pemper, and Moses Rosenkranz. He lives in Hopkinton, Massachusetts.
or
Not Currently Available for Direct Purchase