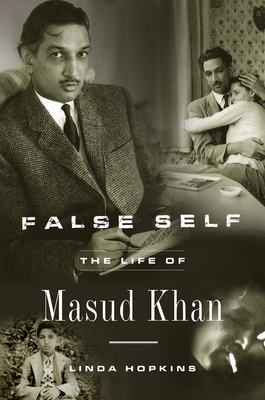 False Self
The Life of Masud Khan
Paperback

* Individual store prices may vary.
Other Editions of This Title:
Hardcover (12/17/2006)
Hardcover (5/7/2019)
Paperback (1/2/2009)
Description
Winner of the 2007 Gradiva Award and the 2006 Goethe Award for Psychoanalytic Scholarship

The definitive biography of one of the most engaging figures of British psychoanalysis.

Both gifted analyst and generational bete noire, M. Masud R. Khan (1924–1989) exposed through his candor and scandalous behavior the bigotry of his proponents turned detractors. The son of a wealthy landowner in rural India (now Pakistan), Khan grew up in a world of privilege that was radically different from the Western lifestyle he would adopt after moving to London. Notorious for his flamboyant personality and, at first, widely acknowledged as a brilliant clinician, Khan was closely connected to some of the most creative and accomplished individuals of his time, including Donald Woods Winnicott, Anna Freud, Robert Stoller, Michael Redgrave, Julie Andrews, Rudolph Nureyev, and many more.

Khan's subsequent downfall, which is powerfully narrated in this biography, offers interesting insights not only into Khan's psychic fragility but into the world of intrigues and deceptions pervasive in the psychoanalytic community of the time. In telling the story of this provocative man, Linda Hopkins makes use of unprecedented access to a complete copy of Khan's unpublished Work Books, which are quoted extensively. Additionally, she conducted innumerable interviews with Khan's peers, relatives, and analysands in order to provide an in-depth and balanced account of Masud Khan as a talented and deeply conflicted individual.
Praise For False Self: The Life of Masud Khan…
Library Journal
"In this portrait, clinical psychologist Hopkins draws on thousands of letters and scores of interviews to bring to life a charismatic, cultured, brilliant, immature, and ultimately demented individual…. [This] thoroughly researched and well-written life is essential for psychotherapists and historians of the rise and decline of post-World War II psychoanalysis. Hopkins deftly handles a large treasure of material, including interviews with Khan's colleagues, friends, patients, and wives."
Publishers Weekly
"Hopkins offers an unnerving and sympathetic portrait of the enfant terrible of postwar British psychoanalysis and convincingly suggests that Khan suffered from undiagnosed bipolar disorder."
Republic of Letters
"[Hopkins's] biography goes far beyond relating Masud's life. Her balance breathes fresh life into this Lear-like man who lost his kingdom, his wives, and his way while still staking out a claim to have shown analysis a new and much more intimate, much more loving, way to present itself…. An absorbing read."
"This scholarly, lucid book offers a balanced view of Khan's rich and extremely problematic life and work. Linda Hopkins has done a masterful job of investigating the complexities of history and psychology."
–Joyce Slochower, Ph.D., A.B.P.P., author of Holding and Psychoanalysis and Psychoanalytic Collisions
"I didn't want this book to end. A hush fell with the last page, the hush of a shadow of life. I can't thank Linda Hopkins enough for the truth of this book, the detailed care, the love of life that it reveals."
-Michael Eigen, Ph.D., author of The Sensitive Self, The Electrified Tightrope, and Lust
"Linda Hopkins demonstrates how seamlessly threads of inspired genius and impaired living are woven together in the life of Masud Khan. While admirably empathic toward Khan's vulnerability, she does not whitewash his accountability. There is so much to be learned from Hopkins's labor of love, and we all owe her a debt of gratitude."
-Dodi Goldman, Ph.D., William Alanson White Foundation; author, In Search of the Real: The Origins and Originality of D.W. Winnicott
"Sensible, intelligent, scrupulously researched, and clear as a bell. This is an important biography, for its reference points are the relevance and standing of psychoanalysis in today's world, the crossroads between Western and Muslim culture, and ultimately the contemporary conflict between dramatic image and authentic life. Linda Hopkins has made an extraordinary and successful attempt to get Khan's larger-than-life character into ordinary human proportions, where he becomes a flawed man living a flawed life."
-Bob Hinshelwood, Ph.D., professor, Centre for Psychoanalytic Studies at the University of Essex
"Linda Hopkins paints a remarkable portrait not only of a pivotal individual, but of a cadre of professionals who had a major hand in shaping the psychoanalysis of then and now."
-Margaret Crastnopol, Ph.D., cofounder and faculty, Northwest Center for Psychoanalysis, Seattle
"False Self is a biographical gem, compelling, brilliant and evocative. Dr. Hopkins provides us with a compassionate exploration of the depths of human suffering and frailties in the context of Masud Khan's life, resonating deeply with our own souls and psyche."
-Purnima Mehta, M.D.
Other Press, 9781590513033, 568pp.
Publication Date: January 1, 2008
About the Author
Linda Hopkins, Ph.D.

Linda Hopkins, Ph.D., is a clinical psychologist and National Association for the Advancement of Psychoanalysis certified analyst. Formerly an associate professor in the Department of Psychiatry at Temple University Medical School, she is now in full-time private practice at Clinical Associates Main Line in Wayne, Pennsylvania.