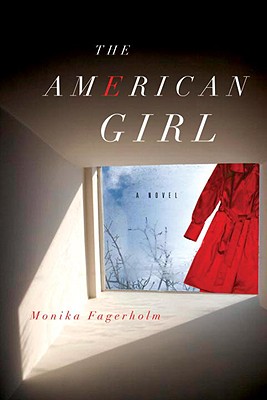 The American Girl
A Novel
Paperback

* Individual store prices may vary.
Description
In 1969, a young girl makes a trip from Coney Island to the swampy coastland on the rural outskirts of Helsinki, Finland. There, her death will immediately become part of local mythology, furnishing boys and girls with fodder for endless romantic imaginings. Everyone who lives near the swamp dreams about Eddie de Wire, the lost American girl. . . . For both Sandra and Doris, two lonely, dreaming girls abandoned in different ways by their parents, this myth will propel them into their coming-of-age through mischievous role-playing games of love and death, in search of hidden secrets, the mysteries of the swamp, and the truth behind Eddie's death. The girls construct their own world, their own language, and their own rules. But playing adult games has adult consequences, and what begins as two girls just striking matches leads to an inferno that threatens to consume them and tear their friendship apart.

Crime mystery and gothic saga, social study and chronicle of the late sixties and early seventies, a portrait of the psyche of young girls on the cusp of sexual awakening, The American Girl is a bewitching glimpse of the human capacity for survival and for self-inflicted wounds. Fagerholm is a modern-day heir to the William Faulkner heritage of family tragedy, with a highly musical and literary prose style that is rich with wit and literary allusions. The American Girl will teach you the meaning of trust as you give yourself entirely to the original storytelling style of Monika Fagerholm.
Praise For The American Girl: A Novel…
"A masterful, thoughtful thriller…A teenager from the United States drowns, her body sucked into the murky water of a marsh in rural Finland. Her distraught lover, a local boy, hangs himself. The couple's constant sidekick goes mute with grief. A tragic but simple story, yes? Of course not. Nothing is obvious in The American Girl, a deliciously complex novel by award-winning Scandinavian writer Monika Fagerholm. Set in the 1970s, the book is part literary mystery, part sexual coming-of-age story about two lonely local girls, Doris and Sandra, who retreat into a world of their own imaginations, spending hours speculating about the dark details surrounding the American girl's death. As their bond tightens, Doris suspects that Sandra is hiding a terrible secret. 'Now I wonder about everything,' she says. But is Doris just imagining things? And what does Sandra's secret have to do with the American girl? You'll know just how Doris feels, but unlike her, you'll enjoy the suspense."—O, The Oprah Magazine

"[A] brilliant novel… Fagerholm's prose is dazzling and dizzying, and the story strange and beautiful…A dark tale of murder, love, sexuality and friendship, The American Girl is the first part of a two-book series. Danger, attraction, belonging and repulsion all have their place in this deeply psychological and highly recommended, challenging and unforgettable mythic story."—Bookreporter.com

"Consider yourself warned: This has nothing to do with those popular American Girl dolls. It's a murder mystery that opens in Coney Island and winds up in Finland. Already a bestseller in Scandinavia, Fagerholm's tale is of two disparate Finnish girls: shy Sandra (daughter of jetsetters) and wild Doris (her mother hits her). Coming of age in the swampy outskirts of Helsinki, the two become obsessed with the unsolved murder of a woman known a 'the American girl.'"—New York Post

"[The American Girl] is a coming-of-age story drenched in mysteries, sucking the reader into a dizzying whirlpool of secrets, romances, and deaths. Frequently haunting, sporadically hilarious, and perpetually strange, the reading experience is hypnotically chaotic…the rewards are delightful, unexpected, and profound."—Sacramento Book Review

"Genuinely gripping…the first of an announced two-volume work. Many readers will eagerly await this richly imagined story's continuation."—Kirkus Reviews

"A hypnotic coming-of-age story that hinges on a dark but powerful bond between two Finnish girls growing up in the swamplands of outer Helsinki…Fagerholm's esoteric prose and her omnipotent narrator's eye bring to life a world of ambient longings, cryptic memories, and ethereal figures."—Publishers Weekly

"Murder mystery, fugue, 1970s culture bath, mythic experiment, chronicle of the feminine mystique, Monika Fagerholm's spiraling tale of two terribly modern girls raising heaven and hell in a seaside town near Helsinki is devilishly daring and breathtakingly original."—Jenny McPhee, author of A Man of No Moon
Other Press, 9781590513040, 528pp.
Publication Date: February 16, 2010
About the Author
Monika Fagerholm was born in 1961 and belongs to the Swedish-speaking community in Finland. Her much-praised first novel, Wonderful Women by the Sea, became one of the most widely translated Scandinavian literary novels of the mid-nineties. Two years later, it was made into a motion picture. In 1998, it was followed by the cult novel Diva, which won the Swedish Literature Society Award and Nyland's Art Award. Her third novel, The American Girl, became a number-one best seller and won the premier literary award in Sweden, the August Prize, as well as the Aniara Prize and the Gothenburg Post Award.

Katarina E.Tucker was born in the United States and raised bilingually with English and Swedish. She holds a doctorate in Scandinavian Literature from the University of Wisconsin—Madison. In 2003, she won the American-Scandinavian Foundation's Translation Prize for her translation of Sven Delblanc's Jerusalem's Night. After dividing her time between Europe and North America, she now resides in the Netherlands.
or
Not Currently Available for Direct Purchase