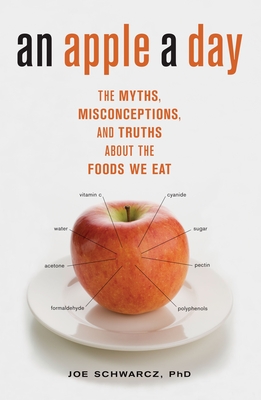 An Apple A Day
The Myths, Misconceptions, and Truths About the Foods We Eat
Hardcover

* Individual store prices may vary.
Other Editions of This Title:
Paperback (12/28/2010)
Description
Eat salmon. It's full of good omega-3 fats. Don't eat salmon. It's full of PCBs and mercury. Eat more veggies. They're full of good antioxidants. Don't eat more veggies. The pesticides will give you cancer.

Forget your dinner jacket and put on your lab coat: you have to be a nutritional scientist these days before you sit down to eat—which is why we need Dr. Joe Schwarcz, the expert in connecting chemistry to everyday life. In An Apple a Day, he's taken his thorough knowledge of food chemistry, applied it to today's top food fears, trends, and questions, and leavened it with his trademark lighthearted approach. The result is both an entertaining revelation of the miracles of science happening in our bodies every time we bite into a morsel of food, and a telling exploration of the myths, claims, and misconceptions surrounding our obsession with diets, nutrition, and weight.

Looking first at how food affects our health, Dr. Joe examines what's in tomatoes, soy, and broccoli that can keep us healthy and how the hundreds of compounds in a single food react when they hit our bodies. Then he investigates how we manipulate our food supply, delving into the science of food additives and what benefits we might realize from adding bacteria to certain foods. He clears up the confusion about contaminants, examining everything from pesticide residues, remnants of antibiotics, the dreaded trans fats, and chemicals that may leach from cookware. And he takes a studied look at the science of calories and weighs in on popular diets.
Praise For An Apple A Day: The Myths, Misconceptions, and Truths About the Foods We Eat…
Publishers Weekly

"Readers will not need a PhD in chemistry to follow along; Schwarcz wisely limits technical terms to the minimum while adequately explaining the chemistry involved in digestion."


Library Journal
Rachel M. Minkin

"… an entertaining guide through the tangle of conflicting research studies, advertising claims, special interest groups, age-old myths and popular opinion that make diet a cloudy subject. … leaves readers with a rational framework for evaluating the complex nature of foods and how they affect health."


ForeWord Magazine

"An Apple a Day hashes out hype and irrational panic one chemical compound and one foodstuff at a time. Between ubiquitous cover-ups and endemic hysteria about what's in our food and our bloodstreams, there's nothing more helpful than a clear-speaking and apparently non-aligned food chemist who is willing to identify the real risks and defuse the rampant bad information out there. Addressing allegations that companies like Monsanto and Novartis intentionally poison consumers, Schwarcz urges skepticism, because "no company wants to undermine its existence or its profits by marketing a dangerous substance." Discounting unfounded rumors, Schwarcz identifies a handful of foodstuffs and practices that should cause real concern. The most serious are the rampant use of antibiotics in livestock and indications that trans fats may do serious harm to people's memories."


Other Press, 9781590513118, 368pp.
Publication Date: January 13, 2009
About the Author
Joe Schwarcz

Joe Schwarcz is director of McGill University's Office for Science and Society in Montreal. He teaches courses on nutrition and the applications of chemistry to everyday life. His informative and entertaining public lectures range from nutritional controversies to the chemistry of love. Schwarcz has received numerous awards, including the Royal Society of Canada's McNeil Award, and is the only non-American to win the American Chemical Society's prestigious Grady-Stack Award. He is the author of six books, including Let Them Eat Flax. He was also the chief consultant for the blockbuster titles Foods That Harm, Foods That Heal and The Healing Power of Vitamins, Minerals and Herbs. A regular guest on Canadian television, and the host of weekly radio shows in Toronto and Montreal, Schwarcz also writes a weekly column for The Gazette in Montreal, where he lives. Visit him at www.joeschwarcz.ca.
or
Not Currently Available for Direct Purchase