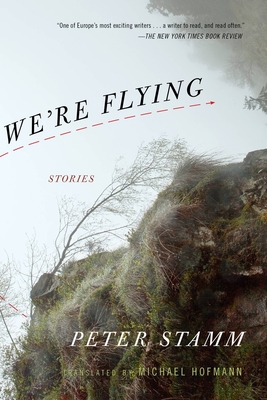 We're Flying
Stories
Paperback

* Individual store prices may vary.
Other Editions of This Title:
MP3 CD (6/14/2016)
Description
Following the publication of the widely acclaimed novel Seven Years comes a trove of stories from the Swiss master Peter Stamm. They all possess the traits that have built Stamm's reputation: the directness of the prose, the deceptive surface simplicity of the narratives, and deep psychological insight into the existential dilemmas of contemporary life. Stamm does not waste a word, nor does he spare the reader's feelings. These stories are a superb introduction to his work and a gift for all those who have come to regard his fiction as a precise rendering of the contemporary human psyche.
Praise For We're Flying: Stories…
"While revealing the limits of our existence, knowledge, and language, the stories are simultaneously haunting and uplifting. A master storyteller, Stamm succeeds in stripping away layers of superficiality to uncover the complicated daily psychological struggle of the average person." –World Literature Today

"The situations depicted in Stamm's We're Flying...evoke the negative spaces of Raymond Carver or the quiet menace of Shirley Jackson, but with Walser's light touch." –Seattle Times

"Peter Stamm's stories are incisively pared down, as if he cuts through the surface of things: everything is peeled open, apparent, naked... Each story is intriguing like a complex piece of machinery where you can see everything even if you don't understand how it works." –Tessa Hadley, author of Married Love and The London Train

"Stamm finds variety in setting and with characters of differing ages and social classes, and by writing in first, second, and third person in both past and present tense. More significantly, he connects so closely to the psyches of these individuals that his style becomes mutable, variously suggesting the eerie claustrophobia of Shirley Jackson, the brittle edge of Raymond Carver, and even the warmth of Lorrie Moore." –Publishers Weekly (starred review)

"Many of Stamm's characters seem perplexed about what life is, yet what life might be about or how to live it are questions they would never think to ask. The slightest indispositions overwhelm them. Stamm builds these half-lives in declarative sentences, and Hofmann's translation has a terse exactness. A [character] offers this: 'A feeling has no nose, no cheeks, no mouth. You can't trust your feelings, they're too inexact.' Stamm's great gift is to let feelings remain unspoken." –Booklist

"The 22 stories in Swiss writer Peter Stamm's We're Flying intimately explore the peaks and valleys of his characters' often solitary passions and obsessions." –Elle
 
" Beneath the surface placidity of Swiss life, undercurrents of spiritual turmoil and existential despair charge this powerful collection of provocative stories...Renowned in European literary circles, Switzerland's Stamm didn't achieve his stateside critical breakthrough until his last novel (Seven Years, 2011, etc.). This story collection is even better, with pieces that read like the Zurich equivalent of Camus or Kafka, occasionally laced with a bit of Ibsen or Ingmar Bergman…For those who have an affinity for metaphysical fiction written with a surgeon's precision, this collection will spur readers to seek out everything else by its author." –Kirkus (starred review)

"These tautly constructed stories, with echoes of such disparate authors as Patricia Highsmith and Anton Chekhov, take root in the psyche and will not let you go" –Library Journal

"The achievement of this collection...is not a small one. The style evokes absurdity, but the stories themselves are saved from being absurd. It is not always courageous to simply tour through life's moments of futility and failure. Stamm examines these moments with the riskier project of exploring the messy humanity exposed therein. He invites us to recognize ourselves there—and to do so without shame." –The Rumpus

"So, so good. I heartily recommend this book, Stamm is a master at work and the collection will delight and startle in equal measure." –Alex in Leeds

"We're Flying is eerily readable—perhaps due to how much of ourselves we recognize in his characters. In a varied and colorful array of stories, Stamm manages to portray human life as the emotional mishmash that it really is, full of misery and beauty, full of falling and flying." –Three Percent

"I think [Stamm] is one of those rare writers whose words haunt his readers long after you put his books down." –Yiyun Li, Wall Street Journal (Asia)

"It is difficult not to find yourself in many of these stories...The result is an effortless accumulation of small gestures that furnish the spaces in which the understanding of ourselves and others becomes possible..." –Full Stop

"Stamm is a true artist here, and his stories require the reader to really listen. He asks you to see and hear his characters deeply...He has a knack for effortless symbolism, but he dodges any sense of intentional drama or sentimentality. Walk through these places, and delight in Stamm's sure and unabated guidance."  –Propeller

"While revealing the limits of our existence, knowledge, and language, the stories are simultaneously haunting and uplifting. A master storyteller, Stamm succeeds in stripping away layers of superficiality to uncover the complicated daily psychological struggle of the average person. Michael Hofmann, award-winning translator of Kafka, Joseph Roth, and many others, deserves credit for his emotionally taut translation of the volume from German into English." - World Literature Today
Other Press, 9781590513248, 384pp.
Publication Date: August 14, 2012
About the Author
Peter Stamm is the author of the novels Seven Years, On a Day Like This, and Unformed Landscape, and the short-story collections We're Flying and In Strange Gardens and Other Stories. His prize-winning books have been translated into more than thirty languages. For his entire body of work and his accomplishments in fiction, he was short-listed for the Man Booker International Prize in 2013, and in 2014 he won the prestigious Friedrich Hölderlin Prize. He lives in Switzerland.
 
Michael Hofmann has translated the works of Franz Kafka, Joseph Roth, and Peter Stephan Jungk. He is the author of several books of poems and a book of essays, Behind the Lines, and is the editor of the anthology Twentieth-Century German Poetry. He lives in Florida and London.
or
Not Currently Available for Direct Purchase