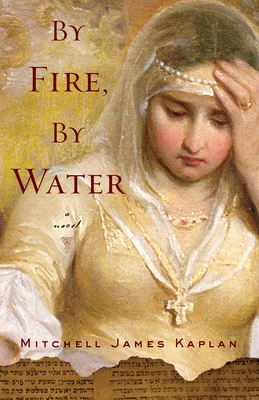 By Fire, By Water (Paperback)
A Novel
Other Press, 9781590513521, 298pp.
Publication Date: May 18, 2010
Other Editions of This Title:
MP3 CD (6/14/2016)
* Individual store prices may vary.
Description
Recipient of the Independent Publishers Award for Historical Fiction (Gold Medal), the Foreword Book of the Year Award for Historical Fiction (Bronze Medal), and an honorable mention in the category of General Fiction for the Eric Hoffer Award.

Luis de Santángel, chancellor to the court and longtime friend of the lusty King Ferdinand, has had enough of the Spanish Inquisition. As the power of Inquisitor General Tomás de Torquemada grows, so does the brutality of the Spanish church and the suspicion and paranoia it inspires. When a dear friend's demise brings the violence close to home, Santángel is enraged and takes retribution into his own hands.  But he is from a family of conversos, and his Jewish heritage makes him an easy target. As Santángel witnesses the horrific persecution of his loved ones, he begins slowly to reconnect with the Jewish faith his family left behind. Feeding his curiosity about his past is his growing love for Judith Migdal, a clever and beautiful Jewish woman navigating the mounting tensions in Granada. While he struggles to decide what his reputation is worth and what he can sacrifice, one man offers him a chance he thought he'd lost…the chance to hope for a better world. Christopher Columbus has plans to discover a route to paradise, and only Luis de Santángel can help him.
   Within the dramatic story lies a subtle, insightful examination of the crisis of faith at the heart of the Spanish Inquisition. Irresolvable conflict rages within the conversos in By Fire, By Water, torn between the religion they left behind and the conversion meant to ensure their safety. In this story of love, God, faith, and torture, fifteenth-century Spain comes to dazzling, engrossing life.
About the Author
Mitchell James Kaplan has lived and worked primarily in Paris and Los Angeles as a translator, screenwriter, and script consultant. Currently, he resides in Mt. Lebanon, Pennsylvania, with his wife and two children. This is his first novel.
Praise For By Fire, By Water: A Novel…
"[A] remarkably learned and heartbreaking romantic novel…with a deft blend of straightforwardness and subtlety…Beautifully executed, highly recommended." —The Minneapolis Star Tribune

"Mitchell James Kaplan's By Fire, By Water must take its place as one of the most important contemporary historical novels with a Jewish theme." —Ha'aretz

"By Fire, By Water is an exciting introduction to the political, social and theological issues of Spain in the late 15th century. Those already familiar with this period will enjoy fleshing out their knowledge with the sights, sounds and, above all, intense emotions of the era." —Hadassah Magazine

"A beautiful tapestry... Despite its epic sweep, By Fire, By Water is also an intimate portrait of a remarkable individual..." —Tirdad Derakshani, Philadelphia Inquirer

"By Fire, By Water contains many well-crafted phrases and much interesting information, but its greatest merit is in demonstrating parallels between a notorious period in human history and disturbing developments in modern life." —Philadelphia Quarterly

"Kaplan, a screenwriter, sets his debut novel in 15-century Spain, amid the Inquisition, the attempt to unify the kingdoms of Spain under Christian rule, and the voyage of Christopher Columbus to what the seaman expects will be the Indies. The action centers on the historical figure of Luis de Santángel, chancellor to the king of Aragon and a converso, a Jewish convert to Christianity at a time when the Inquisition sought to repress 'judaizing'….Kaplan has done remarkable homework on the period and crafted a convincing and complex figure in Santángel in what is a naturally cinematic narrative and a fine debut." —Publishers Weekly

"Debut novelist Kaplan depicts a turbulent period in 15th-century Spain, focusing on the story of Aragon's royal chancellor… Deftly moves through a complex web of personal relationships, religious zeal and political fervor." —Kirkus Reviews

"Beautifully written, By Fire, By Water is a powerful story of religion, love and violence--timeless themes honed by Kaplan into an enthralling narrative that doesn't let up until the last sentence." —Simon Read, author of War of Words

"Kaplan's writing is exceptional, his intelligence and research on the subject superb.
2010 seems to be the year for new and fabulous voices in the Historical Fiction world and Kaplan is no exception. I look forward to reading many more of his books in the future!" —Amy Bruno, Passages to the Past

"This book was like no other book I have ever read." —Heather Rieseck, The Maiden's Court

"Blending artistry with intense drama and violence, By Fire, By Water takes readers on a picturesque tour of the Iberian Peninsula of the mid-1400s….By Fire, By Water is a finely crafted novel, so well done that it would be hard to imagine how it could be made better. It's rare to find historical fiction this intense and exquisite."
—Bookreporter.com

"A must-read." —Pittsburgh Jewish Chronicle

"A grand novel that shows not only Kaplan's knack for storytelling, but also his eye for details and willingness to do extensive research." —Pittsburgh Tribune-Review 
  
"Kaplan's greatest success is in his ability to portray the inner lives of his characters." —Washington Jewish Week
 
"This novel recreates a historical moment of vast and far-reaching changes as well as the complex personality of Santángel, the high government official who placed his hopes for redemption far beyond his society's horizons." —Reform Judaism Magazine

What did you know about the Spanish Inquisition (1478-1834) prior to reading By Fire, By Water? How did this story influence or increase your understanding of this historical period?
In By Fire, By Water, trusting someone can lead to life or death. Discuss the various relationships in the novel that lead to both. What kind of trust do the characters have in God? How does trust vary depending on the character's social class or religious beliefs?
How do the female characters, living in a strongly patriarchal society, acquiesce to or rebel against their culture's expectations of them? How does Judith break the mold for female behavior in her community? What about Judith catches Santángel's eye, and later compels him to seek her out?
What kind of a father is Santángel? Early in the novel, he tells his son a story about a man with a "great treasure" who is unable to show it to anyone (pages 30-31). To what is this story alluding? Do you think Gabriel really believed his father was unfaithful to the church or was Gabriel trying to protect his father by staying away from him?
What compels Santángel to learn about the Jewish faith? What is each group member's purpose for joining his secret religious meetings? How does the small group help, support, or hurt its members?
Discuss the significance of the novel's title, By Fire, By Water.
The death of Felipe, Santángel's assistant, in many ways acts as a catalyst. Why do you think this is the breaking point for Santángel? How does his secretary's death affect his faith?
Why do you think Leonor, Felipe's wife, feels so protective of Santángel when he is the one who allowed Felipe to join the secret group, and thus, is partially to blame for her husband's death?
On page 97, Judith loses Levi for an afternoon and, in her search and worrying, reassures herself that, "History never repeats itself." Do you find evidence in the novel to support this claim?
What was your impression of King Fernando and Queen Ysabel? How do the monarchs differ from Granada's emir? What do they have in common?
What influence do religious leaders hold over the king and queen? How does this influence differ from that of Santángel and his money? Do you think any religious leaders have that sort of power today?
Letter writing, transcription, and written history play an enormous part in the novel. In what ways do characters use written communication to help them? In what ways does it haunt them?
What was your first impression of Estefan, Santángel's brother? How do the brothers' personalities and actions bring them to such different places in their lives?
How did the author's depiction of Cristóbal Colón contradict or conflict with your own personal knowledge of Christopher Columbus, who famously discovered the NewWorld in 1492?
Why is Colón so keen to push his foreign documents on Santángel? Do you believe their friendship was authentic, or was Colón merely interested in exploiting Santángel's influence on the king and queen?
Discuss the meaning of exile in the novel and how various characters experience it both literally and metaphorically.