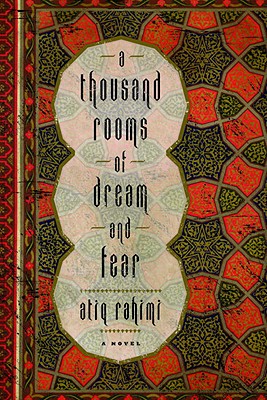 A Thousand Rooms of Dream and Fear (Hardcover)
A Novel
Other Press, 9781590513613, 176pp.
Publication Date: January 11, 2011
* Individual store prices may vary.
Description
Farhad is a typical student, twenty-one years old, interested in wine, women, and poetry, and negligent of the religious conservatism of his grandfather. But he lives in Kabul in 1979, and the early days of the pro-Soviet coup are about to change his life forever. One night Farhad goes out drinking with a friend who is about to flee to Pakistan, and is brutally abused by a group soldiers. A few hours later he slowly regains consciousness in an unfamiliar house, beaten and confused, and thinks at first that he is dead. A strange and beautiful woman has dragged him into her home for safekeeping, and slowly Farhad begins to feel a forbidden love for her—a love that embodies an angry compassion for the suffering of Afghanistan's women. As his mind sifts through its memories, fears, and hallucinations, and the outlines of reality start to harden, he realizes that, if he is to escape the soldiers who wish to finish the job they started, he must leave everything he loves behind and find a way to get to Pakistan.
   Rahimi uses his tight, spare prose to send the reader deep into the fractured mind and emotions of a country caught between religion and the political machinations of the world's superpowers.
About the Author
Atiq Rahimi was born in Kabul in 1962. He was seventeen years old when the Soviet Union invaded Afghanistan. He fled to Pakistan during the war and was eventually granted political asylum in France in 1984. After the fall of the Taliban in 2002, Rahimi returned to Afghanistan, where he filmed an adaptation of his novella Earth and Ashes (Other Press).  He has become renowned as a maker of documentary and feature films, as well as a writer. The film of Earth and Ashes was in the Official Selection at Cannes in 2004 and won several prizes. Since 2002 Rahimi has returned to Afghanistan a number of times to set up a Writers' House in Kabul. His novel The Patience Stone (Other Press) won the Prix Goncourt in 2008.
Praise For A Thousand Rooms of Dream and Fear: A Novel…
"The language has the rhythm of a Sufi prayer; the novel offers an insight into the deepest fears of the people of Afghanistan."—Los Angeles Times

"That sense of losing one's identity, of being subsumed by a greater, if illogical, power, is a key theme in Atiq Rahimi's taut, layered novel…A Thousand Rooms of Dream and Fear is the intimate narrative…of an entire desperate, anguished country." —Washington Post

"An intensely intimate portrait of a man (and by extension his country) questioning reality and the limits of the possible…full of elegant evocations…A Thousand Rooms of Dream and Fear resonates deeply because, no doubt, Rahimi has written a true and sad account, but the story could easily be that of any other Afghan, of any other denizen of this modern, anarchic state. In the end, we are left to wonder whether Rahimi has presented us with a story, a dream, or a nightmare, though it is likely all three."—Words Without Borders

"Rahimi's tale of confused nationality, indiscriminate punishment, desperate survival, and no clear way to safety depicts decades-old events, but it feels especially poignant amid the US-led war in Afghanistan that's spanned the greater part of the past decade." —Flavorwire

"An original and utterly personal account of the pressures a totalitarian society exerts on the individual in 1979 Afghanistan, before the Soviet invasion… A flawless translation does justice to Rahimi's taut, highly calibrated prose." —Publishers Weekly

"In prose that is spare and incisive, poetic and searing, prizewinning Afghani author Rahimi, who fled his native land in 1984, captures the distress of his people."—Booklist, starred review
 
"Rahimi is an author known for his unflinching examination of his home country as much as the experimental styles in which he writes… A Thousand Rooms of Dream and Fear takes risks in its structure…But Rahimi's carefully-controlled new novel exploits these uncertainties, joining the past to the present and legend with fact, creating an appropriately surreal narrative, one that rings through with truth." —ForeWord Magazine

"A taut and brilliant burst of anguished prose....both a wonderful and a dreadful little book." —The Guardian

"A beautiful piece of writing." —Ruth Pavey, The Independent

"Short but powerful...The beauty of the language lends this work a haunting clarity." —The Herald

"The novella is verbal photography...[it] seems the real thing...seamlessly translated." —Russell Celyn Jones, The London Times
or
Not Currently Available for Direct Purchase