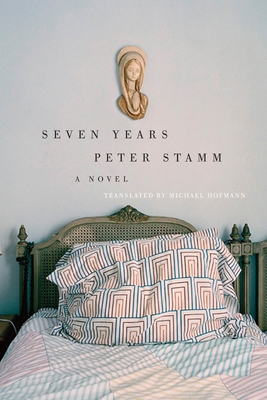 Seven Years
A Novel
Paperback

* Individual store prices may vary.
Other Editions of This Title:
MP3 CD (6/14/2016)
Description
Alex has spent the majority of his adult life between two very different women—and he can't make up his mind. Sonia, his wife and business partner, is everything a man would want. Intelligent, gorgeous, charming, and ambitious, she worked tirelessly alongside him to open their architecture firm and to build a life of luxury. But when the seven-year itch sets in, their exhaustion at working long hours coupled with their failed attempts at starting a family get the best of them. Alex soon finds himself kindling an affair with his college lover, Ivona. The young Polish woman who worked in a Catholic mission is the polar opposite of Sonia: dull, passive, taciturn, and plain. Despite having little in common with Ivona, Alex is inexplicably drawn to her while despising himself for it. Torn between his highbrow marriage and his lowbrow affair, Alex is stuck within a spiraling threesome. But when Ivona becomes pregnant, life takes an unexpected turn, and Alex is puzzled more than ever by the mysteries of his heart.
   Peter Stamm, one of Switzerland's most acclaimed writers, is at his best exploring the complexities of human relationships. Seven Years is a distinct, sobering, and bold novel about the impositions of happiness in the quest for love.
Praise For Seven Years: A Novel…
"Strong and supple sentences evocative of Camus… [with] deft strokes of observation and insight." —Vulture, 100 Most Important Books of the 2000s… So Far

"Seven Years is a novel to make you doubt your own dogma. What more can a novel do than that?" —Zadie Smith, Harper's Magazine

"Stamm's talent is palpable, but what makes him a writer to read, and read often, is the way he renders contemporary life as a series of ruptures. Never entirely sure of their position, his characters engage in a constant effort to establish their equilibrium." —New York Times Book Review

"Stamm's cleverness is to align a spareness that works in translation with his characters' instinctive fear of all things rich and intense. Lean as it is, his prose is wonderfully 'literary' in its fine integration of voice and story. The constant disorientation of his characters, their sense that their lives are interchangeable with any number of other lives, seem peculiarly suited to this era of globalization." —The New York Review of Books

"With a patient and impressive commitment to realism, this Swiss novel follows the course of a complicated, troubled marriage…Though Stamm pulls off a quietly spectacular plot twist halfway through the book, he never loses sight of the quotidian things that erode or transform relationships over time: an oddly personal disagreement about the merits of 'Rain Man', or the 'piles of romance novels, Christian manuals, and Polish magazines' that crowd a lover's apartment."—The New Yorker
 
"Stamm is a master of quietly deliberative stories. In Seven Years, as in the best of his work, he puts often simple-seeming character through extraordinary paces, all the more remarkable given the Carver-like restraint he exercises in his writing." —Bookforum

"Seven Years is a powerful, enlightening novel about the eternal search for contentment in life, the often fickle nature of love, and the knowledge that in reality, happiness is rarely how we dreamed it would be." —The Daily Beast

"Here is Stamm's strength, in a good English translation, the clean uncluttered sentences that take you—as writers since Hemingway have shown — from one crystalline point to the next, so as to travel great distances in the shortest possible time." —Buffalo News

"Just the kind of thing I like."—Lorin Stein, the Paris Review blog

"Ego, passion, and deception run wild, but the novel's strength is found in the characters Stamm has created: powerfully imperfect, sometimes despicable, horribly conflicted, and always believable far beyond the archetypes that too often pop up in novels of marital ennui." —Publishers Weekly

"Swiss novelist Stamm (Unformed Landscape) offers a classic love triangle that reads like a contemporary European version of Richard Yates's Revolutionary Road… Readers looking for a highbrow page-turner will relish this quick read." —Library Journal
 
"This touching novel is a tour of what makes love work and what tears love apart in the modern world." —Booklist

"A dynamic and taut novel that examines the conflicted heart in the confines of marriage and the perception of what love is." —ForeWord Reviews

"Seven Years is tense and frightening—I couldn't stop plunging in. Desire is a hunting dog and we never know what it will bring us. This is ruthless truth." —Rosecrans Baldwin, author of You Lost Me There

"Peter Stamm is not alone to want to expose the tensions within such a constellation, but the construction of his narrative is an undeniable success." —Le Monde

"The search for love, the pursuit of happiness, the confusion of emotions, Peter Stamm revisits these eternal themes in an original novel that resonates deeply with all of us." —Elle (France)

"The cumulative emotional impact of this is quietly shattering.  How many writers have written with this degree of brutal perceptiveness and wisdom about the indeterminate depths of heterosexual desire?  Wharton, Roth (sometimes), James Salter, Kundera.  Stamm inscribes his name on that august list" –The Times (UK)

"Seven Years by Peter Stamm, a tale of lust and deceit...has the makings of an existential classic, yet sows mystery without once being opaque – it's deliciously, deceptively easy to read." –The Telegraph

"[Seven Years] is cool and immensely accomplished, told retrospectively in a way that seems to flatten suspense…while bringing out the half-tones that shadow even the most apparently clear-cut decisions." –The Guardian (UK)

"Reading this novel is an experience of creeping realization as a series of small epiphanies build up almost imperceptibly…The novel's cumulative effect is highly unsettling, its concluding moments are breathtaking, and the ripples that it sets in motion radiate in the reader's mind long after the novel's conversation has ended." –Charlotte Ryland, Times Literary Supplement

"Peter Stamm, one of Switzerland's most acclaimed writers, is at his best exploring the complexities of human relationships." –The Omnivore (UK)
 
"Stamm has a fine sense of the pregnant moment which signals things falling apart. By the time you get to the twist at the end, you want to start again." –More Intelligent Life (The Economist Magazine)


Other Press, 9781590513941, 272pp.
Publication Date: March 22, 2011
About the Author
Peter Stamm is the author of the novels Seven Years, On a Day Like This, andUnformed Landscape, and the short-story collections We're Flying and In Strange Gardens and Other Stories. His prize-winning books have been translated into more than thirty languages. For his entire body of work and his accomplishments in fiction, he was short-listed for the Man Booker International Prize in 2013, and in 2014 he won the prestigious Friedrich Hölderlin Prize. He lives in Switzerland.
 
Michael Hofmann has translated the work of Franz Kafka, Joseph Roth, Peter Stephan Jungk, and many others. He is the author of several books of poems and a book of essays, Behind the Lines, and is the editor of the anthology Twentieth-Century German Poetry. In 2012 he was awarded the Thornton Wilder Prize for Translation by the American Academy of Arts and Letters. He lives in Florida and London.