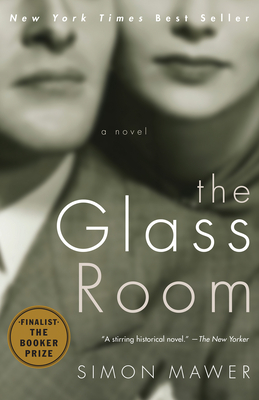 The Glass Room
A Novel
Paperback

* Individual store prices may vary.
Other Editions of This Title:
Paperback (2/1/2009)
Description
A New York Times Best-Seller

Honeymooners Viktor and Liesel Landauer are filled with the optimism and cultural vibrancy of central Europe of the 1920s when they meet modernist architect Rainer von Abt. He builds for them a home to embody their exuberant faith in the future, and the Landauer House becomes an instant masterpiece.  Viktor and Liesel, a rich Jewish mogul married to a thoughtful, modern gentile, pour all of their hopes for their marriage and budding family into their stunning new home, filling it with children, friends, and a generation of artists and thinkers eager to abandon old-world European style in favor of the new and the avant-garde. But as life intervenes, their new home also brings out their most passionate desires and darkest secrets. As Viktor searches for a warmer, less challenging comfort in the arms of another woman, and Liesel turns to her wild, mischievous friend Hana for excitement, the marriage begins to show signs of strain. The radiant honesty and idealism of 1930 quickly evaporate beneath the storm clouds of World War II. As Nazi troops enter the country, the family must leave their old life behind and attempt to escape to America before Viktor's Jewish roots draw Nazi attention, and before the family itself dissolves.

As the Landauers struggle for survival abroad, their home slips from hand to hand, from Czech to Nazi to Soviet possession and finally back to the Czechoslovak state, with new inhabitants always falling under the fervent and unrelenting influence of the Glass Room. Its crystalline perfection exerts a gravitational pull on those who know it, inspiring them, freeing them, calling them back, until the Landauers themselves are finally drawn home to where their story began.

Brimming with barely contained passion and cruelty, the precision of science, the wild variance of lust, the catharsis of confession, and the fear of failure - the Glass Room contains it all.
Praise For The Glass Room: A Novel…
Named a best book of 2009 by The Economist, The Daily Telegraph, Financial Times, London Evening Standard, The Observer, and Slate.com

Named a New York Times Book Review Editors' Choice

"A stirring new novel that almost won this year's Booker Prize….The Glass Room works so effectively because Mawer embeds...provocative aesthetic and moral issues in a war-torn adventure story that's eerily erotic and tremendously exciting....[a] gorgeous novel."—The Washington Post

"[A] stirring historical novel."—The New Yorker
 
"The Glass Room…is a story that will stay with me for a long, long time."—The Huffington Post

"An old-fashioned, beautifully constructed novel of history, passion and ideas."—The Seattle Times

"[A] saga of a family and a nation at war…Mawer moves with grace among multiple points of view and establishes sympathy for characters with competing interests."—The Forward

"[The Glass Room is] a thing of extraordinary beauty and symmetry... a novel of ideas, yet strongly propelled by plot and characterised by an almost dreamlike simplicity of telling. Comparisons with the work of Michael Frayn would not be misplaced, and there are occasional moments of illuminating brilliance..."—The Guardian

"In Mawer's hands [The Glass Room] becomes a means for exploring the way people's hopes for the future become part of their history. This he does beautifully."—Times Literary Supplement

"...Mawer creates a passionately detailed portrait of individuals struggling to snatch order and happiness from frightening, irrational times."—Sunday Telegraph

"... engrossing... Mawer explores his themes with a subtle intelligence. A novel of ideas, but one driven by character and story."—The Literary Review

"The Jewish fates of Viktor, Kata and others are lightly handled, which seems just right in this optimistic, joyful but never facile vision of human achievement. Mawer's perfect pacing clinches a wholly enjoyable and moving read."—The Independent

"The writing, as sensual and sophisticated as its subjects, keeps us firmly within the house's elegant parameters, caught up in the touch and taste and roiling emotions of the characters living through these events. Seeing clearly, Mawer shows us, is never an option, no matter how large and expensive your windows. Every era thinks it has achieved transparency, complete with modern fixtures and sundry decorations. But we can't ever actually see out, because our damned humanity keeps misting up the glass."—Time Out London

"The Glass Room['s] poetic success is to remind us of two great gilt-edged ironies: that whatever is held to be the height of modernity is already en route to the museum, and that even 'cold' art is the embodiment of its maker's passion - one that can prove contagious."—The Financial Times

"Simon Mawer's grasp of period and place achieves what all great novels must: the creation of an utterly absorbing world the reader can scarcely bear to leave. Exciting, profoundly affecting and altogether wonderful."—Daily Mail

"A carefully constructed book, beautifully written."—The Economist

"[A] wonderful and moving story of the 1920s and 1930s in Europe." —Christian Science Monitor
Other Press, 9781590513965, 416pp.
Publication Date: October 20, 2009
About the Author
Simon Mawer was born in England and spent his childhood there, in Cyprus, and in Malta. His previous novels include The Fall (winner of the Boardman Tasker Prize), The Gospel of Judas, and Mendel's Dwarf (long-listed for the Man Booker Prize). He now lives in Italy with his wife and teaches at St. George's British International School in Rome.
or
Not Currently Available for Direct Purchase