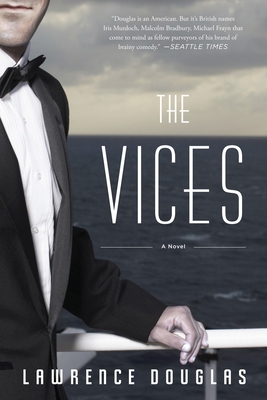 The Vices
A Novel
Paperback

* Individual store prices may vary.
Other Editions of This Title:
MP3 CD (6/14/2016)
Description
Oliver Vice, forty-one, prominent philosopher, scholar, and art collector, is missing and presumed dead, over the side of Queen Mary 2.Troubled by his friend's possible suicide, the unnamed narrator of Lawrence Douglas' new novel launches an all-consuming investigation into Vice's life history. Douglas, moving backward through time, tells a mordantly humorous story of fascination turned obsession, as his narrator peels back the layers of the Vice family's rich and bizarre history. At the heart of the family are Francizka, Oliver's handsome, overbearing, vaguely anti-Semitic Hungarian mother, and his fraternal twin brother, Bartholomew, a gigantic and troubled young man with a morbid interest in Europe's great tyrants. As the narrator finds himself drawn into a battle over the family's money and art, he comes to sense that someone—or perhaps the entire family—is hiding an unsavory past. Pursuing the truth from New York to London, from Budapest to Portugal, he remains oblivious to the irony of the search: that in his need to understand Vice's life, he is really grappling with ambivalence about his own.
Praise For The Vices: A Novel…
"The second novel by Lawrence Douglas gave me delight on every page. I'm always careful about calling something Nabokovian, mostly because I'll see that in a review and read the book in question and it's fine but not as good as Nabokov, you know? But this one is Nabokovian—there is no other word." —Ed Park, New York Magazine, "The Year in Books"

"The Vices…is the sharp, stylish, suspenseful tale of Oliver Vice, a charismatic philosopher and art collector, and the provincial academic who falls under his spell. More than a campus novel, it is an elegant parable about the allure of self-invention." —Adam Kirsch, The New Statesman, "Books of the year 2011"

"Playful and profound…As dazzlingly constructed as it is limpidly told, The Vices is a duplicitous delight that feels at home in this age of YouTube, e-mail, and the myriad other ways we consume and connect in this world…Lawrence Douglas gives conclusive evidence that he's the real thing." —Ed Park, Bookforum

"Smart...always fascinating...The novel's biggest concern is how we construct personal narratives that accommodate slippery and unsteady acts of memory." — A.P.D. Lawrie, Times Literary Supplement

"In its deft exploration of the way identity, especially Jewish identity, is constructed and performed, The Vices does justice to its elegant Nabokovian inspiration." —Adam Kirsch, Tablet Magazine
 
"A good summer read…Making literal the phrase 'literary sleuthing,' [The Vices] combines the genres of academic and mystery novel." —The Buffalo News

"Douglas delivers a probing and skillful examination of the conundrums of identity…masterfully kaleidoscopic…[The Vices] presents the reader with a stunning new vista." —Publishers Weekly
 
"An intriguing, thought-provoking exploration of a man desperately unhappy to be living his own life." —Booklist
 
"Darkly comic…[Douglas] masterly crafts a family portrait, where the paint has cracked to reveal human truths." —Royal Young, InterviewMagazine.com

"Douglas elaborates on the inherent tensions that make up the contested borders of identity…This mystery is deceptively philosophical and introspective." —Library Journal

"This brilliant, funny book will appeal to lovers of Jewish fiction and those who hunger to unravel mysteries." —ForeWord Reviews

"At its core a mystery, The Vices is a witty, provocative, and devilishly entertaining book. Sometimes philosophical, sometimes wildly comic, Lawrence Douglas's latest novel plays yearning against satisfaction, prestige against authenticity, and, ultimately, the desire to be someone else against the difficulty of inhabiting self." —Sabina Murray, author of The Caprices and Forgery

"Though The Vices unfolds the complexity of its whodunit with an appealing urbanity and wryness, its central virtue is the compassionate intelligence of its depiction of pain: the anguish and secret costs of self-reinvention, and in the face of history's miseries and deceits, the unexpected consolations of uncertainty." —Jim Shepard, author of Like You'd Understand, Anyway
 
"Crisply told and vigorously compelling. Douglas's bright sense of humor camouflages but does not ultimately conceal his haunting story's menacing undertow." —Brad Leithauser, author of The Art Student's War

"Charming and exquisite, The Vices is an urbane comedy imbued with the eccentric verve of a Wes Anderson film and the piquant nostalgia of Brideshead Revisted.  It's also a gripping tale of fraud, compromise, and the inventive ways we survive the nightmare of history." —Zachary Lazar, author of Sway

"A sparkling, witty, smart-set comedy, the kind where human tragedy is best faced with sexy repartee, fine cuff links, and a game of Ping-Pong." –Commonwealth Magazine
Other Press, 9781590514153, 352pp.
Publication Date: August 16, 2011
About the Author
Lawrence Douglas teaches at Amherst College. He is the author of the novel The Catastrophist (Other Press, 2006), a Kirkus Best Book of the Year, The Memory of Judgment (Yale University Press, 2001), a widely acclaimed study of war crimes trials; and coauthor of a book of humor, Sense and Nonsensibility (Simon & Schuster, 2004). His writing has appeared in the Washington Post, The New York Times Book Review, The Hudson Review, McSweeney's, The New Yorker, and Harper's. A regular contributor to the Times Literary Supplement, Douglas lives in Sunderland, Massachusetts.
or
Not Currently Available for Direct Purchase