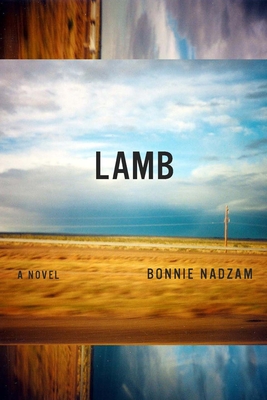 Lamb (Paperback)
A Novel
Other Press, 9781590514375, 288pp.
Publication Date: September 13, 2011
Other Editions of This Title:
Digital Audiobook (9/12/2011)
Pre-Recorded Audio Player (9/13/2011)
MP3 CD (9/13/2011)
Compact Disc (9/13/2011)
Compact Disc (9/13/2011)
Audio Cassette (9/1/2011)
* Individual store prices may vary.
Description
Winner of the 2011 Flaherty-Dunnan First Novel Prize

Lamb traces the self-discovery of David Lamb, a narcissistic middle aged man with a tendency toward dishonesty, in the weeks following the disintegration of his marriage and the death of his father. Hoping to regain some faith in his own goodness, he turns his attention to Tommie, an awkward and unpopular eleven-year-old girl. Lamb is convinced that he can help her avoid a destiny of apathy and emptiness, and even comes to believe that his devotion to Tommie is in her best interest. But when Lamb decides to abduct a willing Tommie for a road trip from Chicago to the Rockies, planning to initiate her into the beauty of the mountain wilderness, they are both shaken in ways neither of them expects.
   Lamb is a masterful exploration of the dynamics of love and dependency that challenges the boundaries between adolescence and adulthood, confronts preconceived notions about conventional morality, and exposes mankind's eroded relationship with nature.
About the Author
Bonnie Nadzam was born in Cleveland, went to high school in suburban Chicago, and has moved continually westward since then. She studied English literature and environmental studies at Carleton College, and earned an MA and PhD from the University of Southern California. Her fiction and poetry have been published in The Kenyon Review, The Mississippi Review, Story Quarterly, Callaloo, The Alaska Quarterly Review, and others. She taught at Colorado College, where she served for two years as the Daehler Fellowin Creative Writing. She is married to her childhood love and lives with him in the Rocky Mountains.
Praise For Lamb: A Novel…
"Only an immensely promising young writer could bestow such grace on such troubled characters." —Boston Globe
 
"A beautiful book. Nadzam's sentences are admirably clipped and controlled, nesting the emotional turmoil of its two subjects within the stability of their natural surroundings." —Minneapolis Star-Tribune

"Beautifully written." —More Magazine, Editor's Picks: The Hottest Fall Novels

"Brilliant, dark and very disturbing…In this stunning debut, Nadzam takes a lot of risks, and the results are thrilling." —The Cleveland Plain Dealer 

"Nadzam pulls off a neat trick here…While kneejerk comparisons to Lolita are inevitable, David Lamb is playing a different game than Humbert Humbert." — The Daily Beast, "Great Weekend Reads"
 
"Surprisingly tender, highly inappropriate…Nadzam deserves credit for her convincing portrait of a middle-aged male burnout…[Lamb] is difficult and beautiful, and though it may not be normal, it feels very real." —Time Out New York
 
"In Bonnie Nadzam's deliciously dark novel Lamb, the author digs deeper into the human urges that drive us to deviant extremes. Instead of taking the lurid turn of Lolita, Nadzam cracks tougher truths." —Royal Young, InterviewMagazine.com

"Unnerving and haunting." —Daily Candy
 
"A remarkably gentle first novel about the brutality of self-discovery." —Shelf Awareness
 
"Lolita gets a 21st-century spin in this gripping debut… Nadzam has a crisp, fluid writing style, and her dialogue is reminiscent of Sam Shepard's…it's a fine first effort: storytelling as accomplished as it is unsettling." —Publishers Weekly

"A disturbing and elusive novel about manipulation and desperate friendship." —Kirkus Reviews 

"Compelling…[Lamb] will find an audience among serious readers." —Library Journal

"Bonnie Nadzam manages to write gorgeous prose about people and skies and mountains while still creating tension and suspense on the level of a thriller, while also walking us into complex and delicate and unsettling moral territory with brilliant subtlety and insight. Lamb is a remarkable debut, by a writer to watch. I will be thinking about these characters for a long time." —Aimee Bender, author of The Particular Sadness of Lemon Cake

"Lamb is one of the most powerful and original novels I have read in years. Beautiful, evocative, and brilliant." —T.C. Boyle, author of When the Killing's Done

"Lamb is a wonder of a novel. Bonnie Nadzam has offered an exploration of interpersonal and sexual manipulation and power that left me reeling. This is a novel about responsibility, complicity, blame, neglect, and finally love." —Percival Everett, author of I Am Not Sidney Poitier and Erasure

"Every sentence in Bonnie Nadzam's Lamb teaches us about love, necessity, and the mysteries of the heart. I am haunted by her two protagonists, and by the journey they take together. This utterly compelling novel has launched a major new voice in American fiction." —David Mason, author of Ludlow

"Bonnie Nadzam's debut is gripping, gorgeous, and utterly original. The disturbing story resists easy categorization, challenging what we think we know about childhood, adulthood, pain, beauty, and love. This book will jolt you awake." —Anna North, author of America Pacifica

"Throughout the novel, Nadzam keeps the reader off-balance, veering between sympathy and repulsion for Lamb and his actions. Lamb puts an original spin on the traditional myth of the West through modern-day characters who long to be "saved" and renewed by the Rocky Mountain landscape." —High Country News

"The reader has no time to wonder what's going to happen next, Nadzam just pushes the reader into the characters' lives and forces them forward until they reach the end. This tale will make you question yourself, your virtues, your perceptions of society, and by the end, you still may not have any answers. And that's okay." -The Examiner

"Lamb is a complex and beautifully crafted tale...A delightful creepiness extends throughout this novel, but there are also moments of soft, quiet, beauty. That Nadzam managed all of this in her first novel is extraordinary."—NomadReader