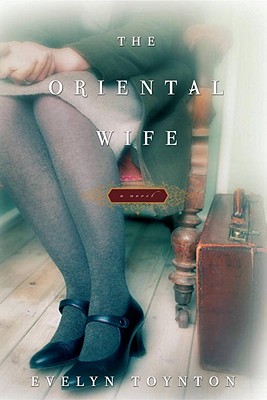 The Oriental Wife
Paperback

* Individual store prices may vary.
Other Editions of This Title:
MP3 CD (6/14/2016)
Description
The Oriental Wife is the story of two assimilated Jewish children from Nuremberg who flee Hitler's Germany and struggle to put down roots elsewhere. When they meet up again in New York, they fall in love both with each other and with America, believing they have found a permanent refuge. But just when it looks as though nothing can ever touch them again, their lives are shattered by a freakish accident and a betrayal that will reverberate into the life of their American daughter. In its portrait of the immigrant experience, and of the tragic gulf between generations, The Oriental Wife illuminates the collision of American ideals of freedom and happiness with certain sterner old world virtues.
Praise For The Oriental Wife…
English novelist Evelyn Toynton uses Hitler's Germany as a backdrop and New York City as the setting for a story about love and survival. . . . "When [Toynton] describes love and lovemaking, the emotional high points of Louisa's and Emma's life seem to leap from the page. As when Emma goes to bed with Kim, her Cambodian refugee lover, and 'by the end, there was not a single bone in her body, only blind heat and his breath moving through her.' In case you're worried this novel might veer more toward soap opera than superior fiction, consider that last line. No soap opera I know ever made you feel that. No, no, no."—Alan Cheuse, NPR's All Things Considered

"In this tender and moving work, two immigrants manage to escape Hitler's Germany to start a new life in America—but then their luck runs out." —Entertainment Weekly
 
"Toynton's character development is solid, and her prose is masterful. The Oriental Wife is a deeply moving exploration of the eternal themes of love, loss and regret." —The Free Lance Star

"Deeply emotional…A first-rate literary work and a character study of loss." —Kirkus Reviews

"Beautiful." —Publishers Weekly

"An intense and moving story of post–Holocaust Jewish immigrants." —Booklist

"This…enjoyable novel will certainly appeal to those with an interest in Jewish literature as well as to general readers." —Library Journal

"[An] intriguing novel…heartbreaking and poignant." —ForeWord Reviews

"In this poignant, vivid, and richly humane novel, Evelyn Toynton measures the weight of personal tragedy against the great catastrophes of 20th century history. Through its acute portrayal of émigré lives, The Oriental Wife deepens our insight into the condition of exile, the ambiguities of Americanization, and the arbitrariness of each love and each human fate." —Eva Hoffman, author of Appassionata
 
"Evelyn Toynton puts me in mind of Jean Rhys: I felt that this was not a story I was reading but a life I was living. Beautifully written, richly evocative, The Oriental Wife had me in thrall from start to finish." —Lynn Freed, author of The Servants' Quarters

"The Oriental Wife is a clear-eyed but tender, always intelligent, and beautifully observed group portrait of German Jews, their lives shattered by the Third Reich, painfully finding their way in England and the New World. A remarkable and virtuous achievement!" —Louis Begley, author of, most recently, Why the Dreyfus Affair Matters
 
"Rolf and Louisa are among the lucky few to escape Hitler's Germany, but that's where their luck ends. This is a tender, moving novel about the cruelty of fate, the difficulty of goodness, and the gulf between the suffering of refugees and the innocence of America." —Carole Angier, the author of The Double Bond: The Life of Primo Levi

"It's a grim story, told with acuity and elegance, of a life that seems sadly destined to be always alien to its surroundings." –Lilith Magazine
Other Press, 9781590514412, 304pp.
Publication Date: July 19, 2011
About the Author
Evelyn Toynton's last novel, "Modern Art, "was a "NewYork Times "Notable Book of the Year and was long-listed for the Ambassador Award of the English-Speaking Union. A frequent contributor to "Harper's, "she has also written for "The Atlantic, The American Scholar, "the "Times Literary Supplement, "and the "New York Times Book Review, "and her work has appeared in a number of anthologies, including "Rereadings "(edited by Anne Fadiman) and "Mentors, Muses & Monsters. "She lives in Norfolk, England.
Before Otto or Louisa, Rolf emigrates to America. He seems to have a strong vision of the American Dream, and to associate it with the promise of the Western Frontier. In what ways do associated themes of liberation and adventure come to fruition in his life?
Discuss the power structure evidenced in Louisa's relationship with men over the course of her adolescence and adulthood. In what ways is she powerful or powerless in relation to these young men, notably Julian, Phillip, and Rolf?
Dr. Seidelbaum commits a near-fatal—and debilitating—error during surgery. Is there an underlying message here about the extent to which life can or cannot be controlled?
In World War I, Franz, Sigmund, and Emil—Louisa's, Rolf's, and Otto's fathers, respectively—received an Iron Cross for bravery. They are models of heroism. Do their progeny honor this memory? Do any of them evince heroism themselves, even if it takes a different form?
As a member of the refugee committee on which her husband serves, Louisa tries to minister to German Jews who are struggling to survive in New York. In one instance, she gives ribbon and a green bead necklace (p. 65), and in others, "lace doilies or French soap" (p. 109). Even if these gifts are frivolous, are Louisa's ministrations to be discounted?
In your view, is Mrs. Sprague manipulative or well intentioned? What does she do to convince you of either opinion?
Gustav and Sophie Joseftal argue about whether Rolf is being "cruel" or "just" to Louisa once she has become partially paralyzed (p. 171). Does Rolf's attempt to be just to her itself become a form of cruelty? Is it possible to be just and cruel at the same time? If so, how?
When Sophie Joseftal counsels Louisa to fire Mrs. Sprague over her controlling care of Emma, Louisa replies that "[Emma] has the right to her loves"—in other words, a right to her apparent preference for Mrs. Sprague (p. 189). How do you see this issue of "the right to love" at play within the novel?
What is the significance of the "Oriental wife" within the novel? In what ways do Louisa's and Emma's encounters with this persona reinforce or contradict one another?
or
Not Currently Available for Direct Purchase