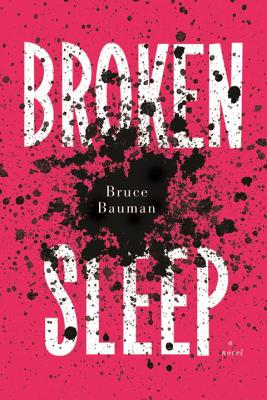 Broken Sleep (Paperback)
Other Press, 9781590514481, 656pp.
Publication Date: November 3, 2015
* Individual store prices may vary.
Description
Spanning 1940s to 2020s America, a Pynchon-esque saga about rock music, art, politics, and the elusive nature of love

Meet everyman Moses Teumer, whose recent diagnosis of an aggressive form of leukemia has sent him in search of a donor. When he discovers that the woman who raised him is not his biological mother, he must hunt down his birth parents and unspool the intertwined destinies of the Teumer and Savant families. 

Salome Savant, Moses's birth mother, is an avant-garde artist who has spent her life in and out of a mental health facility. Her son and Moses's half-brother, Alchemy Savant, the mercurial front man of the world-renowned rock band The Insatiables, abandons music to launch a political campaign to revolutionize 2020s America. And then there's Ambitious Mindswallow, aka Ricky McFinn, who journeys from juvenile delinquency in Queens to being The Insatiables' bassist and Alchemy's Sancho Panza. Bauman skillfully weaves the threads that intertwine these characters and the histories that divide them, creating a postmodern vision of America that is at once sweeping, irreverent, and heartbreaking.
About the Author
Bruce Bauman is the author of the novel And the Word Was. Among his awards are a COLA (City of Los Angeles) Fellowship in Literature, a Durfee Foundation grant, and a UNESCO/Aschberg Fellowship. His work has appeared in the Los Angeles Times, Salon, BOMB, Bookforum, and numerous anthologies and literary magazines. Bauman is an instructor in the CalArts MFA Writing Program and Critical Studies Department and has been Senior Editor of Black Clock literary magazine since its inception in 2003. Born and raised in New York City, he lives in Los Angeles with his wife, the painter Suzan Woodruff.
Praise For Broken Sleep…
"A plangent tour de force of epic proportions…Broken Sleep's amalgam of distinct perspectives creates an incoherent coherence that challenges and rewards in turn. Both a nightmare and a dream, this work successfully engages with eternal questions of truth and evil to form a solid and captivating literary experience." —Library Journal (starred review)

"Big-thinking...a postmodern epic." —Kirkus Reviews

"Readers who like their fiction on the wacky side will appreciate the rollicking energy." —Booklist

"Vibrant, captivating, and touching...Broken Sleep is brimming with colorful characters, fascinating dialogue, and beautiful yet tragic relationships, making it easy to read and hard to forget." —PopMatters

"A literary novel with a great plot. ...[Broken Sleep] is a funny novel, but it's also an incredibly serious emotional novel in a way we don't get nowadays so much." —David Kipen, KPCC Take Two

Broken Sleep is a Pynchon-esque shaggy dog of a novel spanning nearly eight decades of American history, from World War II to the not-too-distant future...[This] novel explores the seedy undersides of high art, rock and roll, and national politics with freewheeling zeal and bitter, satiric bite. Often funny, occasionally heartbreaking, and always revelatory, Bauman puts deep character-driven narratives through their proverbial paces, playing with conventions of form, genre, and conceptions of history." —The Rumpus

"Such a pleasure to plunge into this joyous kaleidoscope of a novel, a multi-voiced tumbling chorus of outrageous characters, hidden parenthood, secrets and discoveries, the gritty outré art world of the 1970s, rockers and mad visionaries and a man named Moses who just wants to live his life when illness forces him to open up the closed door of his family's mysterious past. I haven't seen a book with such energy and joy and sweeping delights since The World According to Garp. Bauman's novel is a tour de force." —Janet Fitch, author of Paint It Black and White Oleander

"Consuming multitudes of novels before it and after, Bruce Bauman's flipbook-epic spectacularly shuffles voice and memory—a careening travelogue on psychic terrains of fate, art, sex, madness, history, philosophy, rock 'n' roll, the personal political, and laws of identity for which no statute of limitations can exist. This is raging, inspiration-jacked literary insomnia at the deepest hour of our brilliant dreaming." —Steve Erickson, author of These Dreams of You and Zeroville

"Bauman's gift for balancing playfulness with historical accuracy, for naming figures with an expressively poetic flair, and for hanging the narrative armature on the believable private scandals of the iconically famous." – White Hot Magazine
 
"Broken Sleep is a stunning, original, unpredictable novel, with a mix of wild voices and riveting, driving stories.  I love all the characters—the rebel Salome, sad Moses fighting for his life, the incredibly charismatic Alchemy, the much abused Absurda, and that troublesome Mindswallow. The world that Bauman imagines is chilling and vivid, and there is an abundance of wisdom throughout the book, with startling insights on every page. The novel is a brilliant success—brave, wonderfully eccentric, utterly confident and engrossing." —Joanna Scott, author of De Potter's Grand Tour

"Bruce Bauman's Broken Sleep is a rare bird: a sprawling, encyclopedic narrative, partly a meditation on the nature of art and storytelling, partly a family saga, and perhaps rarest of all an experimental novel that's also very readable. A high-risk enterprise with a similarly high pay off." —Geoff Nicholson, author of The City Under the Skin

"Broken Sleep is an unabashedly Big Think book that refuses to be categorized. On the surface it's a roller coaster, jetting forward with ideas/observations on everything from avant-garde art to rock 'n' roll renown to history and philosophy. Yet beneath the surface it is also a warm-hearted exploration of the deep messiness of families. Of parents, present and absent, and their children. Of siblings and spouses and volitional families of friends and bandmates. It's a simultaneously poignant and exhilarating ride." —Melvin Jules Bukiet, author of After

"Bruce Bauman is one of the most engaging and engaged writers and thinkers that I know." —Rebecca Goldstein, author of Plato at the Googleplex

"A synesthetic and unfettered book that cascades between a quartet of voices to depict a family not so much broken as fractured over several generations, and shifts in art and politics from the 60s and, prophetically, into our future.  A stunning, lively and funny evisceration of American art, culture, and politics, and of the links connecting them." —Brian Evenson, author of The Open Curtain
On page 37 Nathaniel says, "Irony without empathy is empty and juvenile." What do you think of how irony is used in Broken Sleep?generic viagra price canada
On page 94 Alchemy is described as "slowly transforming from meditating monk into the quintessence of rock star cool." On page 216 Salome asks, "Would Scott Savant have become leader of the Insatiables?" Why do you think Salome named her son Alchemy? Why was she so against him calling himself Scott? What kind of power do the names of the characters have over their narratives, if any?generic viagra price canada
Each of the main characters in Broken Sleep narrates individual chapters, except for Alchemy. Why do you think the author chose not to write from Alchemy's point of view? What effect does it have on you as a reader for Alchemy to occupy such a large space in the narrative without his ever speaking for himself?generic viagra price canada
Identity is a central question for many of the characters in Broken Sleep, no one more so than Moses, who learns that his father is not a survivor of the Holocaust, but actually a Nazi perpetrator. How was Moses's identity shaped by who he thought his father was, and how does it change after he learns the truth?generic viagra price canada
What are the differences between how Alchemy describes his mother and how Salome tells her own story? Compare what Alchemy says on page 429 ("My mom was taken from me when she flipped out at the gallery…I couldn't get my mom out of Collier Layne") to those events as Salome relates them. Which one of them seems to be the more reliable narrator? Why?generic viagra price canada
There are several families in Broken Sleep. What causes the dysfunction that characterizes many of them? Why is it that Moses and Jay are able to reunite while Mindswallow and Absurda are doomed, despite their facing some of the same problems? Do you think the Insatiables could be considered a family?generic viagra price canada
How are women and their bodies, particularly in relation to their ability to give birth, treated in this novel? What similarities do Absurda, Salome, and Laluna share?generic viagra price canada
Describe the relationship between Alchemy and Salome. On page 214 Alchemy tells her, "I think Grandma Hilda never forgave you for asking me about my name and never forgave me for answering 'Alchemy.' And you've never forgiven me for using Scott when we lived in Virginia." Why do you think Salome had such difficulties accepting the other women in Alchemy's life?generic viagra price canada
Salome describes Moses's "soulsmell" as "morbidly bland steamed white rice" (p 425) and calls him the "spawn of Malcolm" (p 444). How does Salome—her initial belief that he doesn't exist, her rejection of him—shape Moses's identity?generic viagra price canada
On page 429 Alchemy explains, "I only know how to do things all the way—victory or death." Who do you think fires the gunshot that causes his death? Do you think that in the end Alchemy chooses death?generic viagra price canada
Are you a suicider or a homicider?generic viagra price canada
or
Not Currently Available for Direct Purchase