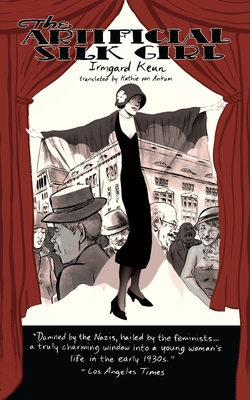 The Artificial Silk Girl
A Novel
Paperback

* Individual store prices may vary.
Description
In 1931, a young woman writer living in Germany was inspired by Anita Loos's Gentlemen Prefer Blondes to describe pre-war Berlin and the age of cinematic glamour through the eyes of a woman. The resulting novel, The Artificial Silk Girl, became an acclaimed bestseller and a masterwork of German literature, in the tradition of Christopher Isherwood's Berlin Stories and Bertolt Brecht's Three Penny Opera. Like Isherwood and Brecht, Keun revealed the dark underside of Berlin's "golden twenties" with empathy and honesty. Unfortunately, a Nazi censorship board banned Keun's work in 1933 and destroyed all existing copies of The Artificial Silk Girl. Only one English translation was published, in Great Britain, before the book disappeared in the chaos of the ensuing war. Today, more than seven decades later, the story of this quintessential "material girl" remains as relevant as ever, as an accessible new translation brings this lost classic to light once more. Other Press is pleased to announce the republication of The Artificial Silk Girl, elegantly translated by noted Germanist Kathie von Ankum, and with a new introduction by Harvard professor Maria Tatar.
Praise For The Artificial Silk Girl: A Novel…
"A highly original, extremely stylish novel...The narrator is a young woman whose irreverent and funny voice you will not easily forget." —Daniel Kehlmann, New York Times Book Review 

"A young girl navigates interwar German society and the expectations—or lack thereof—placed upon women, in this poignant, melancholy novel from the late Keun…[This] heartbreaking story of dashed hopes is one that still has the power to affect and inspire." —Publishers Weekly

"Damned by the Nazis, hailed by the feminists...a truly charming window into a young woman's life in the early 1930s." —Los Angeles Times
 
"The Artificial Silk Girl follows Doris into the underbelly of a city that had once seemed all glamour and promise...Kathie von Ankum's English translation will bring this masterwork to the foreground once more, giving a new generation the chance to discover Keun for themselves." —Elle.com
Other Press, 9781590514542, 216pp.
Publication Date: June 14, 2011
About the Author
Irmgard Keun was born in Berlin in 1905. She published her first novel, GilgióA Girl Just Like Us, in 1931. Her second novel, The Artificial Silk Girl, instantly became a bestseller. After the war, she resumed writing under the name of Charlotte Tralow, enjoying only modest success until her early works were rediscovered and reissued in the late 1970s. She died in 1982 in Cologne.
or
Not Currently Available for Direct Purchase