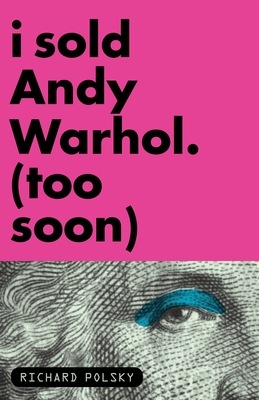 I Sold Andy Warhol (Too Soon)
A Memoir
Paperback

* Individual store prices may vary.
Description
In early 2005, Richard Polsky decided to put his much-loved, hard-won Warhol Fright Wig, up for auction at Christie's. The market for contemporary art was robust and he was hoping to turn a profit. His instinct seemed to be on target: his picture sold for $375,000. But if only Polsky had waited . . . Over the next two years, prices soared to unimaginable heights with multimillion-dollar deals that became the norm and not the exception. Buyers and sellers were baffled, art dealers were bypassed for auction houses, and benchmark prices proved that trees really do grow to the sky. Had the market lost all reason?

In I Sold Andy Warhol (Too Soon), Polsky leads the way through this explosive, short-lived period when the "art world" became the "art market." He delves into the behind-the-scenes politics of auctions, the shift in power away from galleries, and the search for affordable art in a rich man's playing field. Unlike most in the art world, Polsky is not afraid to tell it like it is as he negotiates deals for clients in New York, London, and San Francisco and seeks out a replacement for his lost Fright Wig in a market that has galloped beyond his means. A compelling backdoor tell-all about the strange and fickle world of art collecting, I Sold Andy Warhol (Too Soon) takes an unvarnished look at how the industry shifted from art appreciation to monetary appreciation.
Praise For I Sold Andy Warhol (Too Soon): A Memoir…
"[Richard Polsky] weaves his personal story into the story of a business culture that has grown more venal and volatile in recent years…. Art dealers have played a pivotal role in this pricey shuffle, and Mr. Polsky paints them as an entertainingly infantile, manipulative bunch… That Mr. Polsky operates at the periphery of the art world, and knows it, is an appealing aspect of I Sold Andy Warhol (Too Soon)." —Wall Street Journal

"An account of the runaway market of the mid-2000s—where auction houses sold close to $400 million of art in a night, and the value of a Warhol might quadruple in a month—and one private dealer's attempt to adjust….Polsky's prose is as unpolished as his per­sona, but that only adds to the rare candor that animates his riveting account of behind-the-scenes trading. Now that the market has plummeted, we can only hope he'll be able to buy back his Warhol and complete the trilogy."—San Francisco Magazine

"[A] breezy memoir of the art market before the economic crash." —The New York Review of Books

"Entertaining…[Polsky's] memoir takes the reader on a wild ride about the business of buying and selling this real estate, where one must learn how to play it cool, even when millions of dollars are at stake." —Carol Hoenig, The Huffington Post

"In this instructive, irreverent and often uproarious memoir, Polsky explains the capricious functioning of the art market and the economic and cultural forces that have transformed it from the 1980s… A highly enjoyable and informative insider's guide to a milieu to which few are privy, this will be of interest to the general reader seeking to understand the art world's economic evolution and cultural impact, told through a delightfully vital mixture of memoir, reportage and social satire." —Publishers Weekly

"A fun insider's look at the excesses and intrigue of the contemporary art market…[Polsky's knowledge] makes his narrative as informative as it is engaging, and his enthusiasm for revealing behind-the-scenes tales brings the eclectic cast of the art world to vivid life…Insightful, exciting art-world memoir." —Kirkus Reviews

"A wild roller coaster ride is nothing compared to the vertiginous ups and downs of the contemporary art market between 2005 and 2009 described by Richard Polsky… The scene is crazy, sexy and never boring…A sardonic guide takes readers on a dizzying, dishy and fascinating tour of the recently crazy market for contemporary art." —John McFarland, Shelf Awareness

"An exciting, engaging, and marvelously candid view of the art world. For anyone even faintly curious about art this is a must." —Thomas Hoving, Former Director of The Metropolitan Museum of Art
Other Press, 9781590514566, 288pp.
Publication Date: April 26, 2011
About the Author
Richard Polsky is the author of I Bought Andy Warhol and The Art Market Guide (1995–1998). He began his professional career in the art world thirty-one years ago and in 1984 cofounded Acme Art, where he showed the work of such artists as Joseph Cornell, Ed Ruscha, Andy Warhol, and Bill Traylor. Since 1989 he has been a private dealer specializing in works by postwar artists, with an emphasis on Pop art. He is currently a contributor to artnet magazine online and lives in Sausalito, California. The author can be reached through his Web site: www.RichardPolsky.com.