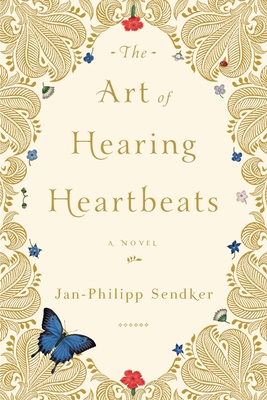 The Art of Hearing Heartbeats
A Novel
Paperback

* Individual store prices may vary.
Other Editions of This Title:
Digital Audiobook (1/30/2012)
Compact Disc (1/31/2012)
MP3 CD (1/31/2012)
Description
The first book in the Art of Hearing Heartbeats series, this is a passionate love story, a haunting fable, and an enchanting mystery set in Burma.

When a successful New York lawyer suddenly disappears without a trace, neither his wife nor his daughter Julia has any idea where he might be…until they find a love letter he wrote many years ago, to a Burmese woman they have never heard of. Intent on solving the mystery and coming to terms with her father's past, Julia decides to travel to the village where the woman lived. There she uncovers a tale of unimaginable hardship, resilience, and passion that will reaffirm the reader's belief in the power of love to move mountains.
Praise For The Art of Hearing Heartbeats: A Novel…
"[The Art of Hearing Heartbeats] is a love story set in Burma…imbued with Eastern spirituality and fairy-tale romanticism…Fans of Nicholas Sparks and/or Elizabeth Gilbert should eat this up." —Kirkus Reviews

"An epic narrative that requires…a large box of tissues." —Publishers Weekly

 "Sweetly tragic." —Library Journal

"No matter what I even attempt to say, I can't possibly capture the absolute magic of this book. Like a spell, it haunts. Like love, it's going to endure." —Caroline Leavitt, New York Times bestselling author of Pictures of You
 
"A story at once both poignant and joyous, The Art of Hearing Heartbeats reaffirms how love can transform the harshest of realities into a mystical one. Sendker takes us from contemporary, upscale New York to impoverished Burma, weaving a complex tale that is part romance, part father-daughter story. Reading this book was like reading poetry, with full attention required for each sentence. A thoroughly immersive and enjoyable read." —Margaret Dilloway, author of How to Be an American Housewife
 
"Set in Burma, The Art of Hearing Heartbeats is a rare novel. Telling the story of a young blind man's journey through a world of auditory intensity, Jan-Philipp Sendker renews one's faith in the possibility of real, pure love. I finished the book in tears." —Shawna Yang Ryan, author of Water Ghosts

"This book has the right mix of romance, magic, heartache and inspiration that will make it a favorite for a lot of people.…This brilliant author, Jan-Philipp Sendker, has gifted us with a story that is so powerful and moving. It will touch your heart and you will want to share it, it is THAT good." —Romance Book Reviews

"So intense and delicate at the same time that it takes your breath away. All human flaws become less important, all physical challenges are taken in dignity. The magic of the story evolves slowly…It will touch your heart deeply."—Zuckerbuecherei

"A masterfully told tale of enduring love, the twists of fate and the journey life takes us on to discover what is truly important."—SCLS Reading Suggestions

"I highly recommend The Art of Hearing Heartbeats, awarding it three grape clusters, the distinction of "Fine Literature" on the Literary Leisure rating scale."—St. Helena Star

"From beginning to end this book is captivating. Tugging at the heartstrings, the story reveals human connectivity and exercises the wide-range of human emotion."—MegSchuster.com

"It's been a long time since I've enjoyed a book so much and I'll be recommending this one to everyone I know. The prose reads like poetry, the sentences sing, the tale transports completely. It's a story within a story – a hero's quest, a love story, a fairytale. If all books were written this way – with this much magic in the language and with this much to teach us about the natural world, more people would love to read – I'm sure of it."—Read Lately

"A poignant love story that spans a great distance and time." —Castle Rock Magazine

"A truly remarkable novel has the capability of being translated from its original language and still being completely and utterly bewitching. The Art of Hearing Heartbeats is one of these novels... Sendker creates a story so powerful that readers will think back to it time and again." —Anderson's Reads

"A poignant and inspirational love story set in Burma." –Serendipitous Readings

"An epic love story with plenty of magic about it…It will break your heart, or at least rearrange it." —Between the Covers

"This novel is a beautifully woven love story of resilience, passion, and truth that lingers long into the silence after the last page." —New Jersey Herald

"An amazing journey of the senses." —Karen's Two Sentence Book Club Reviews 
Other Press, 9781590514634, 352pp.
Publication Date: January 31, 2012
About the Author
Jan-Philipp Sendker, born in Hamburg in 1960, is the author of the best selling novel The Art of Hearing Heartbeats and its sequel, A Well-Tempered Heart. The final book in the Art of Hearing Heartbeats trilogy is forthcoming from Other Press. Sendker was the American correspondent for Stern from 1990 to 1995, and its Asian correspondent from 1995 to 1999. He lives in Berlin with his family.
 
Kevin Wiliarty has a BA in German from Harvard and a PhD from the University of California, Berkeley. A native of the United States, he has also lived in Germany and Japan. He is currently an academic technologist at Wesleyan University in Middletown, Connecticut, where he lives with his wife and two children.
Book Videos
In your opinion, what does the back-and-forth between Julia's and U Ba's narratives add to the telling of the love story between Tin Win and Mi Mi? How do these stories interrelate?
Tin Win is born to parents who abandon him as a child but Mi Mi is born into a close-knit family. Mi Mi's mother, especially, adores her daughter. Do you see this developmental difference reflected in the adult each one becomes, or in the way the two relate to one another?
After he loses his sight, Tin Win spends several years in a monastery under the tutelage of the abbot, U May. In your opinion, what does U May model for Tin Win? How does Tin Win grow in these years?
Tin Win's wealthy uncle, U Saw, finances Tin Win's eye operation and subsequent education abroad. But to U Saw's discredit, his motives are self-interested, and for his own convenience, he obstructs all communication between Tin Win and Mi Mi. Is U Saw portrayed as a villain—or is he even villainous?
A portion of the novel is in the form of letters. Does this change the mood or the flow of the novel? The way you see the characters?
Tin Win and Mi Mi develop an intense, literally symbiotic relationship: he walks for her; she acts as his eyes. They become inseparable, but then they are separated for decades. Given what you know about each character, how do you think they are able to withstand the time apart?
Discuss the role of memory in the novel, both individual and collective.
Burma (now known as Myanmar) was occupied by the British from the nineteenth century until 1948. How important is this colonial history to the major events of the novel?
Prophecy and superstition play a significant role in Burmese culture. Do you think this belief system inspires a fundamental feeling of security or of anxiety in the main characters of the novel, and why?
The novel contrasts Western and Eastern values: individualism and personal achievement versus kinship and transcendence. Where and how are these differences brought to light?