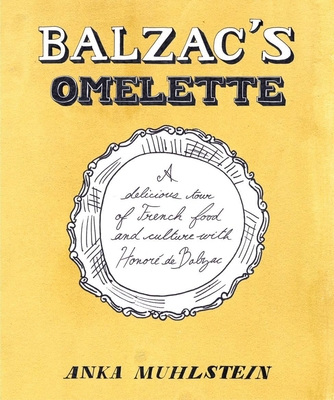 Balzac's Omelette
A Delicious Tour of French Food and Culture with Honore'de Balzac
Hardcover

* Individual store prices may vary.
Other Editions of This Title:
MP3 CD (8/23/2016)
Description
"Tell me where you eat, what you eat, and at what time you eat, and I will tell you who you are." This is the motto of Anka Muhlstein's erudite and witty book about the ways food and the art of the table feature in Honoré de Balzac's The Human Comedy. Balzac uses them as a connecting thread in his novels, showing how food can evoke character, atmosphere, class, and social climbing more suggestively than money, appearances, and other more conventional trappings.

Full of surprises and insights, Balzac's Omelette invites you to taste anew Balzac's genius as a writer and his deep understanding of the human condition, its ambitions, its flaws, and its cravings.
Praise For Balzac's Omelette: A Delicious Tour of French Food and Culture with Honore'de Balzac…
"This effervescent volume celebrates Balzac's use of gastronomy as a literary device and social critique." —The New Yorker
 
"Fabulous . . . worth nibbling on, as prelude or accompaniment to the pièce de résistance, 'The Human Comedy.'" —New York Times Book Review
 
"Balzac's Omelette . . . is a charming and modest little book." —New York Review of Books

"Muhlstein uses Balzac as a guide to the French culinary scene of the 19th century in a literary analysis that is original, delectable and entirely readable." —The Washington Post

"This scholarly yet escapist book explores how French cuisine influenced Honoré de Balzac's genius… irresistible."  —Daily Beast

"An absorbing and insightful portrait of Balzac…and of the role that food played in 19th-century France." —Wall Street Journal

"Muhlstein's gastronomic and cultural tour of 19th-century France is concocted from food references in Balzac's work." —Entertainment Weekly

"Felicitous phrasing, a scholar's sage scope, and enormous fondness for Balzac's panoply of characters mark this charming, intimate look at the French novelist's depiction of the highs and lows of 19th-century French society, as reflected in its culinary offerings... Muhlstein delves lovingly into Balzac's characters, misers and gluttons alike, and finds the presentation of food an important indicator of social status, and well-cooked food equal to a woman's love." —Publishers Weekly

"The story of post-Revolution food in Paris and the rise of food as a literary metaphor, as told through Balzac's work…Not just for French lit majors—honest." —France Magazine

"Like the many feasts it describes—historical and fictional—this book presents readers with course after course, carefully crafted to appeal to palates with a taste for history, biography, or literary criticism…Well written and thorough, this title will appeal most to students of French history, lovers of Balzac and his writings, and those with a deep interest in food history..." —Library Journal

"'Balzac brought meals into literature,' writes Anka Muhlstein, delivering up an elegant, mouthwatering feast.  Here is food as characterization, as preoccupation, as consolation—a gastronomic tour of 19th century France in which Balzac serves as headwaiter." —Stacy Schiff, author of Cleopatra: A Life

"Alimentarians great and humble will want to own, read, and reread Balzac's gastronomic tour of nineteenth-century Paris and the provinces, reconstructed from his food-infused novels with delicacy and brilliance by Anka Muhlstein." —Jason Epstein, Eating: A Memoir

"This is a superb book, a delightful plunge into 19th century French culture and life in all its glory, a real page turner.  If you love books, the art of writing, or dinner parties, if you revel in France, if travel and culture are your thing, Balzac's Omelette will please you more than any other book this season. Bon appétit!" —André Bernard, author of Now All We Need Is a Title and Bartlett's Book of Anecdotes

"Reading Balzac's Omelette is like going to a party where all the guests are brilliant and entertaining, the food is exquisite, and you wish it would never end." —Jeanne Martinet, author of The Art of Mingling

"For anyone who loves to read, or eat, or both, Anka Muhlstein's terrific Balzac's Omelette is a must: the historian takes on the evolution of food in fiction—specifically Balzac's—with results that I could (but won't) call mouth-watering. I'm a total food-history nerd, but I don't think you'd need to be to enjoy what's ultimately a treatise on the making of modern French culture." —Sadie Stein, The Paris Review Daily

"Anka Muhlstein folds wit into scholarship as easily as breaking an egg. Let us now join hands and say grace for her brilliant and beguiling Balzac's Omelette." —Patricia Volk, author of Stuffed and To My Dearest Friends

"Balzac's Omelette is perhaps less of an omelette than a light and charming soufflé. Or perhaps a meze, where you can pick and choose among choice bits of information or anecdote at will. And ultimately it has the effect of awakening your appetite for more than food…sending you back to the bookshelf to reread Balzac's novels themselves." –The East Hampton Star
Other Press, 9781590514733, 256pp.
Publication Date: October 11, 2011
About the Author
Anka Muhlstein was born in Paris in 1935. She has published biographies of Queen Victoria, James de Rothschild, Cavelier de La Salle, and Astolphe de Custine, a study on Catherine de Médicis, Marie de Médicis, and Anne of Austria, and a double biography, Elizabeth I and Mary Stuart. She is currently writing a volume on Proust as a reader. She has won two prizes from the Académie Française and the Goncourt Prize for Biography. She and her husband, Louis Begley, have written a book on Venice, Venice for Lovers. They live in New York.
 
Adriana Hunter studied French and Drama at the University of London. She has translated nearly forty books including works by Agnès Desarthe, Amélie Nothomb, Frédéric Beigbeder, Véronique Ovaldé, and Catherine Millet, and has been short-listed for the Independent Foreign Fiction Prize twice. She lives in Norfolk, England.
or
Not Currently Available for Direct Purchase