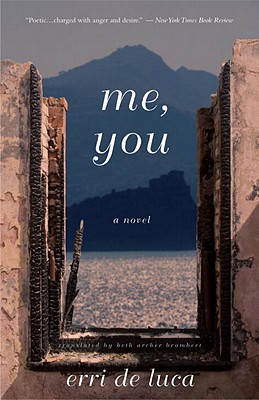 Me, You (Paperback)
A Novel
Other Press, 9781590514795, 160pp.
Publication Date: November 1, 2011
* Individual store prices may vary.
Description
The unnamed narrator of this slim, alluring novel recalls a summer spent at age sixteen on an idyllic Italian island off the coast of Naples in the 1950s, where he spends his days with Nicola, a local fisherman. The narrator falls in love with Caia, who shares with him that she's Jewish, saved by Italian soldiers from the Nazis, who killed the rest of her Yugoslav family. The boy demands answers about the war from the adults around him, but is rebuffed by everyone but Nicola, who tells him of Italy's complicity with the Nazis. His passion for Caia and his ardent patriotism lead him to a flamboyant, cataclysmic act of destruction that brings his tale to an end.
About the Author
Erri De Luca was born in Naples in 1950 and today lives in the countryside near Rome. He is the author of several novels, including God's Mountain and Three Horses (Other Press). He taught himself Hebrew and translated several books of the Bible into Italian. He is the most widely read Italian author alive today as well as an international best seller.
 
Beth Archer Brombert's most recent translations from Italian are Italo Svevo's masterpiece, Senilità (in English, Emilio's Carnival) and Cheese, Pears and History in a Proverb by Massimo Montanari. She is the author of two widely acclaimed biographies: Cristina, Portraits of a Princess and Edouard Manet, Rebel in a Frock Coat (a New York Times Notable Book of the Year).
Praise For Me, You: A Novel…
"High hopes in clear language, cautions against real evil, and scenes thick with poetic sentiment - these elements fuel the warmth to be found in De Luca's brief but affecting novels." —The National

"Full of steadfast and simple charm… while still being steadfastly aware of the larger histories that are always playing out in the backgrounds of whatever it is that charms us in a momentary idyll." —Bookslut

"De Luca lovingly, even rapturously, explores familiar territory with bittersweet romanticism… De Luca writes like a dream, passionately but not effusively, and he treats his characters with both respect and affection." —Kirkus Reviews (starred review)

"In the United States, nostalgia for the 1950's runs to baseball, heavy petting and the first stirrings of rock-and-roll. [Me, You], set on an island off the coast of Italy during those years, evokes an entirely different longing -- not for our own false Golden Age but for the harsh beauty of a wounded and willfully innocent Italy unable to come to grips with its role in the Holocaust." —New York Times Book Review
 
"An alluring and poignant story...Brombert's translation ranges from clear to shimmeringly lyrical." —Publishers Weekly
 
"Beautifully written." —Library Journal

"Recounted in brusque, straightforward prose, the text pays homage to the brutal forces of the sea and Caia's powerful yearning to see in the narrator all she holds most dear, Me, You is an excellent introduction to this well-respected Italian novelist and an unforgettable tale of coming of age." -San Francisco Book Review