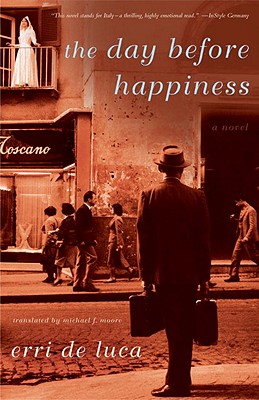 The Day Before Happiness (Hardcover)
Other Press (NY), 9781590514818, 175pp.
Publication Date: November 1, 2011
* Individual store prices may vary.
or
Not Currently Available for Direct Purchase
Description
Just after World War II, a young orphan living in Naples comes under the protection of Don Gaetano, the superintendent of an apartment building. He is a generous man and is very attached to the boy, telling him about the war and the liberation of the city by the Neapolitans. He teaches him to play cards, shows him how to do odd jobs for the tenants, and even initiates him into the world of sex by sending him one evening to a widow who lives in the building. But Don Gaetano possesses another gift as well: he knows how to read people's thoughts and guesses correctly that his young friend is haunted by the image of a girl he noticed by chance behind a window during a soccer match. Years later, when the girl returns, the orphan will need Don Gaetano's help more than ever.
About the Author
Erri De Luca was born in Naples in 1950 and today lives in the countryside near Rome. He is the author of several novels, including God's Mountain and Three Horses (Other Press). He taught himself Hebrew and translated several books of the Bible into Italian. He is the most widely read Italian author alive today as well as an international best seller. Michael F. Moore is a New York-based translator and scholar whose previous translationsinclude God's Mountain and Three Horses, both by Erri De Luca, and The Silence of the Body by Guido Ceronetti.
Praise For The Day Before Happiness…
"High hopes in clear language, cautions against real evil, and scenes thick with poetic sentiment - these elements fuel the warmth to be found in De Luca's brief but affecting novels." —The National

"Tender, lyrical without apology, and intensely moving." —Library Journal

"Full of steadfast and simple charm… while still being steadfastly aware of the larger histories that are always playing out in the backgrounds of whatever it is that charms us in a momentary idyll." —Bookslut

"The Day Before Happiness is an innovatively told post-World War II thriller set in Naples. An orphan boy's past is revealed to him in this lyrical book, and postwar Italy is arrestingly captured in these pages…One of the most moving books I have read all year." —David Gutowski, Largeheartedboy.com
 
"A lyrical narrative about a thorny search for happiness." —Kirkus Reviews

"The only true first-rate writer that the new millennium has given us for now." –Corriere della Serra

"The story of a risky happiness, the happiness of a city in revolt, of a violent and rediscovered love." —Avvenire
 
"A hymn to life, to the Resistance, to education." —L'Alsace
Advertisement