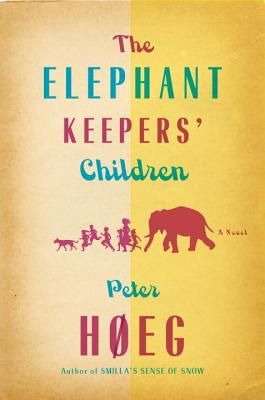 The Elephant Keepers' Children (Hardcover)
Other Press, 9781590514900, 512pp.
Publication Date: October 23, 2012
* Individual store prices may vary.
Description
From the author of Smilla's Sense of Snow, an epic novel about faith and the magic of everyday life.

Told from the precocious perspective of fourteen-year-old Peter, The Elephant Keepers' Children is about three siblings and how they deal with life alongside their eccentric parents. Peter's father is a vicar, his mother is an artisan, and both are equally and profoundly devout. The family lives on the (fictional) island of Finø, where people of all religious faiths coexist peacefully. Yet, nothing is at it seems. 
   When Peter's parents suddenly go missing, Peter and his siblings fear the worst--has their parents' relentless quest to boost church attendance finally put them in danger? Told with poignancy and humor, The Elephant Keepers' Children is a fascinating exploration of fundamentalism versus spiritual freedom, the vicissitudes of romantic and familial love, and the triumph of the human spirit.
About the Author
Peter Høeg was born in Copenhagen, Denmark. Before becoming a writer, he worked variously as a sailor, ballet dancer, and actor. He published his first novel, A History of Danish Dreams (1988), to positive reviews. However, it was Smilla's Sense of Snow (1992), a million-copy best seller, that earned Høeg immediate and international literary celebrity. His books have been published in more than thirty countries.

Martin Aitken holds a PhD in linguistics and gave up university tenure to translate literature. Novels in his translation have been published on both sides of the Atlantic, and his translations of Danish short stories and poetry have appeared in The Literary Review, AGNI, Boston Review, and A Public Space, among other publications. He lives in rural Denmark.
Praise For The Elephant Keepers' Children…
"A fount of grandiloquent observations and windy circumlocutions, [Høeg] conveys the cunning of a middle-aged novelist playing at being a perceptive 14-year-old, and the earnestness of a 14-year-old who seems doomed to a life of writing." —New York Times Sunday Book Review

"A picaresque tale that probes society's little hypocrisies while offering an original array of characters. At first glance, an utterly fun, absorbing read." —Library Journal

"Told with poignancy and humor, The Elephant Keepers' Children is a fascinating exploration of fundamentalism versus spiritual freedom, the vicissitudes of romantic and familial love, and the triumph of the human spirit" —Examiner

"It succeeds in being extremely funny while also wrestling with deeper philosophical questions about the role of religion in society and individual choice." —Huffington Post

"Thought-provoking and cheerfully absorbing, The Elephant Keepers' Children is a worthwhile and fun story." —Times Online

"This book manages to be both highly entertaining and seriously thought provoking. I must also mention the flawless translation, which allows us to step into the streets of Copenhagen and to enjoy Høeg's play with words. Peter regales us with tales of his hilarious misdeeds on one page and delves into the true nature of spirituality on the next. I closed this book feeling wiser." —Three Percent

"A thriller of sorts this is, but it's more humorous than frightening, more of a caper than a mystery, and more of a coming-of-age story than a suspense yarn...Under the madcap adventure story Høeg poses serious issues about neglected children, venal church officials, and the paths to intellectual and spiritual freedom." —Publishers Weekly

"Part comic teenage adventure story, part intellectual debate, the best-selling Danish author's sixth novel is a shaggy-dog story with a unique vision...Høeg has an endless menu of oddities to stir into his story; whether thriller, fantasy or disuisition on spiritual belief, love and parenting does successfully invent an inexhaustible landscape all its own" —Kirkus

"This is the novel of the winter to restore your faith in the magic of human experience." —Washington Independent Review of Books

"The lunacy of a spiritually addicted culture motors this soberhearted screwball comedy from the author of Smilla's Sense of Snow." —International Herald Tribune

"Peter Høeg displays a glorious facility for the absurd as well as the picaresque, and the hilarity of Peter Finø's narrative makes this a delightful novel." —The Guardian

"Bizarre, philosophical (in an Eastern spirituality way), magically real, with more than enough action and twists, this novel is delivered in a unique voice." —Psychology Today

"Høeg is most notable as the author of Simila's Sense of Snow. You'll find The Elephant Keepers' Children a less violent, equally mystical novel." —Boston Book Bums

"As soon as I opened to page one, and met fourteen-year-old Peter, I was hooked...It's really a crime thriller, yet filled with mystical characters and a surprising amount of laughs." —Kick Ass Book Reviews
or
Not Currently Available for Direct Purchase