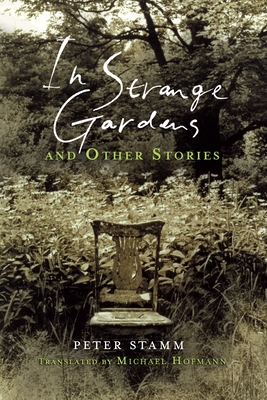 In Strange Gardens and Other Stories
Paperback

* Individual store prices may vary.
Other Editions of This Title:
Hardcover (4/17/2006)
Description
With the precision of a surgeon, Peter Stamm cuts to the heart of the fragile and revealing moments of everyday life.

They are bankers, students, mothers, or retirees. They live in New York City or somewhere in Switzerland, they work in London or Riga, they cross paths in a Fado bar in Lisbon. They breathe the banal routine of daily life. It is to these ordinary people that Peter Stamm grants center stage in his latest collection of short stories. Henry, a cowherd turned stuntman, crisscrosses the country, dreaming of meeting a woman. Inger, the Dane, refuses her skimpy life and takes off for Italy. Regina, so lonely in her big house since her children left and her husband passed away, discovers the world anew thanks to the Australian friend of her granddaughter, who helps Regina envision her next voyage.

In these stories, Stamm's clean style expresses despair without flash, through softness and small gestures, with disarming retorts full of derision and infinite tenderness. There, where life hesitates, ready to tip over—with nothing yet played out—is where these people and their stories exist. For us, they all become exceptional. Praise for Unformed Landscape: "Sensitive and unnerving. . . . An uncommonly intimate work, one that will remind the reader of his or her own lived experience with a greater intensity than many of the books that are published right here at home." —The New Republic Online
Praise For In Strange Gardens and Other Stories…
Kirkus Review

Most of the individuals in these austerely written stories by Swiss novelist Stamm (Unformed Landscape, 2005, etc.) lead humdrum but desperate lives...While Stamm doesn't discount the possibility of happiness and comradeship, there is invariably an ounce of joy for every pound of gloom.


Bookforum

"Stamm's cool, observational style often lends the impression that he is passing through his stories, witnessing the unfolding of events from the window as he goes by. Something of the peculiar dynamic among passengers—safeguarding their anonymity in the proximity of strangers, impinging imperceptibly on one another's lives, sharing an elusive intimacy that is intrinsically disconnected—seeps into the relationships of his characters. Finally, his unique sense of place corresponds to what he calls the 'empty, timeless space of train travel,' the sensation of inhabiting a transitory nowhere. His characters dwell in this negative space, out of place in the 'strange gardens' in which they find themselves. Using them as receptors of the word, Stamm registers restlessness and unease, irresolution, glimpses of the void….With artful understatement, Stamm conveys the mutability of experience, a phenomenon as inscrutable as variations in the weather."

Seattle Times

Wingate Packard
These particular stories leap off the page, a pleasant surprise ....

ABC Magazine

...short story collections [that] particularly impressed me: Peter Stamm's In Strange Gardens and Other Stories...Stamm is Swiss, and writes in German. His stories seem very cool, but it's the kind of cool that burns.
Other Press, 9781590514986, 249pp.
Publication Date: April 12, 2011
About the Author
Peter Stamm was born in 1963, in Weinfelden, Switzerland. He is the author of the novel, Agnes (1998), and numerous short stories and radio plays. He lives outside of Zurich.

Michael Hofmann has translated Bertolt Brecht, Joseph Roth, Patrick S, Herta Mueller, and Franz Kafka. He won the Translators' Association's Schlegel-Tieck Prize twice in 1988 for his adaptation of The Double Bass by Patrick S (1987), and in 1993 for his rendering of Wolfgang Koeppen's Death in Rome (1992). In 1999 he won the PEN/Book of the Month Club Translation Prize for The String of Pearls. His translation of his father's novel The Film Explainer, by Gert Hofmann, won the Independent Foreign Fiction Prize in 1995. He has written and translated more than 35 books, winning eight awards for his translations and his poetry