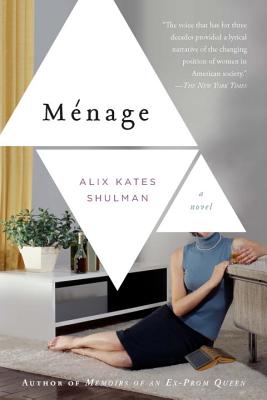 Menage (Paperback)
A Novel
Other Press, 9781590515204, 288pp.
Publication Date: May 15, 2012
Other Editions of This Title:
MP3 CD (7/12/2016)
* Individual store prices may vary.
Description
Heather and Mack McKay seem to have it all: wealth, a dream house in the suburbs, and two adorable children along with the nannies to raise them. But their marriage has lost its savor: she is a frustrated writer and he longs for a cultural trophy to hang on his belt.
   During a chance encounter in LA, Mack invites exiled writer Zoltan Barbu—once lionized as a political hero, now becoming a has-been—to live with him and his wife in their luxurious home. The plan should provide Heather with literary companionship, Mack with cultural cachet, and Zoltan himself with a pastoral environment in which to overcome his writer's block and produce a masterpiece.
    Of course, as happens with triangles, complications arise—some hilarious, some sad—as the three players pursue a game that leads to shifting alliances and sexual misadventures. Shulman pokes fun at our modern malaise (why is having it all never enough?), even as she traces the ever-changing dynamics within a marriage. Ménage is a bravura performance from one of America's most renowned feminist writers.
About the Author
Alix Kates Shulman is the author of the feminist classic Memoirs of an Ex-Prom Queen and three other novels; two previous memoirs, including the award-winning Drinking the Rain; and two books on the political activist Emma Goldman. She lives in New York City.
Praise For Menage: A Novel…
"'Careful what you wish for' might be the subtext of Alix Kates Shulman's witty and delightful new novel about three misguided people who may or may not have learned a lesson from this old adage but no doubt the discerning reader will." —Lily Tuck, author of I Married You for Happiness

"The voice that has for three decades provided a lyrical narrative of the changing position of women in American society." —New York Times

"Alix Kates Shulman's many readers will be grateful to see her return to fiction in full force, with this delectable social satire that deftly and even-handedly skewers her three main characters.  Shulman's devilishly clever wit and uncommonly keen vision of marriage, ambition, and self-interest hurtling against each other make Ménage an altogether wonderful read.  I was sorry to reach the last page!" —Lynne Sharon Schwartz, author of The Writing on the Wall

"In this wise and witty novel, Shulman displays once again her astute understanding of the loaded relationships between males and females that earned her fame with her first novel, The Memoirs of an Ex-Prom Queen." —The Star Tribune

"The dynamics of the triangle in Ménage keep changing, but Alix Kates Shulman's take on modern marriage is consistently inventive, witty and smart." —Hilma Wolitzer, author of An Available Man

"A lighthearted read with an urbane twist; many readers will enjoy." —Library Journal

"In a delectably mischievous return to fiction, [Shulman] detonates our brittle assumptions about marriage and creativity… Saucy Shulman orchestrates a brilliantly wry and entertaining comedy of desires…[the] hilarious dynamics of this 'odd ménage' heat up and illuminate the cracks in our fantasies about wealth, fame, sex, and art." —Booklist

"A surprisingly tart little literary satire…Shulman is delightfully wicked." —Kirkus Reviews

"An irreverent comedy about an affluent couple who, in a bid for cultural cachet, take in a dissident writer, only to have sex complicate everything." —Karen Holt, O Magazine

"In this wry and delicious novel by the author of Memoirs of an Ex-Prom Queen, a couple in a boring marriage offer to share their lavish home with a celebrated but penniless writer…The trio is not a sexual threesome, but each individual lusts for something, and the household dynamic seethes with the raging needs of their egos…The characters are selfish and self-absorbed, but the sharp and entertaining satire that emerges from their comic triangle expertly skewers modern notions of marriage, celebrity and success." —People Magazine

"It's a sharp little satire, and it goes down quick like a stiff drink." –Jessa Crispin, founder of Bookslut, Kirkus


or
Not Currently Available for Direct Purchase