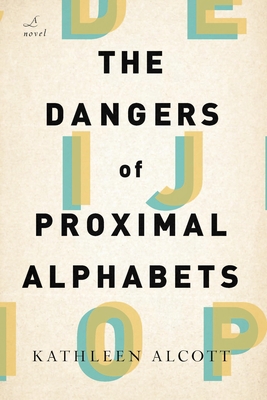 The Dangers of Proximal Alphabets
A Novel
Paperback

* Individual store prices may vary.
Other Editions of This Title:
Digital Audiobook (9/17/2012)
Compact Disc (10/15/2012)
MP3 CD (10/15/2012)
MP3 CD (10/15/2012)
Description
An extraordinary debut novel that challenges the definition of family and explores the intricate ties that bind us together
Ida grew up with Jackson and James—where there was "I" there was a "J." She can't recall a time when she didn't have them around, whether in their early days camping out in the boys' room decorated with circus scenes or later drinking on rooftops as teenagers. While the world outside saw them as neighbors and friends, to each other the three formed a family unit—two brothers and a sister—not drawn from blood, but drawn from a deep need to fill a void in their single parent households. Theirs was a relationship of communication without speaking, of understanding without judgment, of intimacy without rules and limits.
But as the three of them mature and emotions become more complex, Ida and Jackson find themselves more than just siblings. When Jackson's somnambulism produces violent outbursts and James is hospitalized, Ida is paralyzed by the events that threaten to shatter her family and put it beyond her reach. Kathleen Alcott's striking debut, The Dangers of Proximal Alphabets, is an emotional, deeply layered love story that explores the dynamics of family when it defies bloodlines and societal conventions.
Praise For The Dangers of Proximal Alphabets: A Novel…
"A wholly original and moving work, a nuanced consideration of the complicated ways in which we love and fail one another. A lovely and intelligent debut." —Emily St. John Mandel, author of The Lola Quartet

"A beautiful story of love and heartbreak...[a] joyously good first novel." —Wall Street Journal

"Heartbreaking, honest, and wholly engrossing, The Dangers of Proximal Alphabets dredges the depth of love that divides us, unites us, and folds in on itself until we're nearly crushed under the sweet ache of its weight." —Bookslut

"Every once in a while a book comes along that you didn't know you were missing until you found it. The Dangers of Proximal Alphabets is one of those books: dreamy and captivating, it nestles up inside of you, even as it tells you a devastating tale. What a wonderful debut for Kathleen Alcott." —Jami Attenberg, author of The Melting Season

"The Dangers of Proximal Alphabets is a powerful and emotionally resonant novel that beautifully and with rare precision explores the magnetic danger of love. Alcott has found a language for the unsayable. At one point Ida worries that she has inherited her father's capacity of never forgetting. I, for one, am very grateful for her memory." —Peter Orner, author of Love and Shame and Love

"To say I adored this book would be an understatement. I fell so hard into the wise, strange world Alcott creates for her characters that closing this book was like waking up from a dream I never wanted to end. A powerful debut from a writer I expect to see a lot more from." —Claire Bidwell Smith, author of The Rules of Inheritance

"The Danger of Proximal Alphabets is a novel as fugue state between childhood obsessions and adult behaviors. It exists in the gaps between memory and hope, between love and obligation. Reading it, you will at once be sixteen again, drinking a beer somewhere you shouldn't, sure that the entire world lives inside your heart, beating three times as fast as it should." —Emma Straub, author of Laura Lamont's Life in Pictures

"Disenchanted and creative, The Dangers of Proximal Alphabets is a surreal and thought-provoking debut." —Lonely Owl Books

"The initial sense of beauty and sweetness between the two [Ida and Jackson, (siblings by marriage)] is tempered by uncomfortable intensity and claustrophobia…and what emerges as a whole is an emotional narrative that is not easy or relatable but that sparks with convincing pain and nostalgia." —Publishers Weekly

"The narrative…expertly interweaves Ida's current reflections with her introspection about past events, some simple and innocent, others complex and appalling…All add dimension to each character and help establish the emotional depth of a well-told story. An accomplished debut." —Kirkus

"...she is a skilled storyteller, and her understanding of just how dangerous it can be to love someone worms its way through almost every sentence." —The Boston Globe

"This book beautifully...portrays the intensity of young love and the trouble its volatility can cause. When Alcott digs deep into Ida's psychology, describing her obsession with Jackson and her loss of innocence, her prose really hits home." —Real Simple

"The Dangers of Proximal Alphabets is a powerful and fascinating debut novel that explores the complexities of love." —Largehearted Boy

"The Danger of Proximal Alphabets reminds us that untangling the knots of our lives can sometimes be more threatening than cutting them off completely...[Alcott] shows us how deeply pain can be tied to love, and she takes us on a quest that highlights the mythic proportions of both in our lives. Alcott's ability, in the end, to intelligently parse out the positive aspects of a painful childhood and still celebrate the comfort they give us makes Proximal Alphabets a worthy coming-of-age novel." —Tottenville Review

"An excellent work of cerebral, lifelike fiction; it illustrates how fractured people use each other to mend themselves into full people, and how even bonds that strong can break." —Timestage Embassy

"Alcott's novel weaves a web of betrayal, intimacy, and pain, questioning the lengths to which we will go in our attempts to save others and ourselves. Abstracted yet utterly believable, the novel comments with grace on the dangers of triangulation and, as Alcott so eloquently puts it, "proximal alphabets." The debut is a haunting tale of what it should and should not mean to be a family." —The Brooklyn Rail

"A dark story, one that the reader may want to look away from at times, about those we love and those we take advantage of and those we just can't live without." —Bohemian

"[The Dangers of Proximal Alphabets] is poetically written and easily readable, a credit to a talented writer. The content is certainly visceral, gritty and blunt, but there are also deep insights and many interesting questions raised. This book on the unbreakable nature of destructive forms of love will surprise and captivate many readers, particularly those who enjoy dark fiction and gritty modern literature." —Book Reporter

"As a debut novel this shows immense promise, and as a singular story it is one that is likely to linger." —The Creosote Journal

"Alcott's novel is a lyrical treat. She is a true literary talent and skilled beyond her years. I eagerly look forward to reading more of her work." —The Masters Review

"An exploration of the redemptive and destructive qualities of art, how we communicate without words and the arbitrary definition of "family," The Dangers of Proximal Alphabets is an overlooked gem." —The Coast
Other Press, 9781590515297, 224pp.
Publication Date: September 11, 2012
About the Author
Born and raised in Northern California, Kathleen Alcott studied in Southern California, lived in San Francisco, and presently resides in Brooklyn. Her work appears in American Short Fiction; Slice; Explosion Proof; The Rumpus, Rumpus Women Vol. 1, an anthology of personal essays; and elsewhere. She is currently at work on her second novel. Please visit her at www.kathleenalcott.com