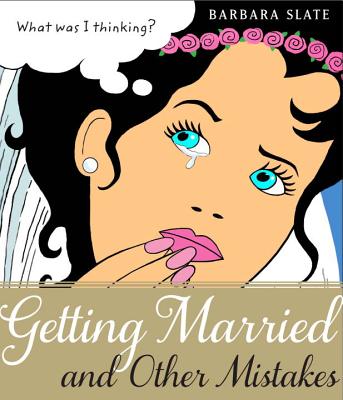 Getting Married and Other Mistakes (Hardcover)
Other Press, 9781590515358, 160pp.
Publication Date: June 12, 2012
* Individual store prices may vary.
or
Not Currently Available for Direct Purchase
Description
Accomplished comic artist Barbara Slate--who has been called "titanically talented" by Stan Lee and her work "emphatically of our time" by the New York Times--lets it all out in a savagely funny and emotionally honest fictional narrative, told in a series of hilarious panels.

  After having been a good girl and following her mother's advice to snag a husband before she became a twenty-something spinster, Barbara Slate realized that her Mr. Right was actually Mr. Wrong and that she was living her life according to everyone's rules but her own. After twelve years of an unblissful marriage, she made her escape.
   Now this accomplished comic artist lets it all out in a savagely funny and emotionally honest fictional narrative. Jo, her stand-in protagonist, is a successful wedding photographer (of all things) who has been dumped by her husband and desperately needs to get on with her life. She follows her friends' advice to get laid, see a shrink, go out more, and live a little. Nothing works. Eventually she realizes that she must stop listening to what everybody else tells her and follow her own voice instead.
   Jo's struggle with female guilt and her quest for self-awareness, told in a series of hilarious panels, is the perfect book for any woman needing to take back control of her life, or remembering when she did.


"A must-read for any woman who has ever been cheated on, owned a Barbie, or once believed their mother's version of 'happily ever after'. Skip the pity party and buy this book!" —Josie Brown, author, Secret Lives of Husbands and Wives and The Housewife Assassin's Handbook
About the Author
Barbara Slate's work includes greeting cards, comic strips, animated segments for NBC's "Today "show, and more than 300 comic books and graphic novels. She created, wrote, and drew "Angel Love "for DC Comics and "Yuppies from Hell "and "Sweet XVI "for Marvel, and wrote the comic book series of the Disney classics "Beauty and the Beast "and "Pocahontas, "more than 60 comics of Mattel's Barbie (winner of the Parents' Choice Award two years in a row), and more than 100 "Betty and Veronica "stories for Archie Comics. Barbara is profiled in the seminal book, "A Century of Women Cartoonists."
Praise For Getting Married and Other Mistakes…
"Written with heartbreaking pathos—and drawn with sly humor—Barbara Slate's comic novel is a must-read for any woman who has ever been cheated on, owned a Barbie, or once believed their mother's version of 'happily ever after'. Skip the pity party and buy this book!" —Josie Brown, author, Secret Lives of Husbands and Wives and The Housewife Assassin's Handbook

"It can be argued that those who can retain a sense of humor in the face of heartbreak and disillusionment get through it better than most, and Barbara Slate demonstrates just that…Slate's humor shines through in every panel, softening the edges of what might otherwise seem bleak." –Chasing Chapters

"She's drawn Barbie, Betty & Veronica, Scooby-Doo, and Disney fairy tales. But real life ain't like that. Slate's two-dimensional persona Jo, a successful wedding photographer, gets dumped by her husband after an unblissful union and jumps on the self-awareness rollercoaster. Gets laid, sees a shrink, dates up a storm…nothing works until she figures out how to wield her own drumsticks. Slate's fictionalized memoir is billed as "savagely funny and emotionally honest. The cover says it all." —Library Journal

"Using insightful jocular graphics, Getting Married and Other Mistakes is a fabulous amusing yet serious look at a woman who has ignored self-actualization by adhering to mom's spousal mantra of perfection. Filled with pathos and humor (the boyfriends and DontBeAnOldMaid.com are terrific segues), readers will root for the heroine to find her inner self" —Genre Go Round Reviews

"Jo begins the book wallowing, but you can't help but be persuaded that Slate's bold, colorful, broad strokes – Jo's electric hair, her matching glossy fingernails, her oversized emerald doe-eyes, her perfectly gleaming pink lip gloss – will soon enough infuse our heroine with inspired motivation. As for Jo's memories, as disturbing as some might be, Slate's use of simplified line drawings mostly in gray tones seems to be assurance that the past is definitely past…and real life now happens in technicolor. Good advice for sure, whether married or mistaken: we can all strive to experience life every moment, brilliantly, boldly…and hopefully for better than for worse!" —Bookdragon

"Slate's book makes this oh so clear to readers with crisp, eye-popping graphics. She is the Roy Lichtenstein for the X, Y, and Girls generations." –Single Minded Women

"Jo's journey is a familiar one in general, but the devil, as they say, is in the details, and the details here are fascinating and her journey is a blast to read."- Comic Book Resources
Advertisement