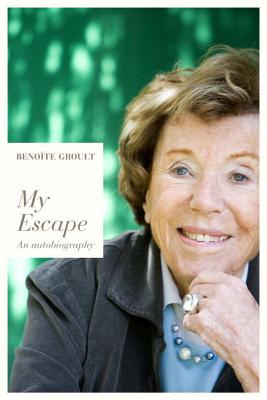 My Escape (Paperback)
An Autobiography
Other Press, 9781590515433, 384pp.
Publication Date: October 23, 2012
* Individual store prices may vary.
Description
This witty autobiography captures the rich and varied life of a renowned French author and pioneering feminist, through the obstacles and movements in twentieth-century France.

Born in 1920 in Paris, Benoite Groult obtained the right to vote only when she was twenty-five years old. She married four times, bore three children, underwent several illegal abortions, became a writer after she turned forty, and a feminist in her fifties. Groult chronicles her experiences and her intellectual developments through successive phases—as an obedient child, an awkward and bookish adolescent, and a submissive wife—until finally becoming a liberated novelist.

Here, she recounts the childhood trips she spent with her family, Paris during the occupation, her marriages, motherhood, and her continuous fight for women's rights. At ninety-one years old, she concludes that she has been, and still is, a happy woman—lucky to have captured her freedoms, one by one, paying for them, delighting in them, and loving them. Sexy, chatty, and full of shrewd insight, My Escape covers her years of struggle and success—as a daughter, lover, writer, wife, mother, and reluctant socialite—and draws a portrait of the role of French women in the twentieth century.
About the Author
Benoîte Groult was born in Paris in 1920. She is a renowned and best-selling French novelist, essayist, and a founder of modern feminism. She has been a member of the jury of the Prix Femina since 1982, and in 2010 was promoted to the rank of Commandeur de la Légion d'honneur. Her autobiography My Escape is an international best seller, selling hundreds of thousands of copies in Holland and more than a million
copies in Germany.
 
Nichole Gleisner received her PhD in French literature from Duke University in 2011.
She has published on the poet Guillaume Apollinaire, and this is her first translation for Other Press. She currently lives and works in New Haven, Connecticut.
Praise For My Escape: An Autobiography…
"Now finally the last first generation feminist book."—Kate Millett, author of Sexual Politics

"Frank, no-nonsense reflections by the French novelist about her gradual road to feminism through World War II, three husbands and the embrace of the writing life...A cleareyed memoir by a writer resolved to claim her 'place on the battlefield of feminism.'"—Kirkus

"[Groult] endears herself to readers through profound insights and a generous sense of humor; her honest and occasionally bawdy style is a major plus....this book embodies what an autobiography should be: a careful selection of memories, anecdotes, and observations that gives the feeling of having conversed with a wonderful and memorable person."—Publishers Weekly

"My Escape is written in a way that reveals the author's voice, the author's mind. It is written in a style that is intelligent and thoughtful, warm and humorous, both thought provoking and touching...My Escape is utterly accessible and reveals a woman who has lived a life that stretches beyond the world of Academia...a gem of a book, written by a woman who is an example to all of us...she is real, working tirelessly for the cause of Feminism whilst living and loving, doubting and struggling. She is a woman of passion and commitment and a woman I would love to meet."—Seattle Pi

"Her feminism is the feminism of every woman...She does not approach feminism from a dry academic position, but from the vibrant stance of a woman who has lived life to the full and who has fought for equal rights whilst being a mother, a wife, a grandmother and a professional writer."—BC Books
or
Not Currently Available for Direct Purchase